In the latest in our WISE WORDS interview series - where stars from a whole range of fields share the important life lessons they've learned along the way - we're posing some of the big questions to GETHIN JONES.
Sporty Gethin got his big break on Welsh language channel S4C, before becoming the 31st presenter of flagship children's show 'Blue Peter'. He's appeared in many shows since then, even fulfilling many a childhood dream with an appearance in 'Doctor Who'. He'll be glued to the TV this summer along with every other Welsh football fan, and to mark the occasion, he's teamed up with Vauxhall Motors in a search for the ultimate #GetIn celebration - video above.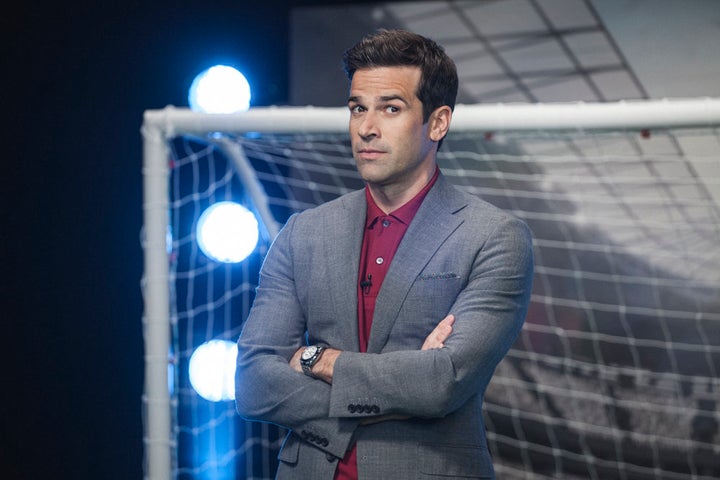 To mark the occasion, he spoke with HuffPostUK about the hardest lessons he's had to learn along the way, and why a fruitbowl was a moving moment...
What do you do to switch off from the world?
Lots of different things - coffee and a walk, a good night out, a long swim.
How do you deal with negativity?
I've always been my own worst critic, I think it's the only way to improve! I'm lucky that I don't get anything too bad, but I find it easy to ignore. You can't please everyone all the time. And as long as I know I've tried my best, that's all you can do.
When and where are you happiest?
On a beach, with a surf board, with a coffee and my mates. (Coffee gets a lot of mentions.)
What's the best piece of advice you've ever been given?
Amynedd yw amod llwyddo! It's a Welsh phrase for "patience is the key to success".
What has been the hardest lesson you've learned?
In this industry, it's probably not to take things personally. I've got better at that..
What would you tell your 13-year-old self?
Don't sweat the small stuff. I probably worry a bit too much.
What 3 things are at the top of your to-do list?
Get a motorbike for the summer.
Fully set up my new charity for autistic children.
Start begging one of the boys for a ticket to Wales v England so I can practice my #GetIN celebration when Wales win.
What do you think happens when we die?
Can't get my head around it, and I don't think it's something I've ever consciously thought about, probably because I'm busy living. I've seen, and I work with people who suffer and struggle every day - I count my blessing every day that I'm healthy, and have somewhere to sleep every night. Having that perspective means life becomes a bit more simple.
When do you feel a sense that we live in the presence of something greater than ourselves?
I believe in God. Whilst religion can be the cause of so much trouble and unrest, I believe having a faith is important.
What do you try to bring to your relationships?
I definitely think I've learnt how to compromise with a capital C. I don't think I take anything too seriously, it's all about having fun.
What keeps you grounded?
Ha, I have plenty of friends for that.
What was the last good deed or act of kindness you received?
I mentioned to someone the other day that I needed a fruit bowl. And they bought me one. It's the small things.
Gethin Jones is teaming up with Vauxhall Motors to hunt for the ultimate Welsh #GetIN goal celebration ahead of the big summer of football in France. More info here.