In the latest of our WISE WORDS interview series - where stars from a whole range of fields share the important life lessons they've learned along the way - we're posing some of the big questions to Suzi Perry.
Suzi Perry is one of the country's most familiar faces of TV sport.
Since embarking on an early career as a model, she has made motor sports her own, presenting MotoSport for the BBC for over a decade, followed by fronting the BBC's Formula One coverage until last year. She has frequently reported on other sporting events, as well as presenting Channel 5's Gadget Show for seven years.
Following the BBC's announcement that they would no longer be broadcasting Formula One, Suzi moved to BTSport, where she is now a presenter, primarily for her former passion, MotoGP.
Impressively, she manages all these different jobs from her French farmhouse. She spoke to Huffington Post UK this week about the joys of living abroad, her hardest lesson and the joy she still gets going home to Wolverhampton...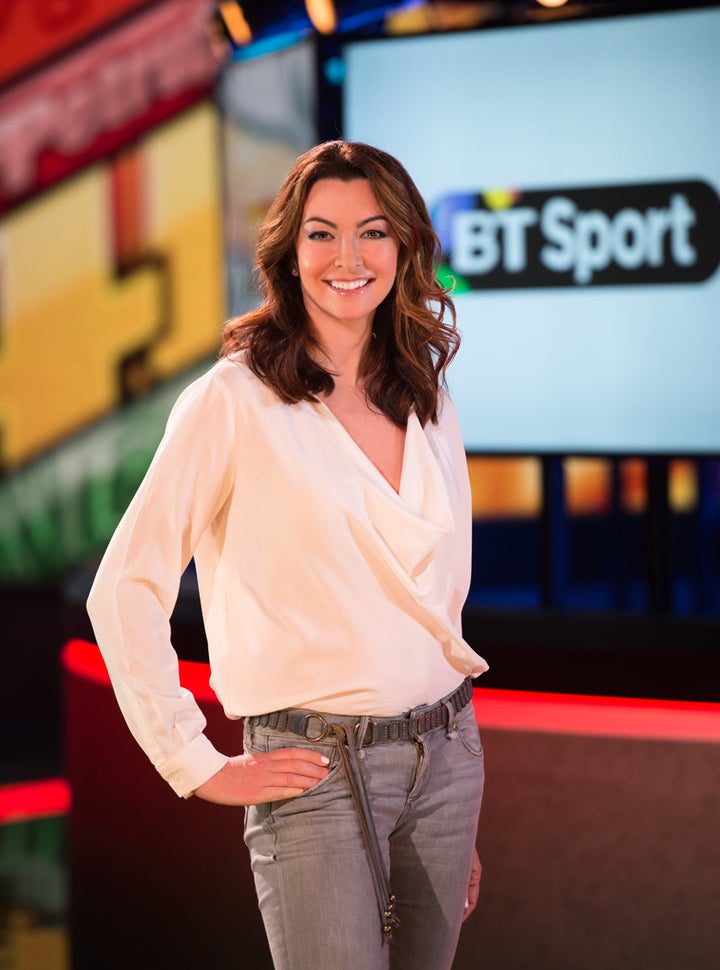 What do you do to switch off from the world?
I go for a walk with my cat. I live in France, at the bottom of a mountain, and I only have to walk a few steps into the countryside to make everything else go away.
How do you deal with negativity?
I've got a bit better at taking criticism. I just try to keep things in perspective, and think of my family, and my friends, and everything I have to be grateful for. That usually helps, plus the great healer, time. Plus, the only way is to ignore it. It only really hurts if I know the person and respect them. I work in an industry where it's a by-product of public exposure.
When and where are you happiest?
When I'm back at my family home in Wolverhampton, hanging out with my mum and dad. Being with them anywhere makes me happy, but particularly back there. Keeping in touch with my roots, it all makes me feel very grounded.
What's the best piece of advice you've ever been given?
I have two things, and they're both from my dad. First he told me, be yourself. It's not always easy, but you can't be caught out or betray yourself if you are. Secondly, he said, when something goes wrong, take a deep breath and hold your head high.
What has been the hardest lesson you've learned?
Learning to accept that I won't have children. I've come through it now, but that was particularly hard, and took quite a long time.
What would you tell your 13-year-old self?
Don't be afraid to stand out, and be independent. I think I was a bit of a pleaser when I was little, bit scared to say boo, but that can get in the way of things. So, I'd say, follow your own star and don't be shy.
What's at the top of your bucket list?
Go to Sri Lanka.
Learn to sail properly. I've done a bit but I'd love to learn properly, and be independent in a small boat.
Drive the 1000-mile race in Italy, in a beautiful vintage Mercedes.
What do you think happens when we die?
I don't know, that's all I can say with any clarity. But I can't believe this is it.
Have you ever felt in the presence of something bigger than ourselves?
I spend quite a bit of time on my own, so my mind stays open. I've often walked into a hotel room and felt there's something else in the room. Mostly, it feels okay. I'm not scared of it. I've heard my late grandmother speak to me. I found that comforting - mind-blowing but beautiful.
What do you try to bring to your relationships?
Reliability and trustworthiness. And loyalty. My very best friends are girls I've known since school, and it doesn't matter how long it goes between chats, we can always pick up where we left off. I think that's the mark of true friendship.
What keeps you grounded?
Coming from Wolverhampton. Nobody there, especially my family, would ever let me get too big for my boots.
What was the last good deed or act of kindness you received?
When the BBC announced they wouldn't be airing the Formula One coverage any more, I felt in complete flux for a while. And, out of the blue, I received a postcard from a fan. I didn't know her at all, but she wrote, 'Keep smiling, everything will work out. Thankyou for your broadcasting, Salma.' And in that moment, she made everything better. I may never meet her, but that meant the world to me. So, thankyou, Salma.
Suzi Perry presents on BT Sport, home of MotoGP in the UK with every race exclusively live throughout the season. You can watch the Argentinian Grand Prix Live at 7.45pm 3rd April on BT Sport 2. For more information on BT Sport visit bt.com/sport
Popular in the Community