A "wonderwall" featuring messages of support and solidarity has been created a week after the Manchester bombing.
The wall, located in Piccadilly Gardens in the city centre, was adorned with brightly-coloured sticky notes written by well-wishing Mancunians on Monday (29 May).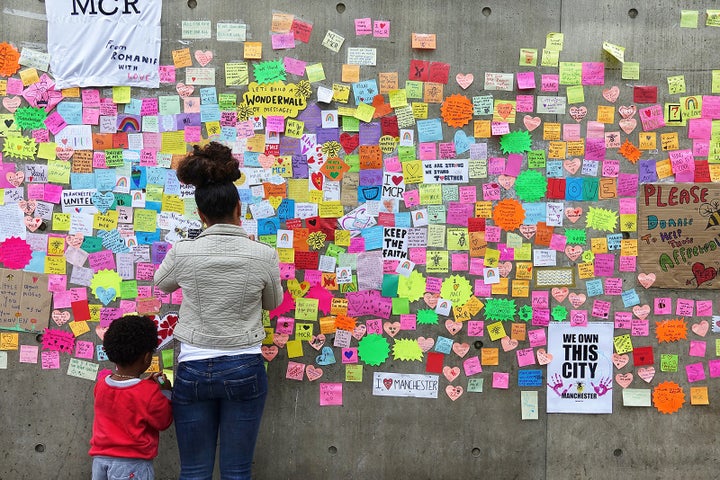 The moving tribute was organised by illustrator Emily Coxhead on social media. The 24-year-old, who is from Lancashire and graduated from Manchester School Of Art in 2004, told HuffPost UK she has "always called Manchester home".
Anyone familiar with Coxhead's work will know of her mission to spread a little light and positivity in the world.
Not only is her Instagram full of tiny handwritten messages, such as those on the wall, but she created The Happy Newspaper as an antidote to the negative news cycle.
Announcing her plans for the wall on Instagram last week, she wrote: "I don't think any of us know the 'right' thing to say in a situation like this but words can be a real comfort on our darkest days..."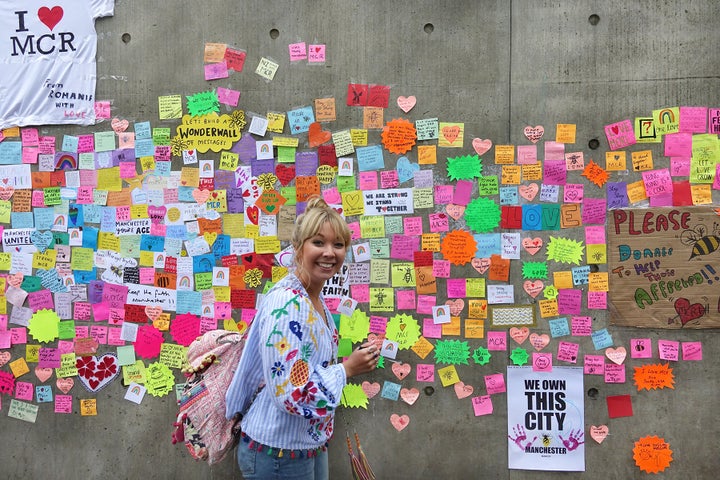 Speaking to HuffPost UK, Coxhead revealed that there were "hundreds if not thousands of messages" by the end of the day.
"I wanted to create a space that people would see walking past the (usually very ugly) Piccadilly wall, and hoped it would make people stop and think and add their own words of comfort.
"I knew it would probably last a day or two because of the rainy Manchester weather but it did exactly what I intended which was to make a few people smile and just provide a bit of comfort to what is still very much a grieving city."
Coxhead said the response from passers-by was extremely positive and sometimes emotional.
The wall also gave a lot of parents a way to explain to their children what had happened.
"I think it's important we don't let little ones think they're growing up in a world full of terror and fear, although it really feels like it is sometimes," Coxhead said.
"There's also so much love and kindness left in the world too."
The most memorable message for Coxhead was written five-year-old girl. "Dear Manchester, we are sad. Very sad. Hopes and dreams, Hayley," it read. The girl's mum explained that her daughter had come up with the message and written it completely by herself.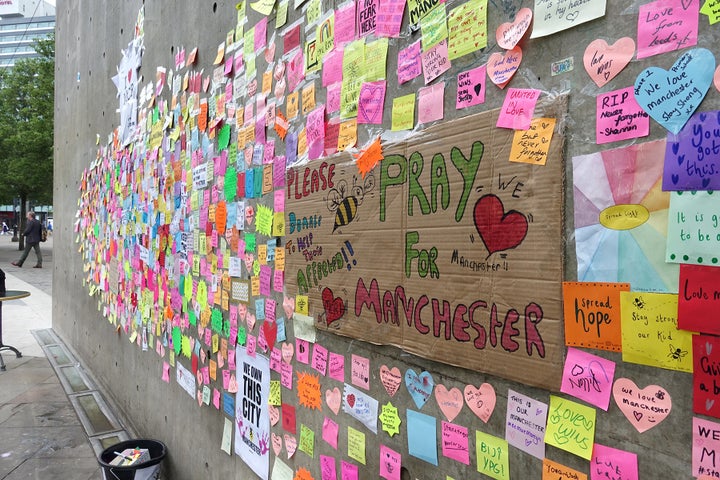 A passer-by told the BBC how she was overwhelmed after seeing the wall on her way to the memorial at St Ann's Square.
Shannon Smillie, who was working at the Manchester Arena on the night of the attack last Monday, said: "I didn't know it was there but seeing it made me feel happy but also very emotional.
"It just showed how such a beautiful thing can come out of a tragedy. And that's what I felt from it, an overwhelming feeling of love and comfort from people I didn't know."
Coxhead revealed that the messages were later removed by the council. HuffPost UK has contacted Manchester Council, which had not yet responded at the time of publication.