They may have a combined height of 5ft 10in, but the world's shortest couple believe they have a big future together after agreeing to tie the knot.
Paulo Gabriel da Silva Barros, who is 34.8in, popped the big question to 35.2in girlfriend Katyucia Hoshino in front of their closest friends at a sushi restaurant in their hometown of Itupeva, Brazil.
Paulo, 30, has diastrophic dysplasia dwarfism, while 26-year-old Katyucia has achondroplasia dwarfism.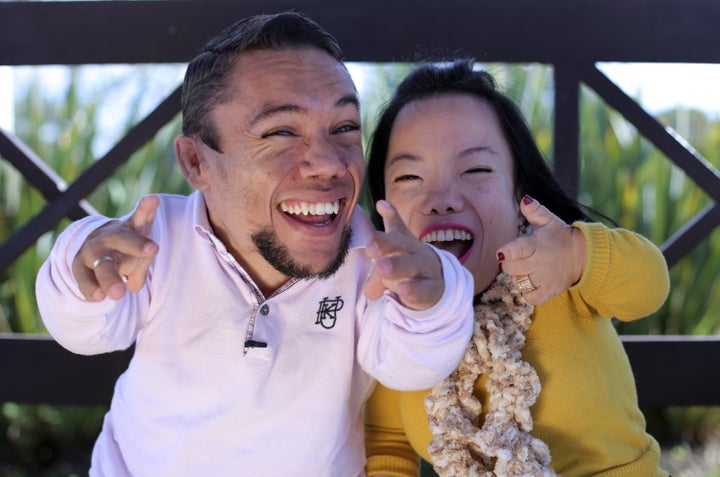 Speaking at the proposal dinner, Paulo said: "Everything I researched, everything I planned on saying, I am going to forget it. I am going to do what my heart tells me. Everything is going to be improvised.
"As everyone knows, we've been together for eight years between living together and dating.
"And we haven't got married yet. And since you are friends that have accompanied our journey for a long time, I wanted to share this with you and ask her to marry me."
Katyucia, 26, could not quite believe the offer and needed reassurance several times before saying yes. She asked: "Are you serious babe? Are you okay? Do you have a fever?"
The couple from Brazil now hope their engagement can lead to their official recognition as the world's shortest couple.
"Once we get married we will try to be recognised as the world's smallest couple through the Guinness World Records," Paulo said.
The couple first started speaking on MSN messenger 10 years ago but things did not originally go to plan for Paulo as Katyucia blocked him.
"The first time I started talking to Paulo, he was very annoying," she recalled. "He had cheap chat up lines."
But luckily enough for Paulo, Katyucia randomly decided to press the unblock button a year and a half later, allowing him to start his pursuit again.
He said: "She thought I was trying to flirt but I was just being nice.
"According to her I was a really boring guy.
"When she unblocked me, it didn't take me more than a minute to say hello. We started speaking and she said I was more civilised."
The happy couple are now planning their eagerly anticipated wedding day, with Katyucia searching for her perfect dress.
"This is the best part of getting married," she said. "After the marriage proposal I still feel shocked.
"The most important thing for me today is the pursuit of happiness. I think it's about love and gratitude, always."