The York Student Socialist Society say they have bought "at least 50" of the 220 tickets available for the talk on January 19 to protest Robinson's presence at the university.
"A lot of people don't want this awful man on campus," chair of the society Katie Smith told The Huffington Post UK.
"He deserves to be talking to an empty room."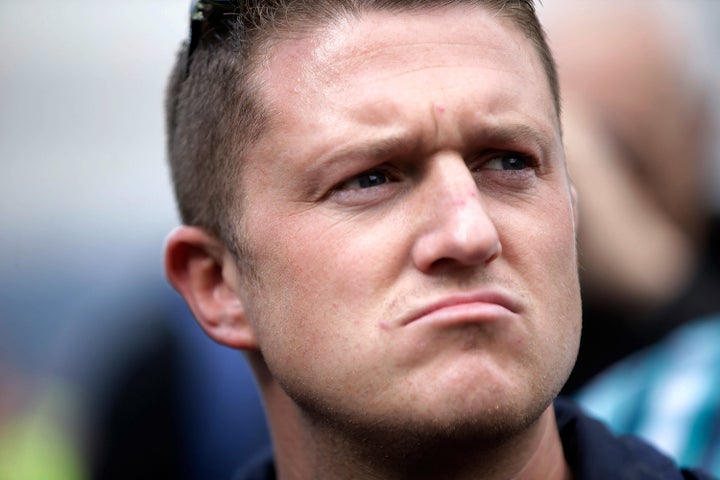 Robinson, real name Stephen Yaxley-Lonnon, founded far-right street protest group the English Defence League before heading anti-Islam organisation Pegida UK, which fights against the "Islamisation" of the West.
Some students have questioned what insight or knowledge Robinson has to offer at the university, while other people have accused organisers of inviting fascism onto campus.
Steph Potter wrote on Facebook: "Why is he being given a voice? He is of little political importance and has no academic influence or expertise.
"I could understand if he was an academic with controversial views or a politician, but he is just a leader of a niche thug group."
The cancellations came just days after he gave a speech at a Pegida event in Holland.
Student groups are also planning to protest on campus during Robinson's York speech, while raising money for charities such as Movement For Justice and Doctors Without Borders.
However, the decision to buy out tickets to Robinson's talk has led to a backlash from many students, with some accusing the socialist society of censorship.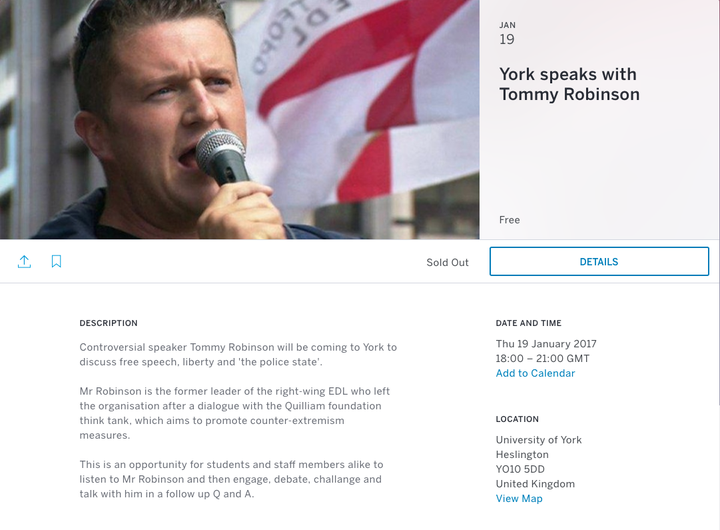 Replying to the group's post on Facebook, one man wrote: "People should have the choice to go and see him and see what he has to say or not... for whatever reason that might be.
"You're just going to be taking that choice away from people and pissing them off, disenfranchising them from whatever cause you might be wanting to further."
Finn Judge, deputy editor of student newspaper Nouse, added: "Buying up tickets (thus preventing people from going and engaging with his dissenting views) is literally the same as no-platforming. You guys have learnt nothing from this year, have you?"
Robinson has also hit back at the students, calling them to come and "embarrass me with your debate". He also tweeted his delight at the event being sold out.
But doubts have also been cast over whether the sold-out speech will go ahead amid confusion over who is hosting the event.
Student newspaper Nouse originally invited Robinson to the university, but the talk was cancelled after it was announced early.
A spokesperson for Nouse said the speech was supposed to be part of a series of events.
"We had planned to announce at least two speakers for next term, one of them Tommy Robinson, someone we see as interesting particularly for the way in which his narrative has changed as a result of contact with liberal-minded commentators," they said.
"However, individuals within the events team jumped the gun and posted a version of the event that had not been agreed or even run past the senior team, and did not reflect our view of it. We initially tried to salvage the event, but this did not prove possible."
The Tab York then reported the speech will now be held by York Talks, "a subsidiary organisation created by campus newspaper York Vision".
However, the editor of the student media outlet has denied that York Talks is associated with the paper and no host has been listed on the event page.
A spokesperson from York University Student Union said they had yet to be updated about the event.
"A student society had planned to bring Tommy Robinson to campus, but has since cancelled the event," they said.
"YUSU have not been approached by any other student group wishing to host Mr Robinson."
Related