Hundreds of young people are set to protest outside Downing Street tonight to call for a ceasefire in Aleppo as the situation in the Syrian city becomes "critical".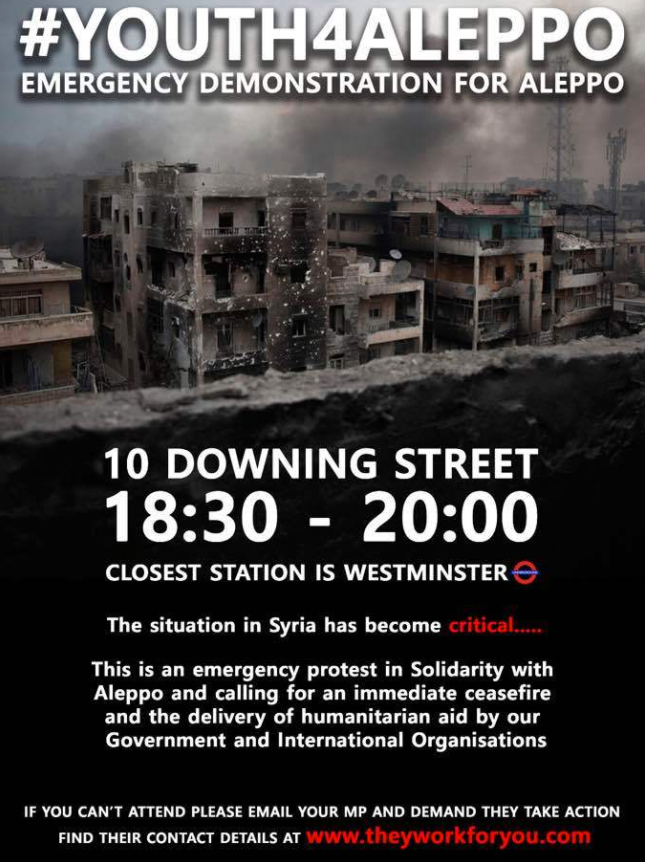 "This is an emergency protest in solidarity with Aleppo and calling for an immediate ceasefire and the delivery of humanitarian aid by international organisations," the Facebook event for the protest reads.

"Please spread the word and bring your friends and family. Please also bring any signs or placards with messages for Aleppo."
Organisers are calling on those who cannot attend to email their MP to demand action.
Harry Shotton, who helped arrange the protest, said: "We are a grassroots initiative of young people outraged and distressed by the Russian, Iranian, and Syrian regimes' assault on humanity in Aleppo.
"We are watching war crimes unfold in real-time and over Facebook and Twitter, and must take action.
"We've called this protest to demand a UN-brokered ceasefire, the unrestricted delivery of humanitarian aid - including air drops - and the safe evacuation of all civilians from Aleppo," he added.
More than a thousand young people have shown their interest in the event, with NUS President Malia Bouattia also sharing the details with her followers.
Popular in the Community