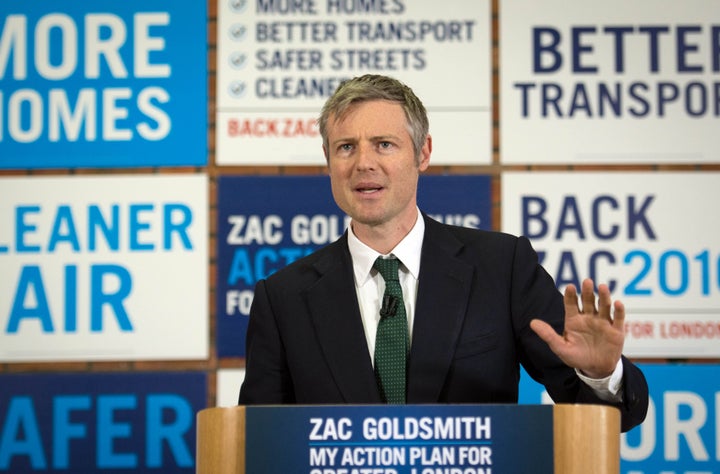 Zac Goldsmith today claimed it was "absurd" to call him a "racist" as he hit back at claims he was running a divisive campaign for London Mayor.
Goldsmith balked at the accusation, and after the launch of his manifesto in Wimbledon, West London, insisted his campaign for City Hall was "overwhelmingly positive."
The Richmond Park MP argued that questions being raised about his Labour rival's association with Islamic extremists were legitimate.
When asked if he was a racist, Goldsmith replied: "It's an absurd thing to say. I don't even know how I answer a question of that sort.
He added: "I haven't seen her [Yvette Cooper's] article but if she did [say that] then that is absurd. My campaign has been an overwhelmingly positive campaign.
"The thread that runs through every piece of literature that I have put out has been about my action plan for London. It's been about more homes, better transport, safer streets and cleaner air. That is the thread that has run through every part of my campaign.
"If she is making reference to questions asked about Sadiq Khan's past and his links then is she suggesting it's not legitimate to ask those questions of someone who wants to be Mayor of London? If that's what's being said, then I think it's absurd and I think its irresponsible."
When asked if he was worried his attacks in Khan might deter other Muslims from standing for political office – a concern the Labour MP raised in an interview with the Huff Post UK, Goldsmith replied: "The implication in that is that a majority of Muslims share a platform, give oxygen, provide cover and give excuses to people with extremist views who preach hate and that is not true, that is not the case.
"I'm not suggesting, and nor have I ever suggested, that Sadiq Khan has extremist views. That's not the point. This is an issue of judgment and I think it's legitimate for newspapers and for me, and anyone else with an interest in the outcome of this case, to ask those questions and to pretend otherwise is I think deeply irresponsible."
Goldsmith was criticised in March for sending leaflets to London's Indian and Tamil communities claiming Khan backed a wealth tax on family jewellery.
Today, Goldsmith confirmed he signed off the flyers, and said: "The overwhelming thrust of my campaign and my literature has been about my message to Londoners about my action plan for London.
"That's been a thread that's run through every single piece of literature that's gone out. My job is also to make clear the choice. That's what Ive done in most my literature, not all of my literature but most of my literature."
He added: "Every piece of literature that's gone out by my campaign is literature that I've overseen."
During his speech to launch his manifesto, Goldsmith accused Khan of trying to shut down any debate over his association with extremists.
He said Khan "has tried to silence questions about his links by shamelessly accusing anyone who raises them of being Islamophobic.
"There can be no ambiguity - no looking both ways - when it comes to keeping Londoners safe."
Goldsmith also said he was warned after Khan was chosen as Labour's candidate that the campaign to succeed Boris Johnson as London Mayor would get messy.
"I was told on day one, before I was selected in fact, that after Labour had made their choice, I was told by a senior Labour figure that it would get very, very messy very, very quickly and I have sort to keep the campaign as positive as possible and I will continue to do so for the next few weeks," he said.
Related