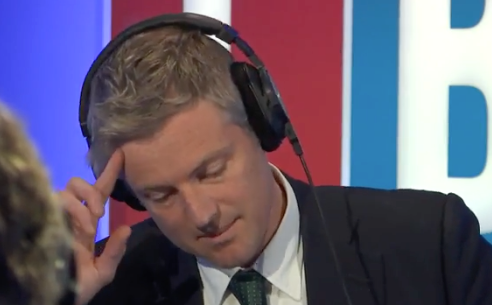 The Tory Mayoral candidate said it was "inappropriate" of the paper to use the photo of the bus which was blown up in Tavistock Square during the attack, which led to deaths of thirteen people and the suicide bomber.
Goldsmith's campaign had already been branded as Islamophobic and divisive before this latest incident, and yesterday former Tory Party chairman Baroness Warsi tweeted an image of the article saying "This is not the Zac Goldsmith I know."
Speaking on LBC Radio this morning, Goldsmith reiterated his claim his campaign had been "overwhelmingly a positive one".
When asked about the use of the 7/7 bus, under the headline "On Thursday, are we really going to hand the world's greatest city to a Labour party that thinks terrorists are its friends?", Goldsmith said: "When you write an article for a paper you don't choose the headline, you don't choose the image.
"When I saw the image I felt that it was inappropriate, I let that be known publicly and privately. With the article that I wrote, I stand by every word, I encourage everyone to read it.
"The article made no reference at all to 7/7, which is why I would not have used that image. The article, the words in the article, are absolutely right.
"The Labour Party, including Sadiq Khan, including Jeremy Corbyn, have given legitimacy over and over again to people who hold extreme views, there's no doubt."
In the article, Goldsmith claimed London is "on the brink of a catastrophe" as a vote for Khan would lead to "aggressive socialism" entering the UK "through the back door."
He continued: "The number one job of any mayor of London is to keep our city safe.
"Yet if Labour wins on Thursday, we will have handed control of the Met, and with it control over national counter-terrorism policy, to a party whose candidate and current leadership have, whether intentionally or not, repeatedly legitimised those with extremist views."
One caller to today's LBC show described Goldsmith as running a "vile, disgusting Islamophobic campaign" which focused on Khan's religion.
Goldsmith replied: "You are completely and utterly wrong. I have never referenced Sadiq Khan's religion or his ethnic background directly or indirectly, that is simply not true."
The race to succeed Boris Johnson as London Mayor ends this Thursday, with voters set to go to the polls.