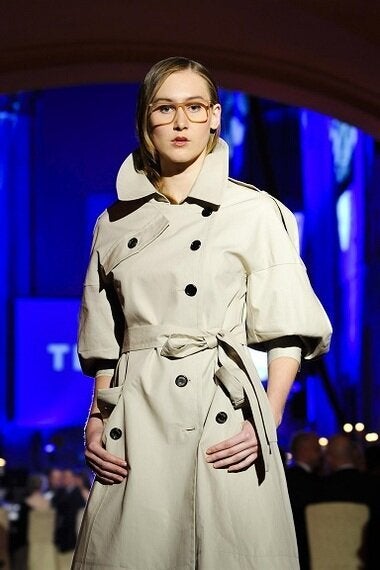 Teija Eilola takes the business of fashion, like many of her peers, very seriously. And why shouldn't she - she boasts a background studying at the Royal College of Art. She also appeared on Fashion Fringe, as a finalist, in 2012. After, she spent summer being mentored by Burberry's Christopher Bailey which helped jump-start her label TEIJA at London Fashion Week. This month she showed at the British Chamber of Commerce Guy Fawkes Gala Evening in Prague. Her collection, she says is defined by three angles: its architectural in the cutting, its Nordic heritage, and its luxury by level of craft she uses in creating each piece. She says the thoughtfulness that goes into each piece is at the core of the label. In fact, she says quite a lot about clothing, but when I caught up with her in Prague recently, I was pushed to get her to actually say anything bad...
Fashion shows. They sometimes operate like warfare strategy. How do you prepare for a big fashion show?
Haha! I love you calling it warfare strategy... My husband is a strategist and I think he would know more about that. I guess if your audience is full of top buyers and press you will have to get the moment to be just right for the brand, and I guess this is what you mean with warfare.
In Prague I presented the collection for an audience whom half of them probably hadn't been to a fashion show before. But they were business men knowing that this show could mean something. I want the show to have a story that is told through the collection worn on the models, the music and the acoustics of the space. And the story has to feel current some ways. So I prepare by immersing myself in these elements before hand.
What's it really like on the big day of a fashion show? What bits do you love and which bits do you hate?
I love all the steps during the day: from dress rehearsal to the make-up and hair, to choreography meeting, to getting the models ready for the show. It's a slow and exciting process with a great finish. I love meeting all the people involved, I always remember the models after and we stay in touch. You make friends because it's a special experience you all share. Thing that I don't like...I wish I could see every show on the front row. I love fashion shows but I rarely get to be in the audience.
Who's the best & worst designer you've worked with and why?
I think Christopher Bailey was a real gentleman to work with last summer, he would drop subtle suggestions that I would mostly not notice. But things that I took on board have made a difference to my collection.
I wish all the designers would have the love of the craft in fashion. The thing that keeps the industry rich and important is that there is an important part of our heritage in the skills that have been developed to create high end fashion. And those can always be pushed forward, you can always improve them.
How do you survive fashion weeks - without getting a cold/flu at the end of it all?
I'm usually too busy enjoying it that I don't think about it. I love fashion weeks. There is so much to see, all the international models and stylists arriving, parties, new collections to see.
I'm still like when I was in college getting excited about it all.
I once heard a rival fashion journalist say: "Through fashion we can change the world!" What's the most pretentious thing you've ever heard backstage?
I'm sorry I would like to reply to this. I'm still on a honeymoon with fashion shows, I can only remember good things.
What's the best advice you can give budding young designers?
Follow your heart. There are many opinions out there, but you can only have one plan for your label and you have to believe in it yourself.
What can we expect to see from you in the future?