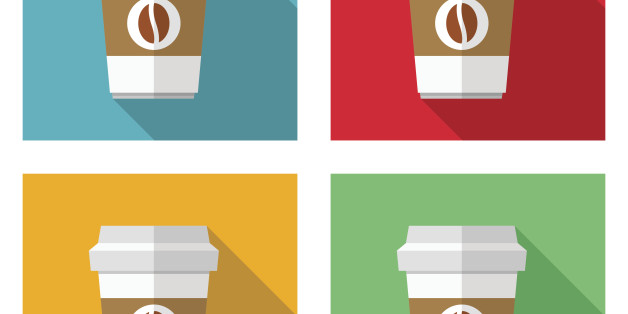 George Manga via Getty Images
As a French woman living and working in London, I love this city - from the almost frantic hustle and bustle of King's Cross to the picturesque views at Richmond Park. Heading to my office in the morning there's always one thing that catches my eye: coffee cups - they're everywhere!
Even though Brits are known as a nation of tea drinkers, you certainly love your coffee too! Yet more often than not it's always 'to-go' with few choosing to sit down in a café to enjoy. This culture sees more than seven million cups of coffee purchased a day - and as well as a caffeine hit, this packs an environmental punch too.
Considering we can travel from the heart of London to the heart of Paris in a matter of hours by train, it's peculiar how the coffee cup culture is so very different. Nevertheless, with UK consumers still preferring a takeaway cup 'to-go' a solution to solve the recycling conundrum became top of the agenda - starting with understanding consumer habits.
Working with YouGov, we've identified that, despite recent efforts in the media to raise the public's awareness of the challenges around takeaway cup disposal, only 16% of takeaway hot drinkers opt for a reusable cup. And so, given the UK's preference for takeaway cups, the spotlight has been shone on cup recycling solutions.
A key stage in establishing a solution that would actually work, was understanding where busy coffee lovers dispose of their empty cup. It quickly became clear an on-the-go recycling solution was paramount, as research revealed that for regular takeaway hot drink consumers the most popular location for cup disposal is at work. Indeed, over half (52%) cite the office as a disposal location, with 'on-the-go' locations, such as train stations, service stations and on trains, the second most popular (40%) and then in coffee shops third (31%).
Since last summer a lot of progress has been made to come up with the best solution and with cup recycling trials supported by partners such as Costa and Starbucks, we're now officially launching a coffee cup solution to help existing customers nationwide, and potential new customers, increase coffee cup recycling rates.
However, the truth of the matter is, whether or not the used paper cups are converted into an egg box or house insulation depends very much on you and I.
The aim of our solution is to separate the coffee cup from the general waste as soon as we've enjoyed our coffee. This is key, as one of the biggest challenges we've faced is cup contamination - when cups are mixed in with the general waste stream and get damaged.
The initial separation process heavily relies on consumers 'tipping-it, flipping-it and stacking-it' to ensure any remaining liquid is drained and the lid, sleeve and cup are separated. And the good news is of the people surveyed a staggering 88% would use a purpose-built recycling bin to ensure their disposable paper cup is recycled.
I wouldn't change British coffee to-go culture, I just want to help reduce the environmental impact - and I know you do too. Our recycling solution truly lies in a mass collaboration between us all and so I'd like to thank you in advance for playing your part in helping to increase the current 1% coffee cup recycling rate to much, much higher!