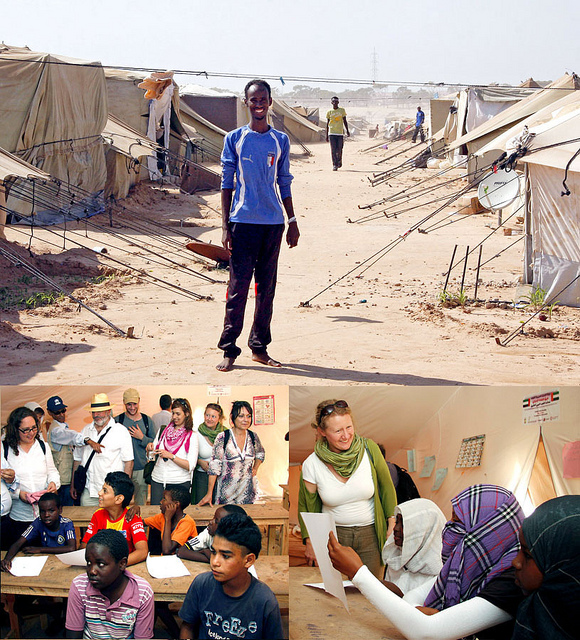 Despite their political differences, there is something that binds Boris Johnson, Nick Clegg and former French president Nicolas Sarkozy: they all descend from refugees. Johnson's great-grandfather Ali Kemal Bey , a liberal journalist who fearing for his life in the wake of Sultan Abdul Hamid II taking on the reins swapped his native Turkey for England in 1909. Similarly, Clegg's aristocratic great-grandmother from Russia had to seek sanctuary in the UK after the tsar fell from power, while Sarkozy's father had to go into exile in France after the Soviet army arrived in Hungary in 1944.
Far from being a romantic tale that happened only to our ancestors, people looking for shelter in another country continues to be a major issue. Although many seek refuge in a neighbouring country, Europe receives by far the most asylum applicants out of any industrialised region (which includes North America, Australia and North-East Asia). Out of every 100 asylum seekers in the industrialised world, 68 make their way to Europe. In 2011 this was 301,300 in Europe, compared to just 74,000 in the US.
In a Europe without internal borders, this makes it very important for the EU to ensure that legislation relating to asylum seekers is as good as it can be. The European Council is currently negotiating with the Council on two files relating to asylum seekers. The first one is about the Dublin II Regulation, which determines which member state is responsible for the asylum claim, the second one is about minimum reception conditions, which covers anything from accommodation, healthcare to education.
Up until now it has been the case that the member state where the asylum seekers first entered the EU is responsible for their claim. However, this does not mean that their numbers have been evenly distributed among member states. This can be due to geography and circumstances. Some member states, for example happen to combine responsibility for part of the EU's external border with proximity to politically instable countries.
The Parliament wants to address this problem. MEPs feel that in exceptional circumstances when one member state is dealing with an unprecedented influx of asylum seekers, there should be provisions for additional support. Not just in terms of extra cash, but also by other member states taking in some of the asylum seekers.
The revision of the current rules is also about the treatment of asylum seekers. Having risked anything from kidnap, torture to death to get to Europe, they are still far from being certain there will be a successful outcome when they finally make it over here. Three out of four first-time asylum applications are turned down, after which they are expected to return to the country they fled in the first place. But while they wait they are entitled to a humane treatment. The Parliament and the Council are discussing how to have good and consistent standards. One of the problems with the current rules is that it can happen that asylum seekers cannot be reunited with family members if they made a claim in different member states. The Parliament wants to remedy this.
The idea is also to increase the overall efficiency. The current rules still suffer from many ambiguities and legislative gaps. As this is about people, it is worth getting it right. Perhaps, there will be an added benefit in one or two generations when their descendants join the latest crop of political leaders.
Photo: refugee camp on the Libyan border