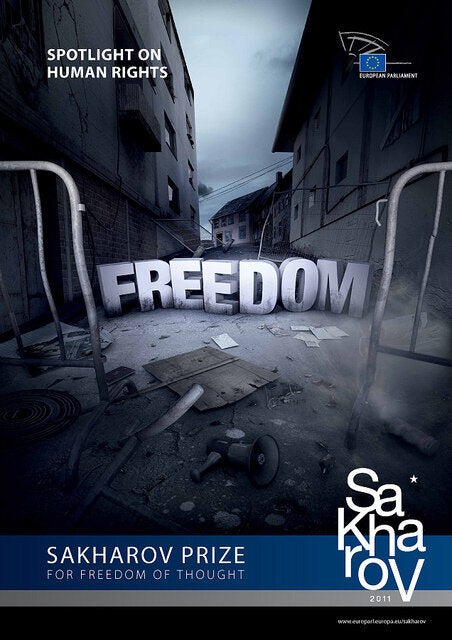 Whistle-blower, hero, traitor - Edward Snowden has been called many things since revealing details of the US's mass surveillance programme, but from November perhaps he will also be known as the winner of a prestigious human rights award.
Reactions were mixed when news broke last week that the former NSA computer expert was among the nominees for this year's Sakharov Prize for Freedom of Thought. The European Parliament awards the prize each year to exceptional people who fight against intolerance and oppression, and Snowden's nomination is far from the first time that the prize has sparked debate.
Fighting for human rights continues to be a hazardous enterprise. Many of the laureates of the Sakharov Prize, launched in 1988, have been arrested, imprisoned or tortured, and many have been unable to pick up the prize in person. A trend seen from the very first year, when winners Nelson Mandela and Anatoly Marchenko were unable to attend the ceremony.
This year there are seven nominees. In addition to Snowden, they are: Pakistani school girl Malala Yousafzai, who was shot by the Taliban for campaigning in favour of education for women; Ethiopian journalists Reeyot Alemu and Eskinder Nega; Belarusian political prisoners Ales Bialatski, Eduard Lobau and Mykola Statkevich; Russian businessman Mikhail Khodorkkovsky; the Turkish "standing man" protesters and the CNN Freedom Project - Ending Modern-Day Slavery.
The winner will be selected on 10 October by the leaders of the EP's political groups and EP president Martin Schulz from a short-list of three chosen by the foreign affairs and development committees 30 September. The award ceremony will take place in Strasbourg on 20 November.
The Sakharov Prize is named after Soviet dissident Andrei Sakharov, who was no stranger to opposition himself. When he won the Nobel Peace Prize in 1975, the authorities prevented him from collecting it and he was later placed tight police surveillance.
Photo copyright European Parliament