Black History Month (BHM), an event that was established 26 years ago to educate young people on black heritage and celebrate the best of African and Caribbean culture has become an embarrassing, tokenistic and insulting mess.
I'm guilty of not spending much time dwelling on the merits, or otherwise, of the month long celebration that takes place every October. But as a black woman living in London, black culture is part of my every life, not something my friends and family dust off the self once a year and then put it back in its box four weeks later.
But I am interested in seeing and hearing what BHM means to our institutions and wider population at large. Is it books on Marcus Garvey, the slave trade and Kwame Nkrumah? Or picture books on Rihanna and Jay Z?
When I took my eight-year-old son to Chelsea Library in London, I discovered it was none of those things.
Plonked in the corner of the children's section I found a chipped wooden bookcase with three shelves and a creased label stuck on with Sellotape. The books selected to shed light on the rich and wide ranging history and culture of black people in Britain were as follows: Muslim Festivals, We are Muslims, I Am Muslim and what appeared to be a picture book on Amir Khan.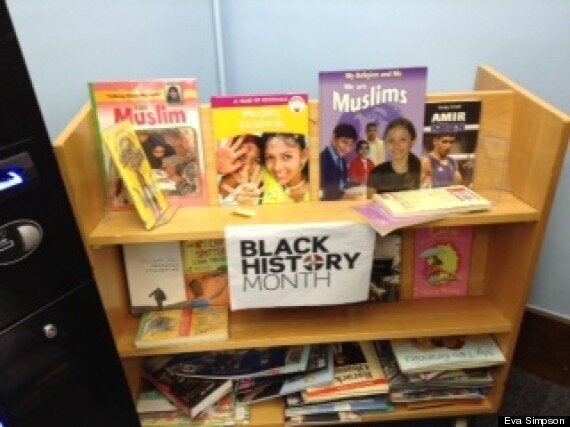 Now I have absolutely nothing against celebrating Muslim history and I know there are Eid celebrations taking place around the world. But this is supposed to be Black History Month. About black people!
As my mother always said: "If you're going to do something, do it right!"
I hoped this would be an isolated incident, but it wasn't. I trawled the internet and was pleased to discover that in the London Borough of Lewisham local police had set up a stall to recognise BHM. My joy turned to despair when I found it offered information on personal safety and CRIME RELATED MATTERS. In Wakefield, west Yorkshire, while there were some activities highlighting African culture, there was also an event signposting opportunities for refugees.
I gave up trying to find out what was happening in my borough of Wandsworth, south west London - there was nothing useful on the website and the Heritage Service was closed. Even the poor press officer struggled to help.
The only boroughs which seemed to have a good handle on what BHM should be about were Hackney and Islington in east and north London respectively. But why should I have to schlep across London to Shoreditch so my son can spend a morning making beads - however much fun that sounds?
When I saw the pitiful display in Chelsea Library on Tuesday, my initial reaction was we should just get rid of BHM because no one cares enough to even put out a few black books on a shelf in the corner. But the photograph I took provoked a strong reaction on Facebook. Most people said it was time for black people to get involved and take more ownership of BHM events and show the organisers what we want. I've fired off a letter of complaint to the library manager and await the response.
If we believe in the ethos of BHM then it's time to take a stance and reclaim it. Suggest books, art, and films and plays you want to see. After all, as Eldridge Cleaver said: "If you are not part of the solution, you are part of the problem.
What are you waiting for?