Women's sport is not a laughing matter but the so-called inventors of the 'Ladyball' are making it the punchline of their disturbing joke.
It doesn't take a radical feminist to see that the pink football, which claims to be "specifically designed for the "lady's game," and boasts it can "enhance natural feminine abilities and make it easier for girls to play", is riddled with sexism.
The product says it is making the "masculine world of sports" more accessible to women, but all it's doing is re-establishing the same sexist structures that exist within the game, with the help of some models in tiny shorts.
And if you're still not convinced how out of touch it really is, just take one look at its video campaign:
What it doesn't seem to realise is that putting funding into the sport would be far more effective than an offensive advertisement.
Imagine how many more women would play football if it was plastered across people's screens as much as the Premier League, and if little girls had access to the same pitches, facilities and leagues that boys do.
Women's football doesn't need a candy coated ad campaign or the tacky colour scheme - we already have a Labour bus for that. What it needs is to be taken seriously, instead of ripped to shreds by institutional sexism. We should be talking about the pay gap and funding inequality, not trying to create a gendered football.
Right now the prize money for the mens World Cup comes to £22million, when the women get £630,000. England women get a base salary pay of £21,012 and with club contracts they can just about reach over £50,000 a year. Not only that but most players work part-time just to cover their costs.
When captain's Steph Houghton and Wayne Rooney step out onto the field full of passion and pride, gender doesn't make a difference. So why is it that Rooney will take home in one day what Houghton earns in a year?
This unequal distribution of money is sending a damaging and damning message to our young players and no pink ball in the world is going to fix that.
When we watched the England women launch themselves into the semi-finals of the World Cup, we bit our nails just as much as when Becks secured our men a place in the competition in 2002.
But when the women's team returned, the first thing they received was a sexist tweet from our own FA.
"Our Lionesses go back to being mothers, partners and daughters today, but they have taken on another title - heores" - it read.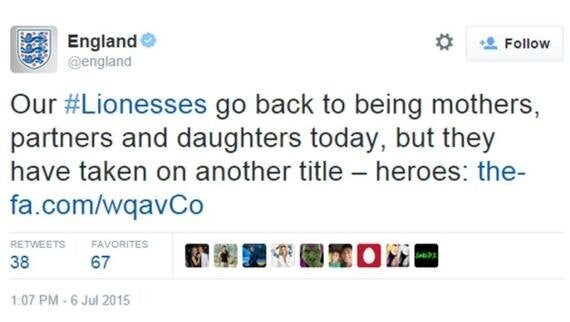 Screenshotted: The offending tweet
This culture of making women feel like they are privileged to play sport, instead of being treated equally, needs to end and the 'Ladyball' needs to stop with it.
And well, no patronising campaign in the world is going to undo the centuries of unjust, sexist damage women have faced, so shove your pink football back in the misogynist dressing room.