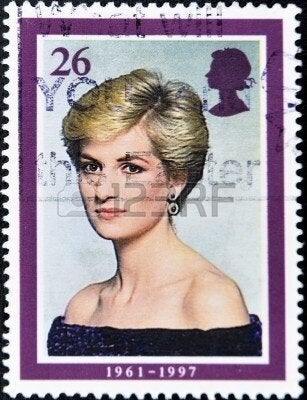 It was a Sunday. Just like today.
That morning at 5am while getting ready for work I switched on the telly box in the dining room, the news ticker crawled across the bottom of the screen with the reluctance of a hearse.
PARIS CAR ACCIDENT: Princess Diana seriously hurt.
According to Stephen Jessel, in a BBC News bulletin, a concussion, a broken arm and lacerations to the thigh were the extent of the injuries the princess sustained in a collision in the Pont de l'Alma road tunnel in Paris until Nik Gowing interrupted his conjecture with something a little more concrete.
'The Press Association in Britain, citing unnamed sources has reported that Diana Princess of Wales has died.'
The first thing I noticed was the smell of the iron burning through my disbelief and into my work shirt as the news burned through the screen and into my thinking.
When I left the house that morning the streets were still dark and it was as though God had flicked the mute switch and the world was just one big rotating bubble of no sound. Even the winds made no noise, instead they moved calmly up the street on their way to nowhere. A middle-aged white male in glasses with rims as thin as chickenwire circling ball bearing eyes that rolled around in his head, shuffled towards me as I made my way onto the swell at Sumner Road.
My eyes said Diana. His stopped rolling long enough to for him to say, The weight of the crown, before he flung a bundle onto the ground by the newsstand and hopped back into his panel van. It was the newspaper delivery man. The same man I'd seen every single Sunday for the past 13 months as I made my way up the road to catch the 36 bus to Victoria Station where I worked as a Customer Service Assistant at W H Smith. My first job and still (despite that Sunday) the most favourite one I've ever had.
I kept walking. I think we all did.
In the brave new world when a dignitary, celebrity, relative or famous person dies the public feel an overwhelming need to share the news with friends and strangers. We do this, in part because we care and we want others to care also and because we have sustained a genuine connection to an individual that has inspired us and we are now moved to mourn them. We also do this because we could not care less; because their loss is our gain. In this day and age the best thing any human being can be is informed. All of us are striving to be relevant and the more we know the more relevant we are.
This is why Twitter has become the success it has, it adds great value without great effort. So when Alexander McQueen, a leading coutourier, was found hanging by his favourite brown belt on 11 February 2010, many people who had no idea of his talents tweeted, not because they cared for his clothes, but because it was the fashionable thing to do. The trendsetter had become the latest trend. When Whitney Houston, lost her coloratura and then her life on the exact same day two years later in room 434 at The Beverley Hilton Hotel in LA many who had disparaged her for her drug use, deified her in death because for so many of us the greatest love of all is the love of attention.
If they are hip like Peaches Geldof we want to prove that we were in the know. If they belonged to the Golden Age of Hollywood like Lauren Bacall we want to prove that we, like they, are timeless. If they commit suicide like Robin Williams, we want the world to know that behind our smile there is the same intense and aching sadness that drove that brilliant man off the edge of the world into that place where couturiers, coloraturas and comedians, like bad punchlines, go to die. We use the death of our heroes to reveal our humanity, but that Sunday morning in 1997, the death of Princess Diana did what death used to do (if only for a while): it silenced us.
Within days we were pleading with the Palace to speak up. We called the Queen indifferent, ignoring how despondent the death of our own loved ones had once made us. We didn't care that two young boys had just lost their mother and might want to hide in the curtains, we waited under the windows for them to show and acknowledge the people and because grief really is the height of all narcissism, when Elizabeth finally did show we smiled inside because who is really subject to who if even in death one cannot neglect duty.
I remember there were no newspapers on the shelves in W H Smith. Many of them had been sent back to the printers to be reissued with the news that broke that morning and flooded an entire nation in rivers of grief. I remember being forced to tell people why the papers they wanted to read weren't available. I remember a white woman screamed at me in disbelief; asked me why I would make such a terrible thing up. I remember wishing I had, made it up that is. I remember a black woman dropped her jaw; another dropped her change; a father almost dropped his child like a bogus charge. Everything was heavy that day. A Sunday. Just like today.