I was invited to the Inner Hebridean isle of Tiree Food Festival recently. I chatted about cooking with fresh ingredients with the limitations of ferry deliveries over the winter months and about foraging too.
Tiree is a beautiful island with white sandy bays (a surfer's haven) and it is reported to be the sunniest place in Britain. The sun certainly shone during my visit.
Hebridean Islands each have their own character and the wild food gatherer's basket will vary from Isle to Isle. I travelled to Tiree via the Isle of Barra, which had lots of trees and autumn berries.On the Outer Hebridean Isle of South Uist, where I live, trees are few and far between but we are well supplied with brambles. Tiree was a bramble free zone but late September ditches were amply banked with mint and a second season of watercress. (N.B.Watercress foraged where sheep and cattle graze must be cooked before use to avoid liver fluke.) Shellfish were in abundant supply and I foraged the marine algaes: sea lettuce, velvet horn, carrageen and sugar kelp.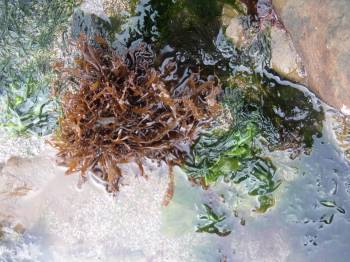 Sea Lettuce and Carrageen
I travelled on to the South West of England where the gorse was blushing a second bloom and Cornish seawater a tad warmer.The carrageen was certainly less shy, I found it in rock pools higher up the lower shore than on The Hebrides. I meandered home to my Island via mainland sloes, quince and sea-buckthorn and found that the sea lettuce madeleines in our Outer Hebridean kitchen cake tin were still moist. This recipe is taken from The Forager's Kitchen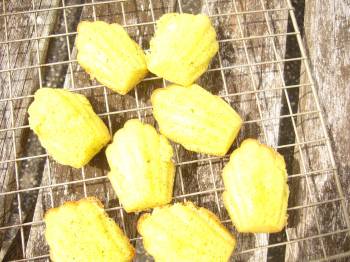 What to forage and find:
Makes 24
Extra flour and butter for Madeleine trays
Sea Lettuce dried (Approx 10cm x3cm)
125g caster sugar
4 eggs
Small lime, finely grated zest
125g plain flour, sifted
Tsp baking powder
125g butter, warm (melted)
Tbsp icing sugar
What to do:
Oven 220°C Gas7
1. Prepare the Madeleine trays by brushing them with melted butter and lightly dusting with flour. Turn the tins upside down and shake out excess flour. Set aside.
2. Break the Sea Lettuce into small pieces and put it in the food processor with the caster sugar. Blend briefly so that the sea lettuce is well mixed into the sugar.
3. In a bowl whisk the eggs, sea lettuce sugar and lime zest together until light and thick (the whisk leaves a trail in the bowl when lifted.)
4. Fold in half of the sifted flour with the baking powder.
5. Drizzle half of the warm, melted butter around the edge of the mixing bowl and gently fold it in. When the ingredients have combined repeat with the remaining sifted flour and melted butter. Chill in a fridge for an hour. (This gives the mixture its dense, mousse like consistency).
6. Just over half fill the prepared Madeleine tins (do not fill to the brim the Madeleines will expand) and then bake for about 10 minutes until the Madeleines are golden and speckled with sea lettuce green.
7. Give the tins a good shake to help to remove the cakes from the tins. Turn on to a rack to cool. Dust with sifted icing sugar.
Wild Notes:
You may like to add a pinch of finely ground sea lettuce to the icing sugar used to dust the cakes at Step 7. Alternatively, for ease, use caster sugar if you have made Sea Lettuce sugar.