It's the end of summer and the cattle and sheep will soon be driven back to the machair. Inevitably, some of the animals meander down to the sea to dine on storm cast seaweed. Deer are also rather partial to grazing on beach kelp. In bygone years, crofters would gather and store seaweed to feed to their animals over the winter months. I've started to add a teaspoon of carrageen gel to our dog's food because seaweed is abundantly rich in nutrients. Increasingly more folk are using it in the kitchen, as well as in the garden.
One of my favourite seaweeds to cook with is dulse. It is a ruby, red seaweed, which dries to a deep pink, and turns green when cooked. Dulse grows on rocks in the subtidal zone or sometimes grows as an epiphyte. It often hitches a ride on kelp.The pretty fronds resemble fingers and its stalk (stipes) are short.
Chilli and Poppy Seed Crisps
2 tbsps groundnut oil
½ red chilli, deseeded and finely chopped
30g dried dulse, cut into bite-sized pieces
Scant tbsp poppy seeds
Heat the oil in a frying pan and sauté the finely chopped chilli. When the oil begins to smoke, quickly add the dulse and stir fry briefly to coat with the chilli oil. Add the poppy seeds and it's ready to serve.
This year Donald Hope has had a bumper crop of Black Hamburg grapes on what must be Britain's most northerly vineyard, on the Outer Hebridean Isle of Lewis. I'm keen to try his Hebridean rose wine. Perhaps it will work well with seaweed canapé oatcakes mabe by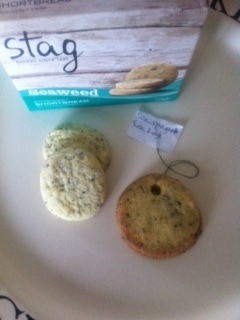 Stag Bakeries, also based on the Isle of Lewis. This company produces an interesting seaweed range of canapé sized oatcakes, water biscuits and shortbread. Details of stockists are on their website. Seaweed cooks might try adding the species of their choice to an oatcake recipe (sea lettuce works well) or to shortbread. A Sea Spaghetti biscuit will be available in this forth coming title, Seaweed in the Kitchen. If however you are time stretched or landlocked, the award winning, Stag Bakery range is well worth looking out for.