Foraging the sea lettuce for this ice-cream was hard work. The weather was inclement but this rarely deters your hardened forager.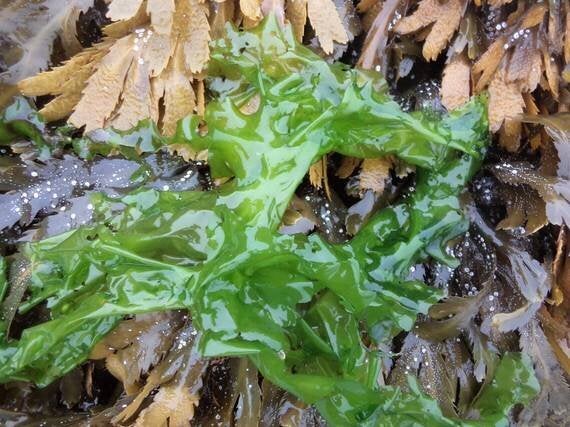 I'm interested in sea lettuce because it is a very common marine algae. It's not to be found on the upper shore but there are usually copious amounts of this stunning vivid seaweed in the rock pools of my local beach. Sadly this week the fronds remained allusive,even at spring tide. Eventually I tried exploring a neighbouring beach and my luck was in.
I love the blousy salad leaf-like sea lettuce fronds (Ulva lactuca). Its translucent emerald leaves are as vibrant as the jewel. Don't confuse it with the thinner, (equally delicious) ribbon like frond Enteromorphia linza.The larger frond (sea lettuce) lends itself perfectly as a wrap for fish, vegetables or chicken and it makes an inspired, protective layer on a beach barbecue.
Be wary of gathering seaweed near sewage outlets. Both sea lettuce and linza thrive in areas where fresh water seeps into the sea.
This simple seaweed ice-cream recipe is taken from The Forager's Kitchen You will find lots of other seaweed ideas in the book but one of my favourites is sea lettuce popcorn.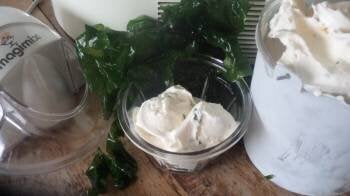 Lemon and Sea Lettuce Ice Cream
A velvety ice cream - just right for the beach.
Heaped tsp dried sea lettuce
1.Finely grate the zest of one lemon and squeeze the juice from three into a bowl and stir in the sugar.
2.Slowly add the cream and sea lettuce mixing carefully - it will thicken.
3.Churn in an ice-cream maker and serve immedaitely
Put the mixture into a freezer safe container and freeze until slushy. Return the mixture to the bowl beat well (or whiz in a food processor) and return to the freezer. Repeat this process until you can't see any icy shreds and then freeze until frozen. Allow the ice cream to soften in a refrigerator before serving.
I used a handful of freshly gathered sea lettuce, which I washed and rinsed well. I then towel-dried the fronds before finely blending the sea lettuce in a grinder.
Dried and fresh seaweed is available available from an increasing number of commercial seaweed harvesters. Do try Just Seaweed who hand cuts his seaweed from fresh, clean waters. There is also Bod Ayre and Sea Veg.
Related