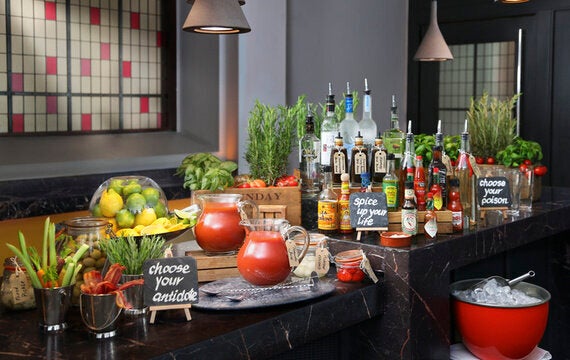 Recent years have seen an influx of New York inspired restaurants and bars springing up all across London, seemingly catering for the ever-growing hipster crowd. Eastway at Andaz Liverpool Street could easily be just another carbon copy New York brasserie that offers style without substance, and whilst Eastway does have a few generic aspects to it, overall a concoction of fabulous ingredients, an eclectic menu and impressive ambience gives it that certain East Village vibe on a good day.
As can be expected in the City, dining at Eastway is a very different experience depending on when it is visited. Go in during the week and there will be the usual mix of busy City workers, lawyers and bankers but brunch at the weekend is a slightly subdued affair with a far more laid-back atmosphere.
For diners who are looking for a fresh start to the New Year the ample selection of energetic juices and health conscious smoothies on the menu will be the perfect thirst quencher. The 'Oat Meal Magic' with organic oats, banana, apple, passion fruit juice, honey & soya milk comes recommended, just make sure not to drink this if your only a little bit peckish as it can be slightly too filling. The weekend brunch menu is quite balanced, offering a choice of healthy snacks all the way up to full-on hunger satisfiers, catering to an ever fickle City clientele. However, it would be good to see a larger range of menu items that are priced more affordably.
The real standout drink at Eastway has to be the 'Build Your Own Bloody Mary' with a vast range of pungent spices including chilli and horseradish on hand to take the edge off even the worst hangover. Steer clear from the mocktails though as they aren't as flavourful as they could be. Planning on getting a little bit too tipsy at brunch? The unlimited offerings of Bellinis and mimosas float on the menu may cause this to be both your first and last visit if you get too rowdy.
Food-wise the Eastway Weekend Brunch offers both the tradition options of 'Free Range Egg Benedict' and the quirky 'Merguez Trenchers' - a spicy Merguez sausage placed on thick country bread, with a fried egg, pepper & onion caponata. 'The Big Jack' is for those with eyes bigger than their stomachs at 12 ounces of British beef and is more than enough for two people to share.
Prices at Eastway are not exactly low but then that's par for the course in City eateries and with Andaz Liverpool Street's in-house bakery pumping out the smell of freshly baked artisan bread, paying feels all that less arduous. The level of service from Eastway's staff is everything that you would expect from a 5-star hotel with a waiter on hand whenever needed.
Whilst Eastway was not without its faults, the food itself was cooked very well and reached our table promptly. The high price tag may put off some potential diners, with visits perhaps becoming a once-a-month treat rather than an everyday trip.
Andaz have clearly got the hang of running their restaurants, seven at last count, efficiently but it would be nice to see an extra flare given to some of the meals. Overall, Eastway do manage to combine unique elements to create a first-rate dining experience. With so many high-profile hotel bars and restaurants failing to live up to the lofty expectations placed on them it's a welcome surprise that Eastway at Andaz is thankfully offering an experience that feels authentic.
Eastway at Andaz, 40 Liverpool Street, EC2M 7QN