*This blogpost is part of a series on the 12 host cities of the 2014 FIFA World Cup in partnership with the Brazilian Tourism Board (Embratur)*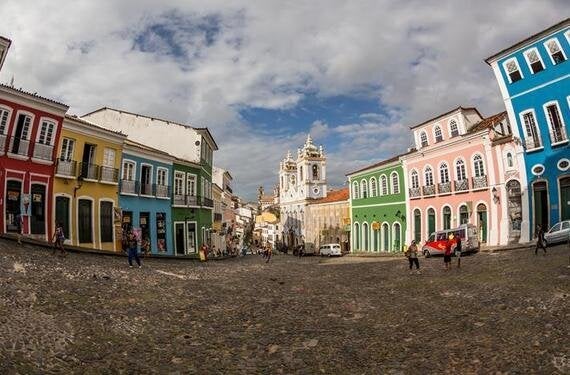 Salvador, capital of the state of Bahia (in Northeastern Brazil), is another great example of the amount of unforgettable experiences available in the country for those who'll be visiting us before, during and after the 2014 FIFA World Cup. That city is our strongest link to our rich African heritage and it shines brightly when it comes to music, art and gastronomy.
Locals say "smile, you are in Bahia!" to anyone who visits the city for the first time. And, though this may sound as a joke, they are never kidding! The sunny state of Bahia, as well as its old colonial city of Salvador, are in a constant state of joy and festivity. It's easy to spot the smiles and feel the warmth; to be amazed by its new tall commercial buildings and its colonial downtown; without mentioning the beautiful beaches (both urban and some that are just minutes away); the vibrant colors, the upbeat music and the delicious food. It's a place to be.
Some tips to make the most out of your visit beyond the stadiums:
1- Enjoy the sounds of Bahia
Being a hip happening beach city, Salvador has a strong nightlife, as well - which will please all tastes. There are countless bars, pubs and concert halls that will offer traditional Brazilian music, new hits from Bahia (which usually become national hits during Carnival), electronic music, pop rock and even country. Just look what suits you best and celebrate life!
Speaking of Carnival, this festivity is a local trademark; different from Rio (with its colorful parades and costumes), Carnival in Salvador has a different "feel". People take the streets and avenues, following big, electric trucks, with bands performing on top. This local invention became known as "Electric Trios", and usually people purchase a "Abadá" (a piece of clothing which grants right to follow the truck), though many people just follow the bands dancing along the streets.
One special offering of Salvador is the traditional drum bands that you see in Pelourinho (the old city).
Salvador harbors a very unique gastronomy, filled with spices, tastes and colors due to its strong African roots. Some of the some must-tries are: Acarajé (fried black-eyed pea and shrimp fritters), Vatapá (nut and shrimp puree) and Moqueca (fish or shrimp stew) are just some of the ideal gastronomic experiences a visitor could have in Salvador. Just find the closest "baiana" near your hotel and you are good to go (baianas dress in traditional white clothes and an assortment of these delicacies in the street).
3- Re-live part of Brazilian history
Salvador is one of Brazil's oldest cities (it was the country's first Capital), which means the city breathes history, from the old, narrow streets that resemble medieval Portuguese towns, to the breathtaking baroque churches, to the many museums (Solar do Unhão, which is the Museum of Modern Art is practically over the water and should not be missed).
There are markets and even a colonial fort (São Marcelo Fort), in the middle of the ocean, which was built to protect the city from pirates and other threats (and is a colonial museum just 10 minutes away by boat). Another strong part of the city's past is the African heritage, which can be easily seen in its beautiful people (actually, Salvador is the "most African" city outside Africa). Visitors should visit some important sites like Mercado Modelo (the old city's central market), the Lacerda Elevator (near Mercado Modelo, and one of the city's hallmarks) and Pelourinho (the "medieval" Salvador, where all the beautiful churches are located). And, while in Pelourinho, don't forget to visit St. Francis Church. I don't want to spoil the surprises but I think you'll want to thank me later.
4- Experience Candomblé and Capoeira
Candomblé emerged from as an attempt of West African slaves to maintain Yoruba rituals by pairing their gods and goddesses (known as orishas) with Catholic saints. Visitors can travel to a small community nestled in the hills of Cachoeira on the Paraguassu River, you can visit the women who still practice this Afro-Catholic religion.
Capoeira finds its origin in this region. This too is a legacy of the slave trade and was used by slaves as a way defend themselves from violent practices and to maintain their cultural identity by transforming their traditional dances into a means of self protection. Today, it is a very popular practice amongst Brazilians and many other cultures throughout the world.
A Brazilian author is a good gateway to investigate all this strong ethnic history and culture. Jorge Amado, one of the most famous modern writers from Brazil and whose work has been translated into 49 languages, was born in Bahia and expresses all the beauty, the magic and the syncretism, so typical from this state, in his books. The most famous one (which also became a film) is "Dona Flor and Her Two Husbands".
5- Enjoying the sun and the beach
Like Rio, it's impossible to visit Salvador and not go to the beach. The city offers many urban beaches on its coastline, for instance. "Porto da Barra" is near many hotels and is always filled with people (both locals and foreigners) and is one of the most traditional (and popular) spots in Barra district (it's a very small, narrow beach).
But, just outside the city, the sky is the limit! A very well kept set of roads make a beach road trip ideal! Visitors should check places like Imbassaí and Praia do Forte (which are very near the city), but there are many (many!) other options worth checking, especially if you have time to spare (Trancoso is a must see).
Note: Look out for the next post in our series, which will feature another host-city.
Popular in the Community