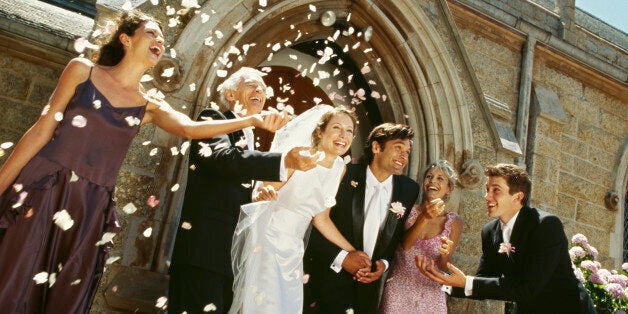 At the grand old age of 29, weddings have started to become a fairly regular weekend activity and I'm yet to be marred by wedding cynicism (I hope never to be). I love watching two people in love tie the knot and start their new chapter together. My best friend's wedding earlier this summer was the highlight of my year.
However, coming back from another wedding this weekend with dirty over-danced feet and an Uber driver who seemed to sorely regret his vocation of picking people up from weddings at one in the morning, I started thinking about the new spouses whose reception I'd just enjoyed.
Because, the truth was, I'd only met them once. As mates of my boyfriend, I had been invited to the reception with him. My name was in the RSVP, and in the card - which means we may have had more correspondence in ink than we had IRL before the wedding.
I absolutely loved being part of their reception and they are a truly lovely couple who I definitely hope I will get to know better.
But this isn't the first time I have been to the wedding of someone I don't know too well, or at all. Many years ago I was invited to accompany an ex to a wedding of two people I hadn't yet met.
Have you ever been introduced to a bride and groom at the same time as the biggest day of their lives? It felt like I had imposter written all over me.
A survey by Brides Magazine last year put the average cost of a wedding at a fairly substantial £24,000. So, with the costs of weddings so high, why do we as Brits feel in order to be polite, there needs to be a plus one? Is it fear of offending, or a worry that the people you want there will be discouraged to come because you're not inviting their partners?
I have been invited to weddings my boyfriend hasn't been invited to, and vice versa. I savour that we both have our own lives and often go out and see friends separately, and I don't think weddings should be any different - at least at this point.
Maybe it would feel different if we had been together many years - I'm not sure. Possibly it would feel incongruous having your partner of ten years or the father of your kids living it up at a wedding while you sit at home. Certainly, I know people who don't share my opinion at all.
Do I seem ungrateful? I don't mean to. If someone wants me at their big day, I'm the first one to dust off my fascinator and help them celebrate with quaffing some champagne. But I hate the thought anyone would feel obligated to have me there as an extension of who I'm with - it just seems a bit unfair.
If I ever get married, my wedding guest list will be mine and my partners' friends and family - but that's it. After all, no-one wants to have mind blank over the names of your own wedding guests.