There's nothing like a controversial refereeing decision for lighting the touchpaper on a game of football. Following the goalline gaffe that cost Hibs victory over Hearts last weekend, Football Week runs down some of the football world's all-time biggest "What are you doing, ref?!" moments.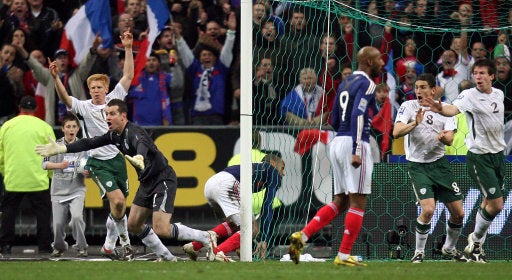 11. Thierry Henry vs Ireland, 2009
A place in the 2010 World cup finals was at stake when Swedish referee Martin Hansson missed Henry keep a cross in with his hand then handball it again for good measure. William Gallas scored the equaliser from Henry's cut-back and the disbelieving Irish were out of the World Cup running.
Henry 'fessed up to Ireland captain Richard Dunne after the game but he was emphatic about where the blame lay. "It was a handball," he said, "but I'm not the referee."
10. Freddie Sears vs Bristol City, 2009
Even the reliably noisy Neil Warnock had reason to complain here. Freddie Sears' shot travelled all the way into the back of the net before hitting the stanchion and bouncing back out. Remarkably referee Rob Shoebridge waved play on, and to add insult to injury Bristol City won the match in the last minute.
Accusations of cheating were thrown around as the post-match analysis got ugly, but Warnock had a point when he said "We can put a man on the moon yet we cannot place a couple of sensors in a net to show when a goal has been scored."
9. Frank Lampard vs Germany, 2010
Goal-line technology looks set to arrive in time for next season, a move no doubt hastened by incidents like this one.
Germany raced into a two-goal lead but after Matthew Upson's header Lampard's longer-ranger seemed to have completed the comeback, bouncing off the bar and down well behind the line. Uruguayan referee Jorge Larrionda and his officials seemed to be the only people in the stadium who hadn't spotted it.
England's outrage was spiked by Germany deservedly going on to win 4-1, enjoying revenge for a certain other goal-line decision 44 years earlier. Speaking of which...
8. Geoff Hurst vs West Germany, 1966
The most debated goal in football history? Everyone (in England, at least), knows the story. Germany and England were locked at 2-2 in extra time in the 1966 World Cup final when a Geoff Hurst shot hit the bar and bounced down in the vicinity of the goal line.
Swiss official Gottfried Dienst (with the help of linesman Tofik Bakhramov) awarded the goal, Hurst later scored again to seal the victory, some pitch invaders gave commentator Kenneth Wolstenholme the line of his career and England had their first and so far only Jules Rimet trophy.
7. Pedro Mendes vs Manchester United, 2005
This one denied Spurs heir first Old Trafford win in 16 years. Pedro Mendes' last-minute wallop from the half-way line was fumbled a clear metre over the line by Roy Carroll but, despite Carroll's guilty demeanour, Mark Clattenburg's whistle remained resolutely unblown. In the officials' defence they would have needed rocket boots to get into position after Mendes' prodigious effort, but when even the bookies start paying out on "the goal that never was" you know you've made a bit of a ricket.
6. Harald 'Toni' Schumacher vs France, 1982
The most notorious non-foul of all time? The 1982 World Cup semi-final, a six-goal extra-time thriller, is remembered for this gob-smackingly violent incident.
Frenchman Patrick Battison got to a through-ball well ahead of Schumacher but that didn't stop the West Germany goalkeeper's charge, leaving a steamrollered Battison unconscious, missing three teeth and with damaged vertebrae.
Dutch referee Charles Corver not only kept his red card in his pocket, he didn't even blow for a foul. Football fans (and referees) all over the world couldn't believe their eyes.
5. John Eustace, Watford vs Reading, 2008
One of the strangest goals ever given. A Reading corner led to a melee in the Watford box, the ball flying wide of the goal and over the touchline before being hooked back in to play. Referee Stuart Atwell initially said goal kick, but after a conversation with his linesman gave a goal - to widespread astonishment.
Rookie ref Atwell was highly thought of at the time, but has struggled to recover from giving a goal that was yards from being legitimate.
4. Nani vs Tottenham Hotspur, 2010
That man Mark Clattenburg again with another Old Trafford decision that favoured the home side. Nani went down in the box under little pressure, clearly handling the ball while histrionically rolling around. Spurs keeper Heurelho Gomes lined up the free-kick, but the ref has either missed the flagrant handball or tried to play advantage.
The result? An open goal for Nani, who tapped in and wandered off looking quite pleased with himself. "The whole thing was a farce" said understandably miffed Spurs manager Harry Redknapp.
3. Graham Poll, Croatia vs Australia, 2006
Two yellow cards equals a red. Something you're probably taught on your first day at referee school. Perhaps Graham Poll bunked off that lesson.
During this World Cup group game Croatian defender Josip Šimunić saw yellow for a 61st minute foul and yellow again in the 89th minute. Successfully looking a gift-horse in the mouth, Šimunić got a third yellow - and belatedly that red - at the final whistle. Poll's schoolboy error led him to retire from international tournaments, saying "It was my error and the buck stops with me."
2. A ballboy, Santacruzense vs Atletico Sorocaba, 2006
The most ridiculous of the lot. Atletico Sorocaba were winning 1-0 at Santacruzense in Brazil's Paulista Football Federation Cup when an 89th minute shot went wide of the away side's goal. While the keeper dawdled before taking the goal kick, an enterprising ballboy casually brought the ball back on to the pitch and tapped it into the goal.
Amazingly, female ref Silvia Regina de Oliveira let the equaliser stand, later blaming her linesman and ruefully saying "I should have trusted my own vision." Sexist YouTube commenters have been rubbing their hands together ever since.
1. Diego Maradona vs England, 1986
The big one. A refereeing ricket so big that it overshadowed Maradona's almost unbelievable second goal: that incredible slalom past virtually the entire England team.
Steve Hodge shanked a clearance into England's penalty area, setting up an aerial challenge between Argentina's diminutive genius and considerably taller England keeper Peter Shilton. Which Maradona improbably won thanks to his "Mano de Dios" - a flagrant punch past Shilton and into the net.
Tunisian referee Ali Bin Nasser waved away England's outraged protests and Argentina went through to the World Cup semi-finals with an eventual 2-1 win.
Maradona later call it revenge for the Falklands War. "At the time I called it 'the hand of God'," he wrote in his autobiography El Diego. "Bollocks was it the hand of God, it was the hand of Diego! And it felt a little bit like pick-pocketing the English..."
Picture credit: Martin Rickett/PA Archive/Press Association Images.