You can't have an orgasm every time you walk on stage.
This line from the script is sitting with me. I think Piaf did give the audience everything every time she walked onto the stage. To play her and to be in the character I must do the same. This role is certainly the biggest challenge of my career, its two hours solid on stage and some of the scenes are so intense I go through so many emotions every night. I feel like I have been in a car crash and Piaf's life was full of those. With the intensity I put into each show every night, I feel totally drained but also strangely energized, like I could run for miles.
As I said in an earlier blog I do it because I love to be on stage and one of the reasons I love to be on stage is the audience. We are getting great reactions and the audience is responding and connecting to what we are doing. As we are all settling into the dialogue I feel that the show is rather special and people are showing how much they love the show.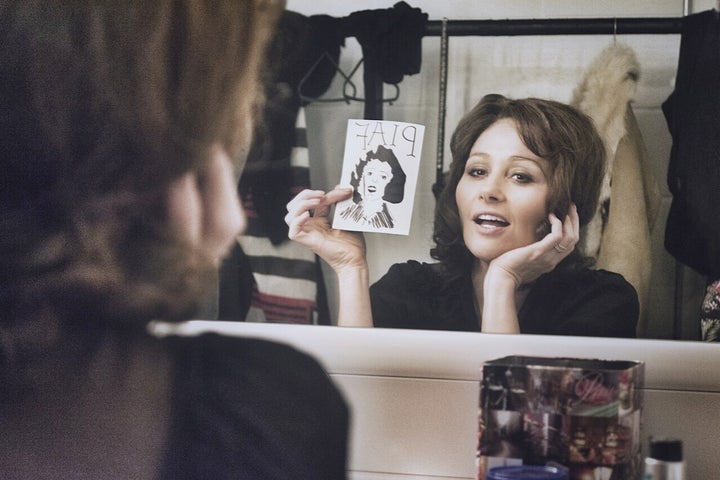 Piaf and Me. Backstage photographed by Adam Heasman
Then the pressure of the reviews... It's always fantastic when a show gets great reviews of course. So we luckily got a lot of wonderful ones...PHEW! I rarely read reviews and will occasionally sneak a look at the good ones. Though even that's not a good idea as it's better just to get on with one's job which can be stressful enough at the start and it's not worth giving yourself an extra rollercoaster ride.
I was told that one reviewer this week seemed so grumpy he was having to drive up the M1 to see the play he just couldn't handle the volume, he wrote a review complaining about the sound! And apparently this review caused quite an uproar from people who have seen and loved the show. It made me laugh when I heard about it and one of the cast members said I ought to buy it and frame it! No!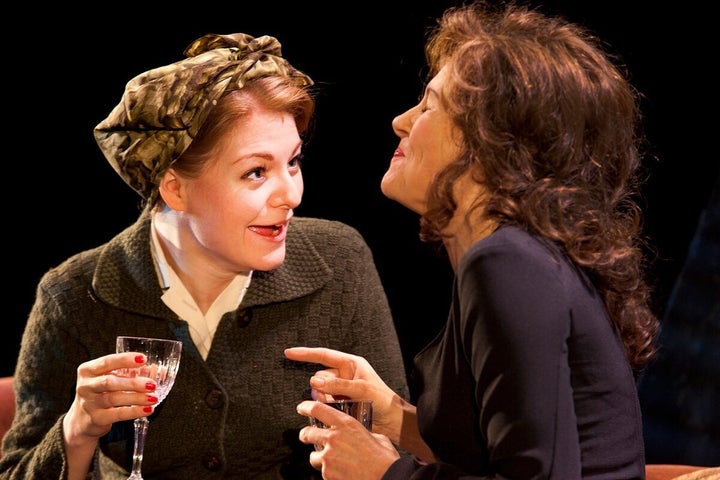 Having a laugh with the brilliant Laura Pitt Pulford who plays Toine, Piaf's lifelong friend
We have a great company with exceptionally talented actors and a super director Paul Kerryson. It's such a pleasure to be around them every night. But with such a role as this one I can rarely enjoy hanging out with them after the show so I wave to them through the window as I walk past the bar back to my lonely hotel room. "If it goes well, f*cking anguish, well what is there to come off for? You're only on your own again." -Edith Piaf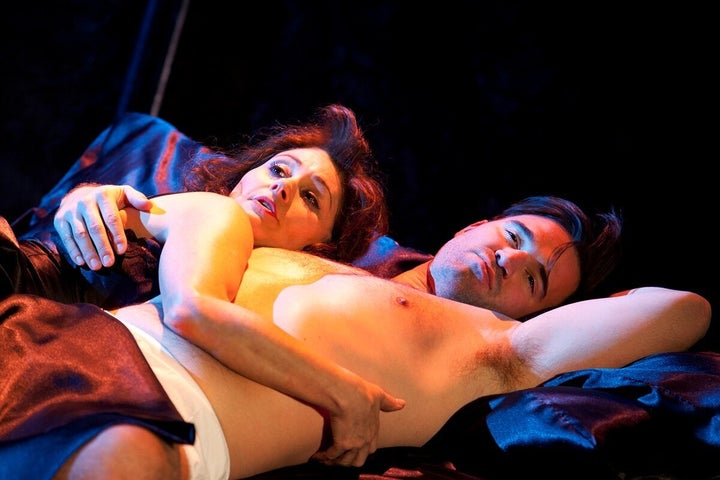 With the incredible actor Oliver Boot who plays the love of Piaf's life the tragic Marcel Cedan.
I am so excited that Piaf is doing so well. It is a controversial play causing extreme reactions and is sold out. We are adding extra performances and moving to a bigger theatre for a week and it's looking very likely there will be a future for this production.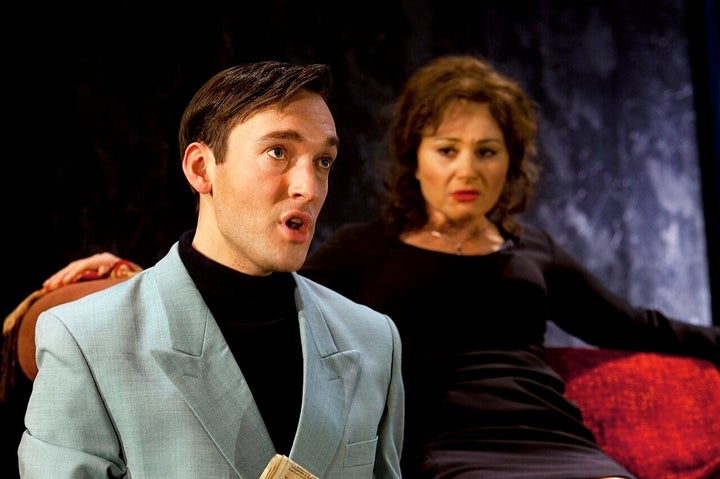 A moody Piaf with Russell Morton who plays Piaf's last husband and carer to her. He makes me cry every night. Beautiful performance.
Luckily our wonderful audiences seem to be spreading the word.
So thank you for your "Bravos"
"You can't have an orgasm every time you go on stage" -Marlene Dietrich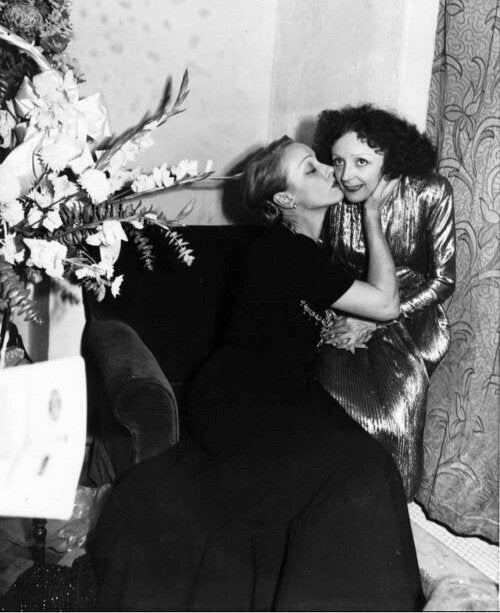 Edith Piaf and Marlene Dietrich were great friends. Here they are together.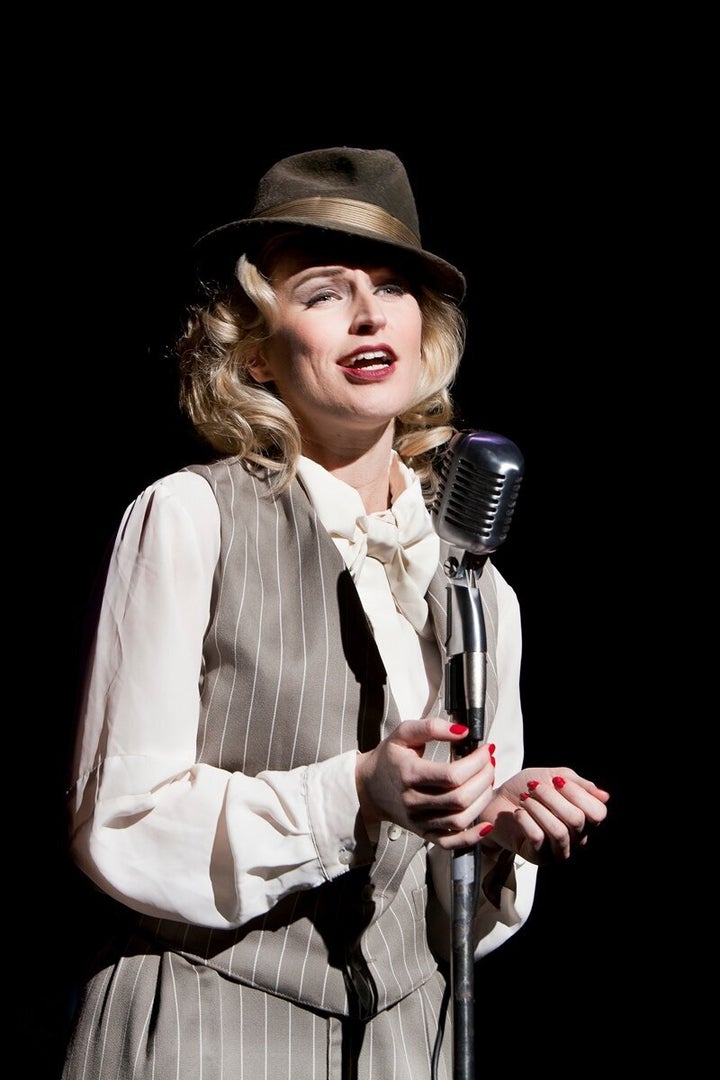 The seductive Tiffany Graves as Marlene Dietrich.
Piaf and her boys. Singing Les Tois Cloches with the talented men in our cast.
Frances Ruffelle is currently starring as the title role in Piaf at the Curve Leicester.
Extra dates have been added from the 3rd to the 6th April (matinee only on the 5th)
Frances is also performing her solo show in New York on the 22nd May at 54 below.