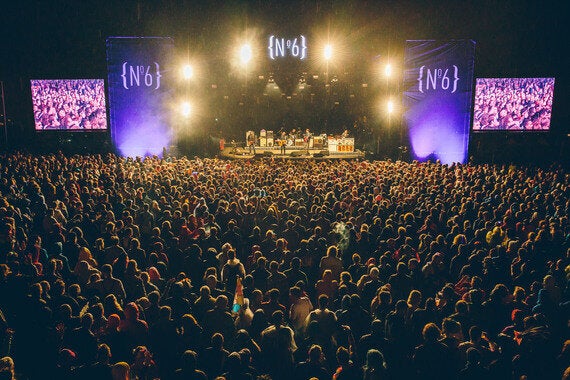 Noel Gallagher headlining on the Sunday night. Credit: Festival No.6
I wasn't going to let a little rain get in the way having fun at Festival No.6. Somewhat easier to say when you're not one of hundreds left stranded for an extra twenty-four hours, thanks to a flooded carpark. And, when I say a little rain, it was torrential. Over two inches showered down in less than twelve hours. This, combined with gale force winds, turned tents into paddling pools, caused intermmitent power-cuts, flooded tents and several stages to be closed off.
Usually, I prefer to drive, but for this particular journey Virgin Train's First Class service offered a bottomless prosecco brunch, live music and free glitter. Need I say more? We beat our friends who drove, by four hours, and got a Full English on the way back. Heavenly. This, some solid waterproofs and some sturdy heeled boots (heeled outdoor boots are my new favourite thing) all contributed to one of my favourite festival experiences and I have every intention of returning next year.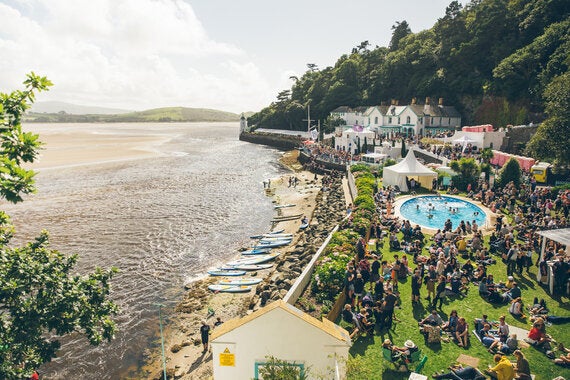 Views across Portmeirion village. Credit: Festival No.6
Festival No.6 is perfectly picturesque, almost otherworldly. It's set around Portmeirion village, known to many as "The Village" from the 1967 TV series "The Prisoner". It was designed by architect Clough Williams-Ellis in the late twenties. He was captivated by the Mediterranean-like setting, not dissimilar to Portofino, in Italy, which was a favourite place of his. The village has beautiful Riviera-style buildings, ornamental gardens and views that stretch across the sea. The festival's thirty-odd stages all offer something unique. There's a diverse range of music and activities to choose from - Paddle boarding, Welsh Sour Dough making and Indian Head Massage tutorials to name a few. In its four years of existence it's seen James Blake, New Order, Metronomy and The Pet Shop boys grace its main stage.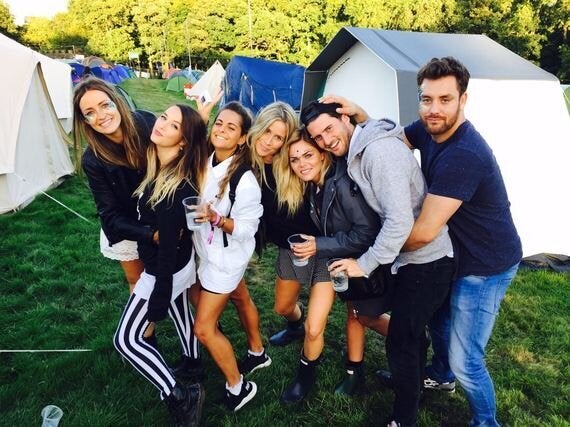 My family for the weekend
Our shuttle from the station dropped us at the entrance of the Village Green and, without a queue in sight, we wandered straight in. The Green is the portal to the main festival. It's your pit-stop to recharge, regroup, re-glitter (see below) and refuel with some quaint (and very middle class) food and drinks stations. Options included a home-made elderflower and blackberry juice stand, a stall serving handmade scotch eggs and sweet potato fries, an organic (or so we presumed) fruit and veg stall and delicious stone-baked pizza pop-up - Wholefoods, eat your heart out! Lavazza had a pop-up café in the corner and, if you lingered around the Green for long enough, you'd be treated to a mini-cup of complimentary coffee. You could also indulge in an espresso martini masterclass with cheese pairing - or just buy one after 5pm if you're feeling lazy. Ketel One also had a cocktail bar offering an hourly Bloody Mary making workshops to aid those hangovers. But, if this all sounds a bit too fancy, you can find haven at the Moretti bar.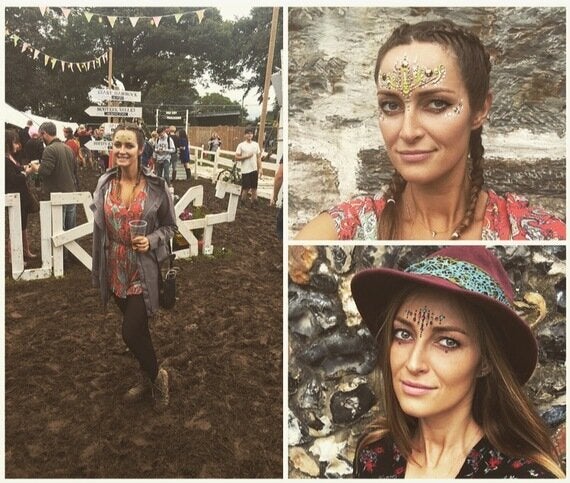 Some of my looks from the muddy weekend. Braids and face gems by In Your Dreams
The main No.6 stage is situated in the Castell Park surrounded by a number of mini-stages and bars. The Castell Gardens and House of Rum were two of my favourite haunts and the Late Night Pavilion was the place to find the best DJs in the later hours. During the day, the main village by the sea is the best place to warm yourself into things. The Estuary stage boasts a pool with seaside views and at The Central Piazza you can plonk yourself on a lounger and enjoy some eclectic live acts. On the first evening we witnessed a truly mesmerising performance by the Welsh Male Brythoniaid choir and on the final night we watched an enchanting performance by La Compagnie Des Quidams.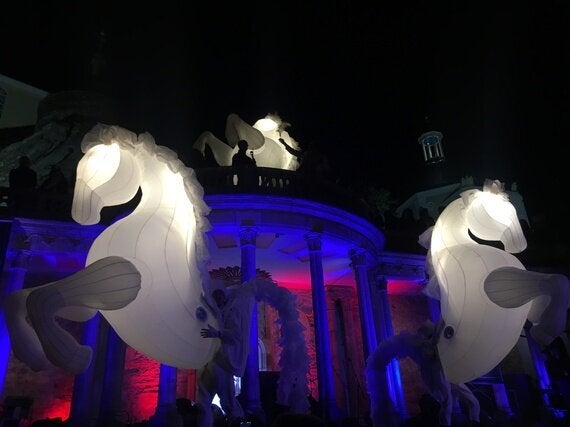 What the...? Oh, it's La Compagnie Des Quidams
Highlights from the Friday evening included headliners Bastille, DJ Yoda, Maribou State's DJ set and Fleetmac Wood. On the Saturday it was all about Hot Chip. I've seen them perform at Bestival before, but there was something special about this particular performance. Despite the viscous mud, which now felt like sinking sand, everyone was bouncing along energetically. Some with children on their shoulders. And maybe it was thanks to the little ones, that you could move around freely without any elbows to the face. We found it easy to waltz our way to the front with enough room for some bizarre improvised group dance routines - you can thank the Espresso Martinis for that. Their performance of "Ready For The Floor" marked the climax of the festival for me.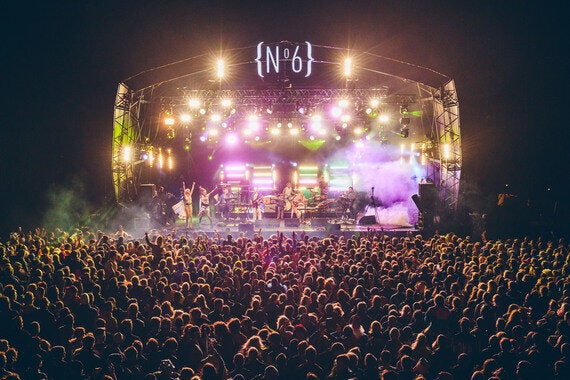 Hot Chip on the No.6 stage. Credit: Festival No.6
The rain and gale force winds brought the whole of Gwyllt Woods to a close on the Saturday. We were late to the party, but when we arrived it was a total game-changer. We sauntered through the twists and turns of the eerie woodlands with little direction. It's encouraged to get totally lost. We came to a clearing where a giant disco ball was suspended as if from nowhere, dangling over a floating stage - this was Virgin Train's Village Limits. As you ramble on further you'll find intimate stages and even the odd arts and crafts area. After a fairly decent hike, we found the Tangled Woods stage hidden under a canopy of curling trees, some adorned low-hanging dream catchers and suspended hammocks. The area was run by the same folk who host Gottwood festival and was packed with a vibrant crowd whose energy never seemed to dwindle. If you're looking for a family-free crowd, this is where you want to be - many of whom spent the entirety of the festival here.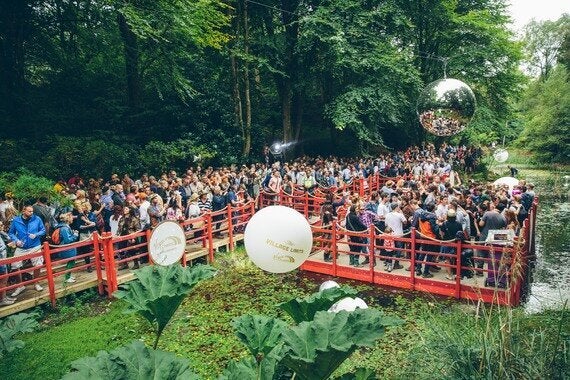 Village Limits Stage. Credit: Festival No.6
The last day of a festival is always my favourite. Everyone seems more settled, spirits are high and the line-up is usually the best. We spent the end of our afternoon watching Bowie Reimagined, a tribute to the icon, which was curated up by the No.6 composer in residence, Joe Duddell. Wales' very own Charlotte Church was joined by Nadine Shah, Jane Weavere and Jacqui Abbot accompanied by Manchester Camerata Chamber Orchestra, with each singer turns to sing Bowie's classics.
Noel Gallagher's High Flying Birds brought an unbelievable close to the No.6 stage performing one of my all-time favourites, "Champagne Supernova", as well as having the legendary Paul Weller join him on stage. Again, we easily made our way to the front of the stage to witness "Don't Look Back In Anger". Even if we weren't all soaked from the rain, there wouldn't have been a dry eye in the house.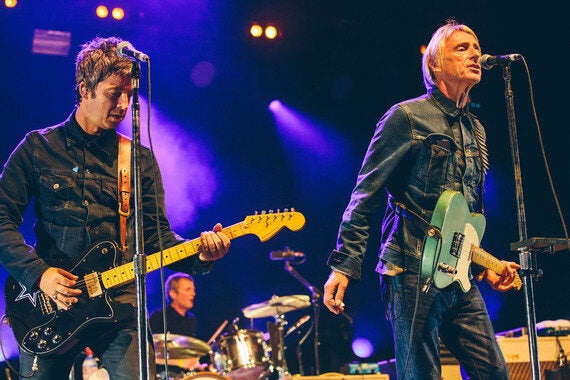 The legendary duo, Paul Weller and Noel Gallagher. Credit: Festival Number 6
The festival's organisers have received some criticism for placing a carpark on flood plain. A number of cars were written off and many had to sleep in the local leisure center whilst tractors dragged their cars out of the mud. This error of judgement could be a huge threat to a very young festival with a vulnerable fanbase. but the No.6 team have assured us the festival will happen next year. I really hope it does. There's always room for improvement, but this has all the potential to be Britain's best boutique festivals.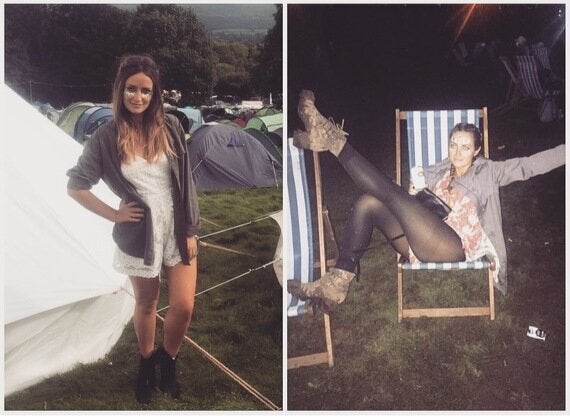 My first day and last day. Wearing New Look playsuit (left), Glamorous playsuit (right) <
Sorel boots and Protected Species waterproof jacket. For more on my style, check out my Instagram page,