For those of you who watched this week's episode, you'll know that I went on a date with the youngest of the Thompson clan, Sam Thompson. The feedback from Twitter suggested that most of you sympathised with the awkwardness of the situation. A lot of you were in a clear amount of pain watching it. Gentlemen, drawing a mistletoe branch on a torn out piece of paper from a notebook does not entitle you to a kiss! It may have helped if I at least had a glass or two beforehand. Bless him though, he really pulled out all the stops... £3 flowers and all!
Unfortunately, I also learnt that Sam is not much of a culinary genius and so I ended up cooking the steak for us. Although the date was maybe a little cringey, it was nice that he tried to make all the effort even if he made some mistakes.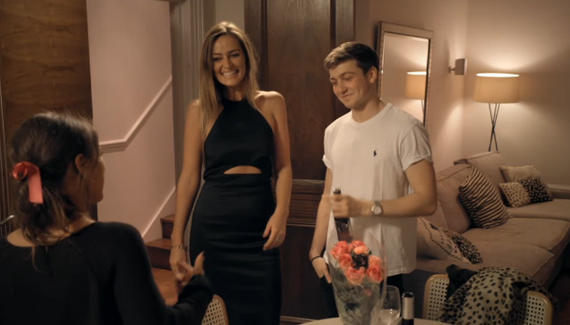 My date outfit was one designed by my talented friend Rosie Bonnar aka Bill + Mar. My leopard print coat was an oldie from Topshop a few years back.
In other news, Andy and Spencer's romance has died and Standy look like a boy band duo could be in the making. Stevie can really rap! Well he can definitely rhyme words either way. From my experience in the music industry, there isn't much of a market for posh rappers, but maybe Stevie could change it all!? Maybe. We also saw the boys once again battling for Lucy's attention, but who really has that special place in her heart? She clearly likes Jamie's attention, but has the history with Spencer ruined his chances. Phoebe also found a new love in the form of an eight legged furry friend. I think I'll still to the more conventional pets, thank you.
Watching back the episode I wasn't proud of myself when I saw mine and Binky's lunch. Yes, Phoebe had been messaging Alex and I did think it was inappropriate, but I didn't need to let my broken friendship get the better of me. I fed Binky's insecurities rather than providing her with non-biased advice. Often this type of behaviour comes back to bite you.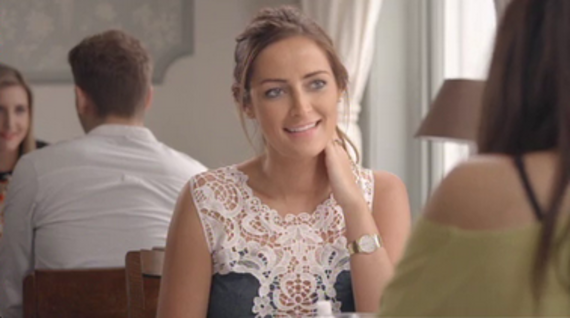 My outfit from the lunch with Binky was a denim and lace dress from IKrush
The end of the episode saw us attend Mark-Francis 'Bach-day'. It was... very cultural to say the least and there was a dress made of macaroons which cost more than my university degree. I do like putting a sparkly frock on though. Louise then took me aside to give me some sisterly advice. I can relate, I have a little sister too and we need to let potential suitors know our siblings are not to be messed with. It is slightly unsettling though. As much as I like Sam, it was clear pretty quickly that the chemistry wasn't there. It's hard to let someone down though without ruining a friendship along the way.
My outfit from the last part of the show was a silver sequin dress from Mint Velvet: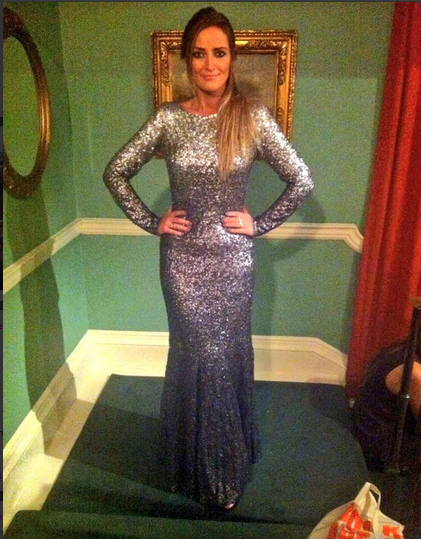 And a checked number from French Connection: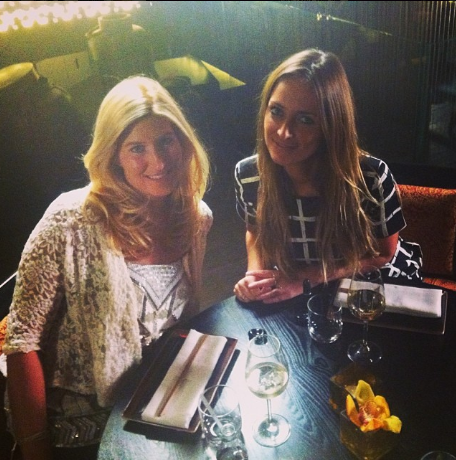 You can hear even more about my thoughts on this week's episode and its tangled love triangles on the spin off show Mad On Chelsea. It's worth watching just for the comedic genius which is Jenny Bede. This week I was also sat next to a very naked Jamie Laing. That boy, sorry boi, does know how to make me chuckle. You can check it out on 4OD now.
My outfit from the episode was French Connection hat, jumper, boots and wax-look leopard print trousers by Joe's JD (from Liberty)
My beauty picks this week are Elemis Pro-Collagen Cleansing Balm. Essie's Borrowed Blue Nail Varnish. For eyes, I wore Mac's Pigment Glittery Eyeshadow in Antique Gold for my date. It's a great festive shade. Christmas parties mean lots of breakouts and there is no better cover-up than Laura Mercier's Secret Camoflauge Kit. I like a little sheen to my cheeks and Laura Mercier's Tinted Illuminating Moisturiser in Warm Beige gives you that extra golden glow. Now the tans have faded, I think it's good to add more of a peachy tone to your cheeks instead of just a bronzer. Benefit's Rockateur is a great Blusher-slash-Bronzer. For some glossy lips it has to be Dior Addict's Gloss in Diablotine.