Great. Now I have your attention, I'm not here to talk about sex, but sexism.
This weekend I chaired a panel on 'Women in Business' at the Women of the World (WOW) Festival - a three-day festival of talks, workshops and performances celebrating women and girls.
It was the first time I have been to such an event and I'm not sure what I was expecting but it was better than I could ever have imagined.
I was joined on stage by four impressive women from all walks of business life: Dame Tessa Jowell, a prominent UK politician; Baroness Gail Rebuck, Chair of Penguin Random House UK (and a life peer in the House of Lords); India Gary-Martin, an entrepreneur and former investment banker and Ann Cairns, President of International Markets for MasterCard.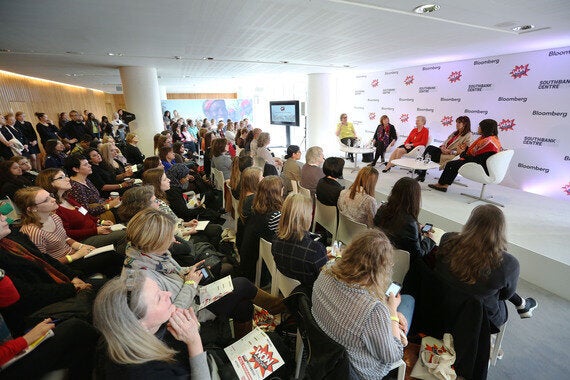 They were all smart as they were sharp and we talked about everything from quotas for women on boards to maternity leave.
What I loved most about the women on my panel was their spirit and humour. These are fighters in the battle for gender equality and charm, wit and humour are their most disarming weapons.
Everyone on the panel agreed: companies should disclose how much men earn compared to women. A little more transparency in pay apportionment between men and women would go a long way.
The recent hacking of Sony, for example, confirmed actresses are still paid far less than their male counterparts in Hollywood. After leaked emails revealed Charlize Theron was to be paid less than her male co-star in an upcoming movie, she took a stand; reportedly demanding equal pay and succeeding. Julianne Moore also took a stand for women at this year's Oscars, and received a standing ovation. As Tessa Jowell said on our panel, "We have to create an institutional expectation that if men and women aren't equal in an organisation, you ask why."
Gail Rebuck made everyone laugh (although really, it just makes you want to tear your hair out) with a story she heard this week: A woman in an ad agency recently learned her maternity cover was paid a lot more than her (he was less qualified than her, but a man). She confronted her boss who replied 'but he has a family to support'. The ridiculousness of the argument made the room laugh but, it goes to show, only with transparency can the collective consciousness move on to demand equal pay for equal work.
The personal anecdotes in our session were both frustrating and inspiring but, above all, showed how far we still have to go in demanding gender equality.
Tessa told us she wanted to be a doctor growing up. Her father, who was a doctor himself, said: "You can't be a doctor, you can be a nurse." She now has a motto: "Don't take no for an answer if no is not the right answer."
India also gave some great advice to the younger women in the room: "Be authentic. Don't be afraid of who you are. Like my dad always said, 'If you don't stand for anything, you'll fall for anything'.''
The advice on how to get ahead in the business world varied, but all agreed on the need for mentors or sponsors. Gail suggested we need to change the language around mentoring, saying, in her experience, women need sponsors but don't always want mentors: "Mentors listen, sponsors advocate."
Personally, I have a group of both mentors and sponsors. They are my peers. I ask them for advice to get a different perspective, and they do the same with me. My group is made up of men and women, new and old. But they all have one thing in common: they have common sense, they're hard working and most importantly, they treat everyone as equals.