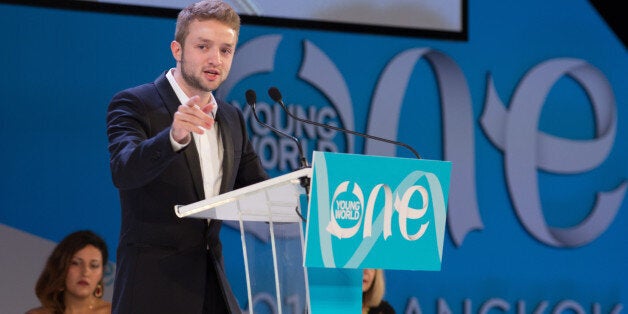 This blog is an edited version of speech delivered by Francois Reyes to the One Young World Conference in Bangkok, Thailand
I worked on a speech for several weeks. Explaining why I do what I do so that you could join my organization's fight against intolerance, against senseless violence, against terrorism, against conflict.
But on the 13 November my life changed. Like anyone impacted by terrorism. It is my hope that you never know what it feels like, to board a flight to what is supposed to be one of your life's highlights; and when you arrive, and turn your phone on, it is flooded with messages. You learn minute by minute what's happened.
Looking at the growing body count, you selfishly hope that no one you love is part of that count. And then it comes, you learn there are wonderful people you will never see again.
Killed by cowards in the name of something they believe is their religion, 129 people, brothers, sisters, fathers, mothers, lovers, died under the bullets of barbarism.
In these kind of moments, it's not a question of being French, its just about being human. You all know one or two victims: you, and me. Because we all are victims of terrorism. Whether it's in France, or anywhere else around the globe.
Life is fragile. It's everything. Those people were enjoying life. Having a drink in a bar, celebrating a birthday in a restaurant, having fun at a concert, supporting a football team... Living.
France has been hit for the second time in a year. It seems like an endless nightmare. And yet... We are not giving up. Trust me, we are NOT giving up.
To some of you, the French may sound arrogant. Cheesy perhaps... But they certainly are not cowards. None of us here, right now, are cowards. But they are. The barbarians commiting these atrocities.
So now, it's our turn, civil society, to battle even stronger.
Following the first attacks in January, a strong wave of violence against the Muslim community came in France. In a month, more than 150 violent acts were committed against the Muslim community including beatings and setting mosques on fire. More than we'd had in the whole of 2014. Now, I'm scared this will happen again, actually it has already started with the beating of a young Muslim.
After the attacks in January, I with my wonderful teams of friends created a new kind of think tank in France: Réveil Citoyen. It means 'Citizens Awakening'. The aim was to prevent further intolerant attacks. Every part fo society has the chance to come and debate subjects that matter, about the issues our country is facing, whatever they may be.
The idea is to generate understanding. Because not really knowing the person in front of you, the person of whom you're speaking so harshly, that's what drives conflict. That's what can destroy our unity as the people.
At our first debate on secularism, a young National Front partisan came to our debate. His only intention, to express hatred for foreign communities, especially as we had with us, members of the muslim community. For two long hours, they sat very calmly, listening to him, which you can guess wasnt't always very pretty. I was impressed by their calm. A few days later, one of them took him to a mosque. They discussed, they kept the debate alive, even though we weren't here to organize it. He called me to say Muslims aren't as bad as the press makes us believe. He had become more tolerant. At that moment, I knew that, even if Reveil Citoyen was to end tomorrow, we would have achieved something. You cannot put a price on that.
All the ideas that the people come up with, it would be a shame to simply forget about it. We gather their propositions and compile them into booklets, which are sent to every single politician in the country. Over 1000 of them. We've heard back from a lot of them, and even had a very positive feedback from the President. I am convinced that, after what we are going through, the People's propositions can really be a force for everyone.
By the end of 2016, Reveil Citoyen will be in 20 cities across France. We are launching what could be one of the most powerful movements of empowered civil society, with the aim of healing our country. We believe we can create a more tolerant society, and spreading peace between the different communities that make France beautiful and the world beautiful.
I have to admit. I feel guilty. About being here, with you, watching my country being locked down and fall apart. Watching the funeral of my people on TV. Whilst all I do is stand here and use words. But thanks to my family and friends, to the people that I love, and especially to you, I can see that words have an impact. Terrorists have guns and bombs, we use words and actions. We read, we educate ourselves and confront opposite views peacefully. And whilst I wish to return to my mourning friends, being here has restored my faith and my hope that we can overcome intolerance. I will go home tell them that we will fight intolerance. We will fight intolerance peacfully and never ever give up.
I want you, the ambitious, smart and curious young leaders of the world to go back home and use my organization's model, to empower every citizen of your country, no matter where they come from, what their social background is, or what their beliefs are to heal all our societies.
Francois Reyes, 19, is president of the Reveil Citoyen thinktank
Related