The NBA season is less than three weeks away. After one of the best Finals series' in recent history, it is the best time to be a basketball fan since the days of Michael Jordan's Chicago Bulls, tearing through the league in the 1990s.
With the developments in technology over the past decade, it is not as hard as it used to be to follow American sports. Online streaming services and social media has made it possible to be able to stay updated with your team or the league as a whole.
The NFL viewership in the United Kingdom has continued to grow - Sky Sports' NFL matches averaged 75,000 viewers per week - and last season saw Sky re-establish themselves in the NBA scene; having a weekly double-header and extensive playoff coverage. This should continue to grow for the 2013-14 season, and it's about time. Basketball has long been the most exciting U.S sport, and here's why:
Unmatched athleticism and highlights
NBA players are among the best athletes in the world. Simply put: they run faster and jump higher than anyone else. Watching these on a nightly basis will blow your mind. You won't see anything like this in the NFL...
The championship is wide open
The Miami Heat clinched back-to-back championships last time out. But don't let that make you think it was a procession. Far from it. Miami were taken to the brink in the last two rounds - first against Indiana and second against the Spurs - and it was only through a combination of tremendous heart and some fortuitous swings in games that the Heat blew hot enough to win it all.
This season looks a lot more open. Brooklyn now have Kevin Garnett and Paul Pierce to compliment their already strong lineup, the Indiana Pacers went and improved the one thing that stopped them beating the Heat: their bench, and Chicago have their superstar point guard Derrick Rose back. There's three teams that look to compete for the title and that's only in the East.
Out West you have Dwight Howard's Rockets; Tim Duncan's Spurs and Kevin Durant's Thunder. That's forgetting Steph Curry's Warriors and the team I'm predicting to win it all sometime soon: the Los Angeles Clippers.
It's not like the Premier League, where only two or three teams actually have a realistic chance of winning it all. Seven or eight do.
Crazy finishes
There is nothing like the tension in the building of an NBA arena when a game comes down to the final few plays. All eyes are on the ball-carrier. Who is going to step up and etch their name in folklore?
Crazy finishes were a theme of the 2013 NBA Finals, and there weren't any crazier than that in Game 6. The internet loves to label things immediately, but that was probably one of the best games - and finishes - basketball has ever seen.
Playoff basketball is truly like nothing else in sport. The atmosphere and intensity that builds through a seven-game series is really quite indescribable.
LeBron James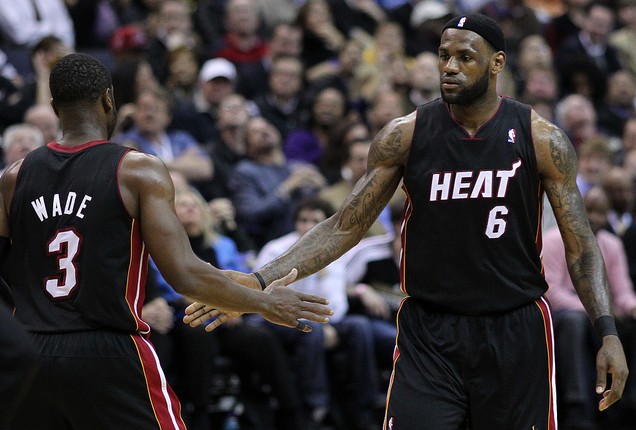 LeBron James is one of the greatest athletes ever
LeBron James is enough of a reason to watch the NBA. He's the best complete athlete in the world, bar none. Night-in and night-out, LeBron will do something that blows your mind. Combine that with an incredible feel for the game and an unrivalled level of unselfishness for a player of his ability and you get one of the best players to ever play the game. Can he be as good as Michael Jordan was? Yes. It's time more people from this country started watching him.
So there you have it. It's time more people from the UK watched the NBA. It's a fantastic, free-flowing game that showcases the best athletes in the world. The superstars on show make sure every night is one filled with skill, athleticism and passion.
And keeping up with the league isn't as hard as you would think. Sky Sports have a double -header on Sundays, and if that isn't enough, the league offer a service called League Pass, which allows users to watch every single game at a time which suits them. Live or on-demand, it's up to you. Every game. For only £150. If only the Premier League had something similar.
So, for £150 - or a Sky Sports subscription - you can keep up with one of the fastest growing sports in the world. And definitely one of the most exciting. I'm a football fan at heart, but the NBA offers a great alternative. The NFL is great, I'm sure, but it has too many complex rules and goes on for far too long with too many stoppages. And baseball takes about 13 days to finish a game, so you don't want to be watching that.
Whether you want to follow it religiously, or prefer to only watch the big games; at least give it a try. Who knows, you may just find something new.