Love is in the air, what with it being Valentine's and all that jazz.
Now I'm all for being a Romeo, but why must I buy a £10 special dinner from Mark & Sparks, a bunch of duff flowers from the petrol station or get ripped off at a sophisticated restaurant on February 14th, or even worse spend a romantic weekend away?
Having said that, I found myself with a booking confirmation to a rather lovely hotel in the heart of the New Forest, as a surprise for my loved one. What have I done? I must be nuts.
As soon as we headed towards Beaulieu, my mood changed. A quick check on things to do in the area hits up a visit to the National Motor Museum. As an episode of Top Gear and a bottle of Merlot was my first date (true fact), I reckon I'm onto a winner already.
Upon arrival at The Master Builder's Hotel on Lord Montagu's lovely estate, I glanced across and see a very happy smile from my girlfriend, as she soaked up the beautiful surroundings. Booking a luxury double helped (camping just isn't her style).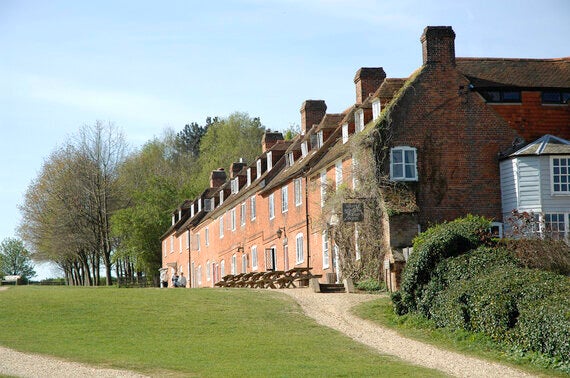 Pictured: The Master Builders Hotel
There are so many things to do in the New Forest. The National Park, Lymington and Highcliff Castle are just some of the highlights.
I decided to get active and hired a couple bikes (you can get a tandem if you prefer) in the lovely little village of Brockenhurst and explored the area down to Keyhaven. Naturally, our cycle route involved a well-earned refreshment stop at the very quaint The Gun Inn. This 18th Century Pub with it's low beamed ceilings, cosy bar and log fire is a great place to relax, before cycling back through the most picturesque (and sometimes muddy) countryside.
We returned to the hotel and relaxed in our rather elegant 'Luxury Hasar' room with it's wonderful view overlooking the Beaulieu river. Bliss. Time to put on a bit of music on ... I could 'Get Lucky' here, as Daft Punk would say.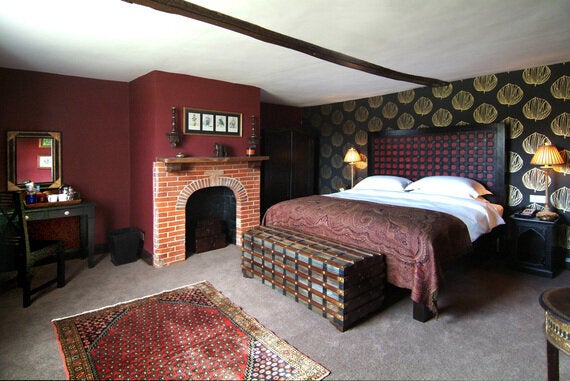 Pictured: The Luxury Husar Room
Before I knew it, an alarm rings in my head, we are late for my surprise Valentine dinner reservation. I'd really like to skip this. I'm not fussed at all about spending an evening in a hotel restaurant full of loved-up couples (give a bag of takeaway fish 'n chips anytime). Too late. I need to make a real effort here, right chaps?
Our friendly Maitre d' José, welcomed us and showed us to our table. The Riverview restaurant is relaxed, but also has a proper air of 'foodie' fine dining. I'm quickly won over and we enjoyed a wonderful evening of top notch cuisine (do try the tasting beef main, it won't disappoint) and some great conversation re-counting our day's adventure.
We retired to the bar for a couple of nightcaps and I forgot about how much I dislike Valentine's Day and admittedly felt a bit like Pepé Le Pew. Needless to say, my better half was very impressed by my efforts.
The next day we scoffed down a delicious breakfast (the hotel does a mean Eggs Benedict) and headed off for a superb exploration along the dramatic coastline stopping off at Hurst Spit, Milford-on-Sea, Highcliff and Mudeford.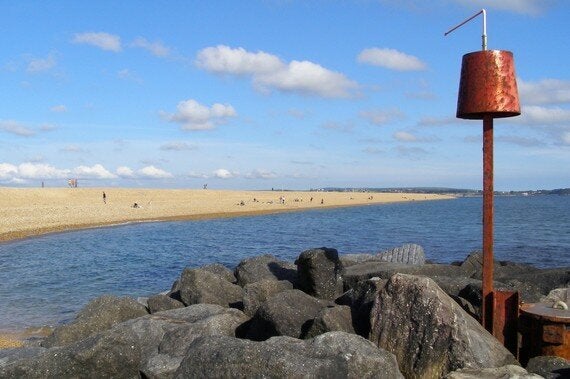 Pictured: Hurst Spit by Jim Champion
Despite feeling romantic, I didn't think of asking my girlfriend to marry me (that's probably going a bit too far). I guess it's not that bad being a bit of a Romeo after all. Only thing is now, I'm expected to pull out the stops every year from now on!