When I was first contacted by London 2012 with the opportunity to be a part of the Closing Ceremony I was both excited and scared at the same time. The offer filtered through a good friend of mine, Tim Routledge, one the top boffins responsible for lighting the ceremonies.
The only info I was given in my first email, was that it was a driving role and that I had to be comfortable with towing a trailer. Despite having no experience of this and my reverse parking skills being the laughing stock of friends, family and most of my neighbours... I jumped at the chance. It was a no brainer; taking time out and getting involved in the one of biggest shows ever produced on these shores.
The other small detail was to keep it top secret. I could opt to tell people I was a performer, but nothing else. No spilling of the beans or ruining the surprise. Understandable but difficult nonetheless (especially with my media contacts).
Agreeing and being accepted to this amazing offer, ticking off rehearsal times, form filling and accreditation all very went smoothly. I know... unbelievable!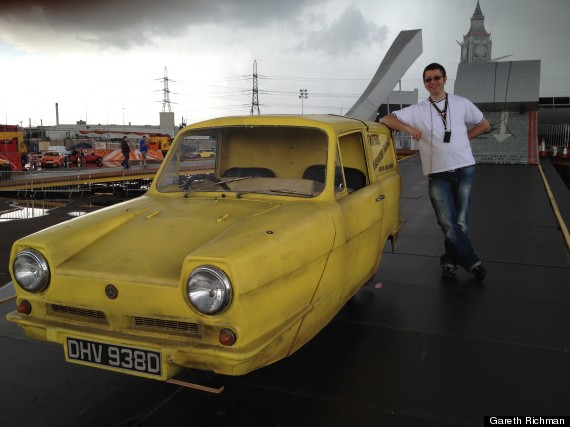 Our induction briefing at 'Sunny Dagenham' included a video of what they wanted to achieve... a traffic jam. Yes, a highly entertaining chaotic traffic jam with a wide selection of BMW's towing trailers, classic, modern and sports cars, taxi's, lorries, vans and mopeds. It didn't exactly knock me off my chair (the windy conditions in our tent nearly did that)... but it sounded a lot of fun.
So after a quick 'n easy hook up with our radios from our driving director (who had a tendency to 'super cool' a lot) we set off to collect our cars... or in my case my beloved white Citroen Belingo van and get our bearings.
The first few rehearsals involved drivers either waiting around, having tea breaks, driving around in circles or in my case going forwards and backwards 50 yards at 4mph for 2/3 hours. Not exactly high octane Top Gear stuff, but I did discover the dancer's channel whilst radio hopping. So I now know "when in doubt pout" and always to be "fierce, baby, fierce!"
Most of the drivers and performers were volunteers. All of them great characters from all walks of life and very excited to be a part of this event. Some drivers had the unfortunate experience of their car being slightly damaged, breaking down or changes in position. All part of the parcel and kept us on our toes.
I must admit I found it quite hard to keep my cool when asked to change from a prime spot in front of the Royal Box to the arse end of the stadium. Not only that, but the spot was filled by my girlfriend (which meant I couldn't even bitch about it when I got home!)
As the rehearsals unfolded more and more sections, cast and props were interweaved. This gig was getting bigger and bigger. Massive in fact. Not even the rain could stop us.
It wasn't uncommon to run full dance numbers in hail storms, with only a complimentary clear plastic poncho to save you. Performers splashing about with plastic bags on their feet (sometimes barefoot) was a pleasure to see. However, my sopping wet socks drying on the dashboard wasn't the greatest sight to behold. Crew Management tended to be far more prepared with their funky hi vis jackets and wellies.
One wet rehearsal day, I decided to be clever and make a Pot Noodle with one of the hot water urns. I chose the luke warm one. Lesson learned.
Bonding with my professional dancers provided great entertainment during rehearsals. I must say James, Michael, Samir and Dan were great fun. As were my stunning 'Posh Totty' girls Laura and Stephanie. I can't say what that they thought of my dance moves, but I'll take their smiling feedback as positive.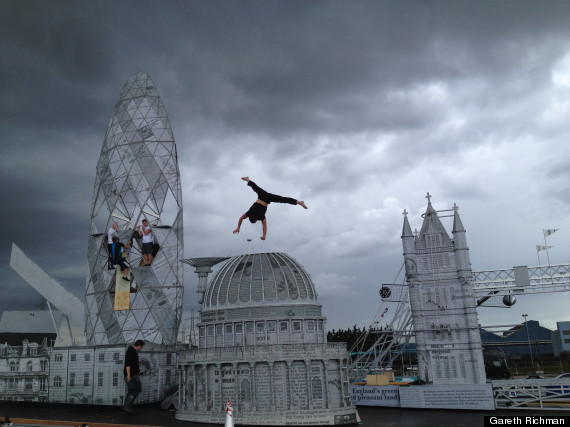 They all had their minor issues with props, deckchairs collapsing, costumes not being the right size and a clueless driver (me) who kept missing cues and locking them in the van at crucial times. I can't even blame Julia, our awesome cue calling director who could blitz 20 instructions to a multi-tude of cast in our 'in ears' within a few seconds. There's no biz like showbiz as they say...
Interestingly, the original plan involved the four white vans to cause the traffic jam by jetting off the ramps and cutting up the vehicles to 'Love is Old, Love is New' on 2 mins 40 secs dead. Unfortunately, we couldn't work out a way to do this (despite trying numerous times) and had to find a different approach.
Would we ever get this traffic jam tacked down on time? Amazingly, we eventually nailed it a week before our final performance. We still didn't know exactly what we were doing, had done or what was happening, but it felt amazing and will probably be the most awesome experience I will ever have in a white van.
Nothing really prepares you for the moment you enter the Olympic Stadium for the first time. The sound, lights and crowd was epic. It took my breath away, as did the show. Being 15 feet away from an ecstatic audience jumping off the door ledge of my van and throwing my moves to Madness, Blur, Pet Shop Boys and One Direction circling on trucks behind me was immense - and yes, I did get carried away in the moment, who wouldn't!?
I have to say, the creative and crew management were very well organised given the amount of people/ things they were looking after and made me feel very much part of the Olympic family - right down the lonely but cheery security staff patrolling the car parks.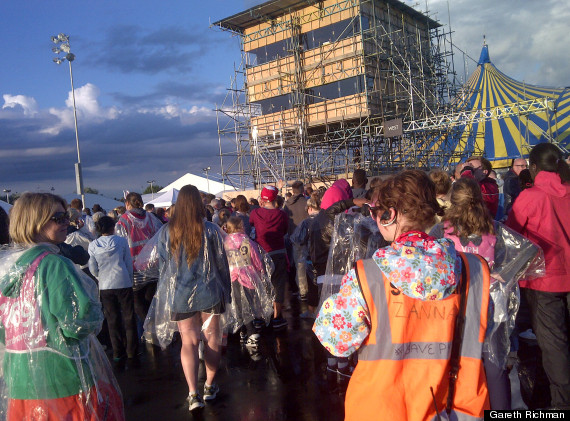 I'm truly going to miss Dagenham & Stratford (yep, I did just say that). I'll make a wish and hope see the 'Landan Lympix' return for a 4th time. Who knows? I'm actually kicking myself I didn'toffer my services as a Games Maker in the first place, but pleased I've played a part in it'. I guess I'm an Olympian now... well sort of.
Behind The Scenes at the Olympic Closing Ceremony London 2012