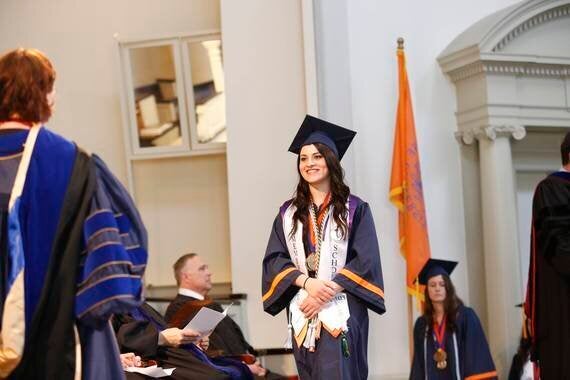 *Natalie Rebeyev [2015] is doing a PhD in Medical Science with the support of a Gates Cambridge Scholarship.
It was 5:30 am on a sunny Sunday morning in August 2011 and I couldn't contain my excitement. As we began to make the 4.5-hour car journey to Syracuse University, my parents asked me once more, "Are you sure you didn't forget anything?"
My journey as a freshman in college was soon to begin and I looked forward to the plethora of opportunities awaiting my arrival at Syracuse University. Accepting the invitation to go to Syracuse as a Coronat Scholar was one of the best decisions I had ever made. The Coronat programme presented me with invaluable opportunities to challenge myself and it supported my desire to transcend classroom study, a central focus of my education. Because of the Coronat, Syracuse's College of Arts and Sciences, The Renée Crown Honours Programme, the interdisciplinary departments I pursued studies at across the University, and most importantly, the faculty and mentorship as well as the many lifelong friends I made, my undergraduate years proved to be diverse and enjoyable. I knew I wanted to give back to the University and felt compelled to as a soon-to-be graduate.
During the Spring of my final year, a member of the selection committee for University Scholar, an annual university-wide honour bestowed upon 12 graduating seniors, approached me with regard to my future involvement with the University as an alumna. I knew I had wanted to create a scholarship because being awarded the Coronat was life-changing for me. We discussed the possibility of me starting a scholarship for a particular applicant pool based on my background as a Bukharian woman. Some Bukharian women marry young as in traditional times, and not many move away from home to pursue higher education. Although some still go to college close to home, they usually do not have thoughts of pursuing a career that will take a long time to complete and some parents do not like the idea of a young woman leaving her household and not living in proximity to her parents, unless she is married.
The conversation could not have been more timely. Just a few weeks before, I had presented a business plan on the non-profit I want to create for young women in the Bukharian community. When doing my research, I had examined the United Nations Millennium Development Goals for 2015. Goal #3 is to promote gender equality and empower women, a worldwide effort I aspire to assist through the creation of the scholarship and later, the non-profit. Within a few months, and after meetings with the Senior Vice President for Principal Gifts and International Advancement, and with other university officials, my idea for the scholarship became reality. Being able to start working on the scholarship so early in my career has been very humbling. It represents one of my aims to give back in each career-related and personal endeavour I pursue and giving back to the University was a way to thank them for giving me the opportunity to attend Syracuse as a Coronat Scholar. Furthermore, it's a way of acknowledging my parents, Robert and Adina, for continuing to instill in me the ambition to reach my utmost potential.
The scholarship I am establishing aims to provide young women from immigrant communities who face challenges in accessing higher education and have overcome an obstacle or monumental hardship with financial, emotional and mental support and a safe space to pursue any undergraduate degree at Syracuse University as well as many other useful resources. Examples of the challenges women might face include financial barriers, parental fears around negative stereotypes of campus life and worries that women will become estranged from their community by being exposed to different ways of thinking.
The programme will select one incoming freshman on an annual basis and aims to foster a close-knit community. The selection criteria is based on academic prowess as well as evidence of extra-curricular activities with an emphasis on civic engagement and a desire to surpass hardships and perceived norms in their community while respecting their traditions and culture.
From my experience, allowing women from particular communities to acknowledge the difficulties and/or hardships they face in pursuing higher education is a bold step and one that needs to be taken in order to promote change. Through allowing these women to voice their opinions, encouraging them to pursue a higher education away from home and giving them the ability to grow through academia and become engaged intellectual citizens of the world, they will be able to act as agents of change in their own communities. The scholarship is more than just an encouragement to pursue higher education - it's also about providing a network of role models in a myriad of fields who will help them by giving advice, encouraging a continuing thirst for knowledge and providing mentorship and lifelong connections.
Throughout my life, I have met positive role models and mentors, men and women who have helped me tremendously and to whom I will be forever grateful. Some have been able to understand the tensions that exist for women of certain communities at university and in the workforce. In high school I sought out the right people to share opportunities and programmes with me so that I could apply for multiple internships, both in medicine and business, and later, in college, and achieve accolades like becoming a Gates Cambridge Scholar, another exciting life-changing opportunity, and one that has proven to promote further growth and development. It is one that will continue to mould me into the role model I want to become so that I can make a positive impact on society through community outreach, medical research and clinical practice. And I have a continued hunger for knowledge and for spreading that knowledge to others, particularly women who come from immigrant communities who share similar stories to my own.
Related