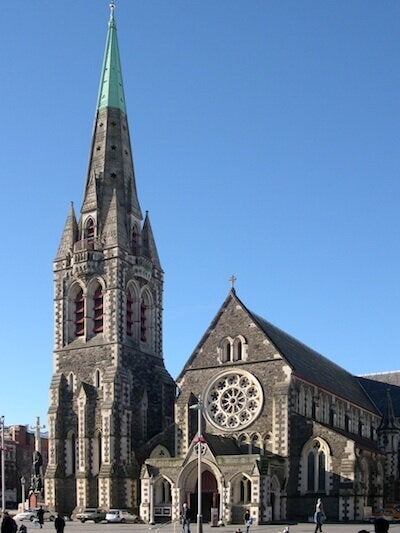 *Alex [George] Bremner [2001] is Senior Lecturer in Architectural History at the University of Edinburgh. He did a PhD in the History of Art at the University of Cambridge with the support of a Gates Cambridge Scholarship. Picture credit: G. A. Bremner.
While I was in the midst of preparing the manuscript for my new book Imperial Gothic a few years ago, a series of devastating earthquakes struck the New Zealand city of Christchurch. These quakes, of which there were two major ones between September 2010 and February 2011, caused widespread damage to the city's historic centre, including the magnificent Anglican cathedral by the noted English architect Sir George Gilbert Scott. The destruction and deaths caused by these earthquakes made international headlines.
From a heritage perspective, this was significant for me, not only because Scott's cathedral featured prominently in my book as an excellent example of the global reach of the Gothic Revival movement in architecture, but also because, having studied the building closely over a number of years, I cared about its future. Christchurch cathedral is a very fine specimen of mid-nineteenth-century Gothic Revival architecture, among the finest outside the British Isles. For reasons explained in my book, the cathedral stands as testament to an extraordinary episode in the history of New Zealand as well as that of Britain and global Anglicanism in general. It is nothing less than the symbol of the city of Christchurch itself, which was originally established as a dedicated Anglican colony in the 1850s, and is therefore far more than just a building - it is a monument and a memorial to the city's very existence. In this respect Scott's cathedral holds a similar place in the annals of the city of Christchurch as St. Peter's basilica does in those of Rome - both buildings embodying and representing the social, civic and architectural heritage and identity of their respective cities.
However, we now learn, rather depressingly, that the remnants of Scott's magnificent pile are to be torn down to make way for a new building which, at best, makes a very poor comparison with its soon to be illustrious predecessor. What's all the more remarkable about this decision is that the vast majority of the cathedral remains standing and, according to the latest engineering reports, can be saved and rebuilt for not much more than the proposed new building. For most civic authorities and governments around the world it would be a no-brainer as to what to do under these circumstances - saving an historic monument of this stature would not have required a second thought. Unfortunately, not so in New Zealand. From what I can gather, it has been all but decided that the remains of the cathedral must come down, tearing the heart out of the city in the process. I believe there is a glimmer of hope that it might still be resurrected, but this is fading fast.
One can only hope that the short-termism, philistinism and, indeed, vandalism that have reigned supreme in Christchurch over these past few years are not allowed to continue in this very important task of preserving and rebuilding Christchurch cathedral. It has to be said that whether Scott's building should remain standing is not entirely the decision of the present bishop of Christchurch or the civic authorities - they are merely custodians of this heritage, not arbiters of its fate. For them to assume that they have any such right as arbiters in this respect is arrogance in the extreme, and if they should choose to exercise that unfounded right then history will judge them harshly.
There is no question that Christchurch cathedral is a building of international merit and standing. Its maintenance is therefore, more properly speaking, a matter of international heritage, not just local, and it was reckless of the diocese of Christchurch to reject the generous funding that would have been made available through international networks should a rebuilding campaign have gone ahead.
Many citizens and heritage experts in both Christchurch and New Zealand (as well as other parts of the world, including the Victorian Society in Britain) have worked tirelessly in lobbying the powers that be to save the building from demolition, but, sadly, their enlightened testimony has fallen on deaf ears. If Christchurch cathedral should come down, it will be a grim day for anyone who cares about the history and heritage of the built environment, the world over. If it does happen, then ignorance and cynicism will be seen to have won the day. I only hope that in the end good sense prevails, and that what I have said about the building in my new book will lend some support to its preservation, however small.
Popular in the Community