2017 has been dubbed the year of sustainable tourism and development by the UN's World Tourism Organisation (UNWTO). No longer a quirky aside or limited to the odd off-grid eco-lodge, going green when going abroad is where it's at.
But let's face it: sometimes we switch our consciences off the moment we flash the passport. Abroad, the money's different, it's hot or humid and the rich mix of colours and smells that don't exist in our British palette of greys are intoxicating. But it's really not that difficult to make changes that help not hinder local environments and communities.
Of course, environmentally it would be better if no one flew or drove ever again but that's never going to happen. And obviously taking the train or cycling is going to be better than driving a hot rod through America, but there are other more subtle things you can do to make your impact on other parts of the world beneficial rather than bruising.
From Responsible Travel's Trip for a Trip (which pays for a disadvantaged kid to have a day out when you book a holiday through them) to G Adventures who have their own giving back foundation called Planeterra - there are a whole spectrum of tour operators who make your pounds work for the planet. And if you're short on ideas check out pebble magazine's Eco Travel Ideas list - that includes rescuing sloths in Costa Rica (you're welcome).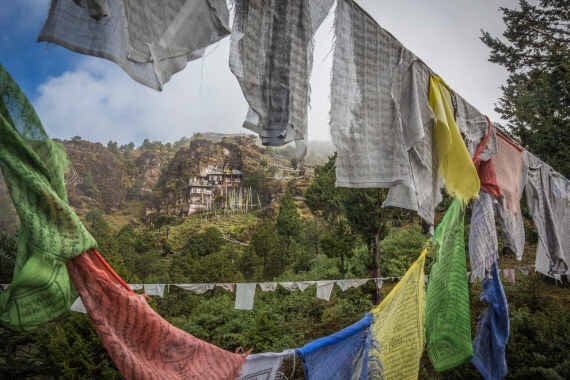 Explore Bhutan with G Adventures (Credit: G Adventures)
But if you did want to plump for trains over planes, the Loco2 app makes booking trains across the entirety of Europe a quick and easy affair. Cycling holidays have also come into their own in recent years (try Intrepid Travel or Headwater). On most you don't have to go within 50 yards of wearing Lycra, you're forced to leave the mobile alone and the sense of achievement after a day in the saddle can't be beaten - and it means you can order that dessert - every night.
Alternatively pick city breaks where the destination is firmly committed to sustainability. Amsterdam, Gothenburg, Zurich and Vienna all have ground-breaking eco-initiatives, high percentages of eco-hotels and all are easy to explore on foot or by bike. Pick a walking tour that gives back to the local community like this one in Lisbon. Cities often have sections on their visitor websites that list everything green the city is doing.
Avoid all-inclusive resorts and deals. Most don't encourage you to spend in the locality outside their resort and often don't buy their produce from the community they're in. More and more hotels have green or sustainability policies but make sure they're transparent and traceable. Are they doing more than just washing less towels and taking the mini shampoo bottles out of the bathroom? 1Hotels over in the States is a fabulous example of how a hotel chain can operate at an eco-luxe level (think living walls, hemp mattresses and farm-to-fork restaurants) but it's the independent hotels, who are, as usual, leading the way. Small Luxury Hotels have many eco-hotels on their books but every hotel is independent and strictly vetted.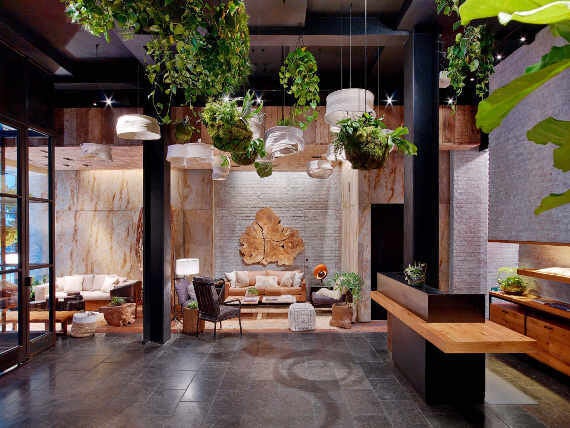 The green lobby at 1hotels Central Park (Credit: 1hotels).
Every year more of us say we want to try some kind of volunteering or conservation while away from home, so make this year the year you actually break away from cheap flights and last minute hotel deals.
There's never been a better time to get your hands dirty on holiday - whether it's cooking lessons, hiking with local guides or visiting local wildlife conservation projects, plan to divert some of your spending money to sustainable initiatives. And it's never been easier to find them. Ecocompanion rates the world's best eco tours and conservation projects so you can consider which one works best for you before you commit.
No one is asking you to console yourself with soggy camping in the Lake District from now on until the end of time (although if you do want to do that there are plenty of organic farm stays and glamp-sites that will host you) but making small changes to your holidays will have a massive impact that will be felt long after you've touched down at home and unpacked.