On Saturday, the 23rd April, I organised for 105 plus size ladies from all over the UK to bring traffic to a standstill over London Bridge.
Anybody who has been to a fashion show in front and behind the scenes knows they rarely run on time and they are chaotic! This was a one-of-a-kind show amongst its own peer group which included stills, video and location shots amongst the customers of up-and-coming curvy fashion brand; Scarlett & Jo.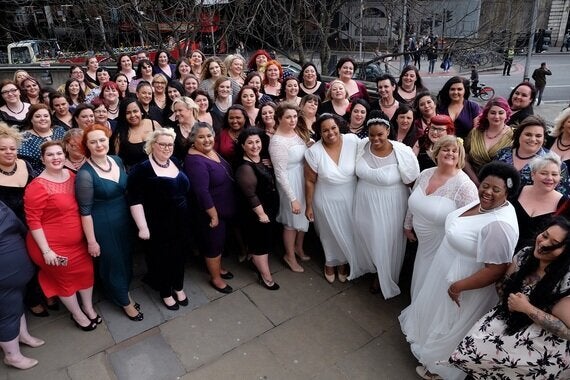 I feel there is a sector of women poorly served for many years either ignored or shunned by the fashion industry and we have come a long way, showcasing the incredible growing pulling power of curvy fashion.
After our launch, last November, with scarlettandjo.com featuring 27 customers and bloggers, quite a few ladies wrote in saying that they wanted to be featured too! So we decided to do a member's competition. We thought we'd get maybe 25 applications on top of perhaps the dozen or so who wanted to do it. Within a couple of days almost overnight the number approached to 200. There was no way that we could make a judgement on who could be in!
As a brand we promote diversity; acceptance; confidence; and love. A good outfit creates all of these things and as a result of our strong belief to accept everyone for who they are, we had to close the entrees and invite all 100+ girls down to London - what have we got ourselves into! How on earth we pulled it off, with 105 ladies from 4' 10" to 6' 3" in height and sizes 14-32 all glammed up in two outfits each, I don't know!
We are only a small start-up brand, the offspring of a brand with a rich and fabled history, where do you begin to start organising an event for over 100 customers? Everything had to be perfect; not forgetting the whole idea is to represent real clothing for real women, designed to give the wearer confidence for all shapes and sizes. Is Scarlett & Jo True to Size, or Not True to Size - that is the question! I cannot comment for other brands, but fit, cut and sizing is the acid test of any brand assuming the look is a wanted look, so what is on offer has to be right - quality comes first.
Then of course, there is the quality of service. When we asked people to join a club, and promised special offers and special events, I had to follow through. Our customers spend good money which they have worked hard for, and now we are asking them to travel to London for a special event - "The S & J Members Modelling Competition". What a challenge to meet!
Last but not least I still have to remember it's ultimately a fashion shoot and this Scarlett & Jo shoot is like no other. How do you photograph so many women in such a short space of time; studio shots, video shots, lifestyle shots, indoor and outdoor shots. I've organised make-up, lighting, photographers, stylists, food, drink, changing facilities for two outfits per person, and have kept track of who is wearing what for each lady, of whom maybe eight have experienced a S&J shoot before - the challenge, all in all, is awesome.
On the morning of the 23rd April, it was an early start at 7:30am, weather was forecast to rain, only eight of thirteen make-up artists showed up, some girls turned up extra early - it was mayhem! However, it was all hands on deck - everyone was in their stations, girls were given their itineraries for the day and off we went! We organised for the local coffee kiosk to give out tea and coffee for everyone involved, which was a huge help.
All girls had their individual and group shots, lifestyle and product shots, video edits for the website, as well as a group photocall and were completed by 5:30pm! I had got permission with the Southwark Council to shoot on Bankside for the 1pm photocall, where we are located on the River Thames with our great city as a recognizable back drop, however there were so many girls we needed a bigger space for the shot. We held the group photoshoot in a square just outside our headquarters, and in true style we broke the record for the largest plus-size photoshoot ever organised in Europe! It was an overwhelming experience for myself, seeing so many real, gorgeous women dressed in the brand I had created for women exactly like this. Everyone was so willing to take part and the atmosphere throughout the whole day radiated positivity; all of the women were so supportive to each other. It was something I had never imagined would be such a success.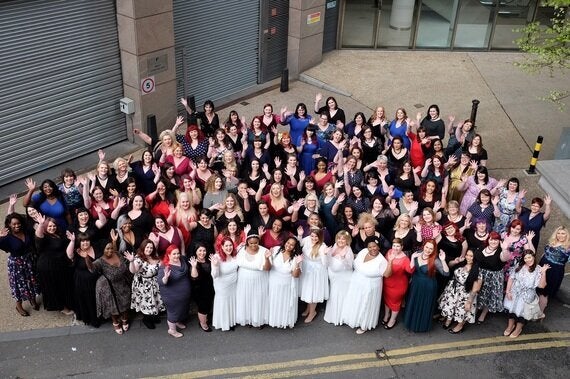 I had organised for goody bags, prosecco and branded cupcakes to be handed out the end to congratulate everyone for all their hard work. The feedback from the models has been so amazing, everyone felt so confident in their Scarlett & Jo dresses and a lot of the girls bought their dresses at the end. Since the shoot I have received so many lovely emails from the models, thanking myself and the team on such a one-in-a-lifetime experience.
I love and am passionate about what we are doing, and we are hopefully helping an attitudinal sea change within fashion and indeed our culture.
Popular in the Community