Alexander House Hotel & Utopia Spa.
For anyone who reads my blogs, knows that I enjoy a spa day. Massages, lunches in the sun wearing just a towel, constant swimming and generally acting like a Don in beautiful grand settings. What's not to love?
Recently my partner and I took a few days to visit Alexander House Hotel & Spa in East Grinstead and I've decided it should be a pre requisite to stay here when anyone flies from Gatwick. Every time.
Set within 120 acres of glorious Sussex countryside, this five star hotel was the healthy - out of London getaway that we desperately needed. Life in London is a constant pace and myself, like a lot of my colleagues and friends, desperately need time out often, but I hate having to travel too far to do so. Alexander House seemed to offer everything.
We arrived on a Friday afternoon and treated ourselves to champagne Afternoon Tea. This was £36.50 per person which is of the higher price range for afternoon tea - but in a stunning setting you tend to forget about the price. (Or at least you feel so grand in the settings that for an hour you forget you are in your overdraft.) The grounds are stunning and the staff are friendly - It's the ideal place to pretend you are ridiculously minted for a weekend.
After tea, we headed up to our room which was a 'Classic' - in the main house. There are suites and lodges to also choose from also- so we figured we could do a couple of trips to this place without it feeling old. The rooms are gorgeous and made for comfort. A night sleeping on Egyptian cotton linen bedding was enough to wake me up feeling like a Beckham. Here's a photo of us forgetting that we are not, in fact, in the Beckham family - but that, we too can pull off matching outfits.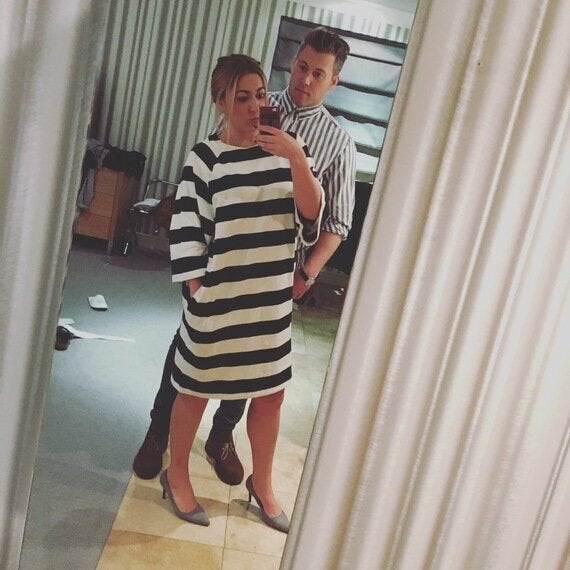 We spent the entire next day in the Utopia spa getting treatments. The place has a Grecian look about it, making me feel like Queen Cersei Lannister from Games of Thrones (without all the murdering and incest, mind you.) There's an outdoor barrel sauna with bubbling hot tub and Zen Garden Terrace which despite it being nippy that day was ideal. The only thing that was missing was a Butler in the Buff and copies amounts of champagne - Although luckily for us, one of them, I could order.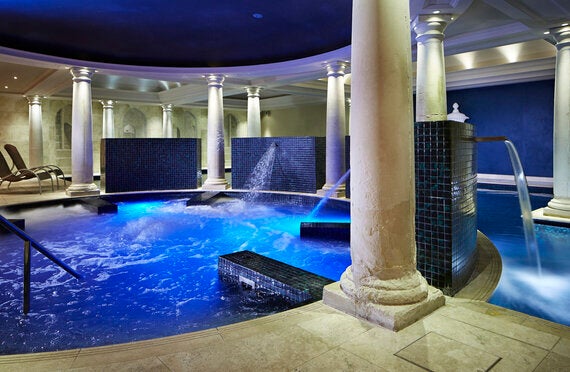 For treatments, my partner and I both booked massages. I had the 55 minute Swedish full body which was heaven for an hour. They have expert massage therapists who discussed everything the massage gave to me. I left feeling, like any good massage ensures, completely revitalised.
That evening, we went to one of the restaurants on site, Reflections. It was very us. Very chilled with chatty staff. They have an A La Carte restaurant on site too but we preferred the chilled one. Not many spa - hotels have a restaurant on site like this, so when you can live it up in the day but chill with a local feeling restaurant bar in the evening, its best. It was a fun and lively place and we got chatting to people in the champagne room. We had steak which we always do when a restaurant has an entire grilled menu.
The next morning, we had a lie in and creeped downstairs in our gowns for a full english before hitting the outside spa facilities one more time.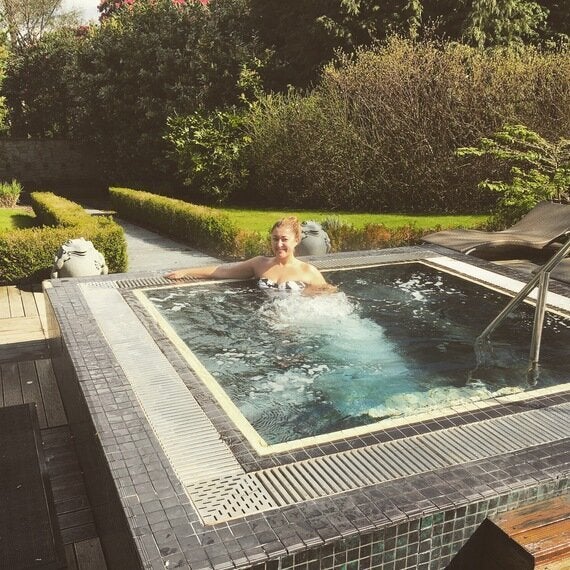 As we drove off home that afternoon, I heard the planes over our heads leaving Gatwick and reminded myself that next time I fly, I must come back to Alexander House. Because no stressful airport trip should start any other way...