My partner and I have been to so many weddings our friends take the piss. If I can't do something, their initial reaction is 'do you have a wedding/ hen do/ engagement party?' We must be great guests. We treat every wedding as a blessing to be invited. To us, watching someone say 'I DO' is the greatest accolade given as a friend. Weddings cost a bomb, and if you are lucky enough to be invited, you can be sure as hell that there is someone else the groom and bride love who they sadly could not invite. It is cut throat, and so we take no invite lightly. We also always accept hen/ stag invites - which as a freelancer, can mean all my money goes on them. We always give the gift of cash, no matter where in the world the wedding is, we are always first to the jaeger bombs and the last on the dance floor. We LOVE weddings - and that's because, we love our friends.
So, after being a bridesmaid twice this year alone, I was overwhelmed when my boyfriend popped the question - and boy did he do it good. My best mate Kelly had cinema tickets to The Art House in Crouch End. We rocked up after brunch and sat down to watch a film about a dying girl. She nipped off to the loo and suddenly, said boyfriend was all up on the big screen looking gorgeous. He took the camera to my Mum, Brother and even our dog and cat to ask for my hand in marriage, the words 'please turn around' then came on the screen, and when I did, he was stood with a ring. We never did get to see the film, instead he had arranged a 45 minute video of all our nearest and dearest saying congratulations to us, which he, my friend and I sat watching with tears. It was of epic proportions. It also meant, by doing such an awesome proposal, he has pretty much written himself out of any actual wedding planning - cunning ;-)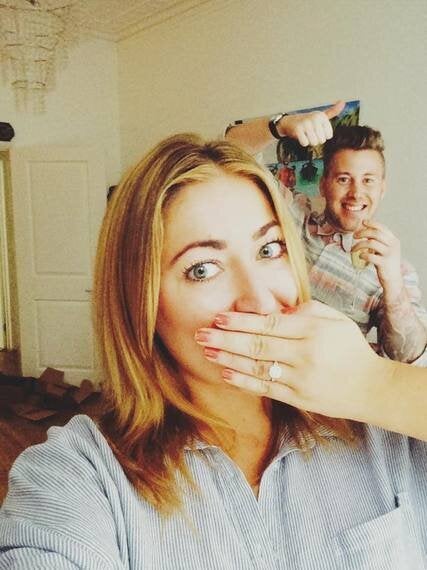 We love Thailand and so our first idea was to go there until we heard from our friends how difficult it would be. So, we changed it to Italy. Being 18 months away, we decided to throw a big 'ole champagne fuelled engagement party. Over one hundred of our friends and family joined us for a big old knees up. It was then when it happened, everyone started being honest with me.
Everyone started being honest with me on my choice of bridesmaids, the location, the travel to said venue, my other guests, the food, the plan for speeches. In fact, my friends have been incredibly honest about every decision we are making - and I am here to say, with the upmost love, stop.
I want you to lie to me. And I want you to lie GOOD. I want you to pretend you love everyone in the bridal party, as I have done to friends countless times. I want you to lie to me about our choice of venue, or how long it took you to get there. I want you to practice, 'it took us a couple of hours, but the journey was lovely, its so beautiful. I actually appreciated the length of time.' gush, gush, gush, gush...
I want you to lie to me if you don't like the food, the colour of the dress I am making you wear, the flowers, the first song, the hotel rooms, the hen do location... I want you to lie and lie really bloody good, as I have for all of you and will continue to do for those who get married.
Because a wedding is a personal extension of the people saying 'I do', and it's also a pain in the arsenal to organise and a day that will break your bank balance.
But most of all, my darlings, and I really mean this, I want you to lie if I look fat.
Now that is out of the way, I can't wait to say I DO - but most of all, I can't wait to do it with you.