With its rugged shores, lochs and islands, Scotland has a wealth of good hotels. Here is our selection of ten of the best places to stay in Scotland, in all price ranges, from The Good Hotel Guide.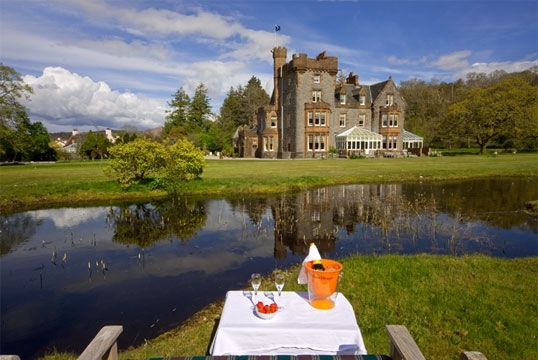 Isle of Eriska Hotel, Spa and Island, Eriska, Argyll and Bute. www.eriska-hotel.co.uk
As much a resort as a luxury hotel, the Buchanan-Smith family's baronial mansion stands on a private island at the mouth of Loch Creran, 12 miles north of Oban. Reached by a rattling bridge, the island has a nine-hole golf course and a driving range, a sports hall with badminton and table tennis and indoor putting, and a spa with a swimming pool. Beppo Buchanan-Smith is the flamboyant host. In the formal dining room, chef Ross Stovold uses West Coast produce (with vegetables and herbs from the island's gardens) for his short daily-changing menus. The largest bedrooms are spa suites in the grounds; each has a private terrace with a hot tub; a lounge or conservatory; a dressing room. Contemporary features blend with more traditional elements in the main-house rooms. Children are are welcomed. No muzak.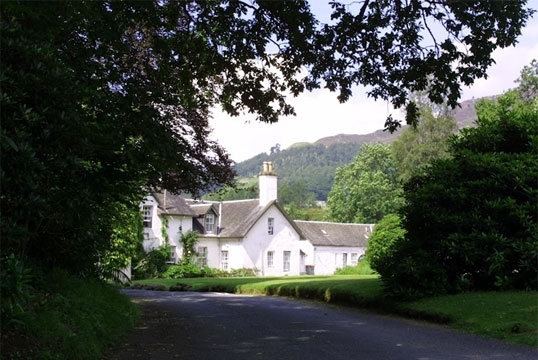 Killiecrankie Hotel, Killiecrankie, Perth and Kinross. www.killiecrankiehotel.co.uk
Near Pitlochry, in expansive wooded grounds at the entrance to the Pass of Killiecrankie, this popular small hotel is very personally run by owner Henrietta Fergusson, and much admired for the quality of the accommodation, food and management and the lack of piped music. The long-serving chef, Mark Easton, cooks 'exceptional' modern dishes on his table d'hôte menu. The service, by a young tartan-clad staff, is 'elegant without being too formal'. Light suppers can be taken in the conservatory bar. The bedrooms are decorated in rich colours and fabrics, and well equipped. Children of all ages are welcomed.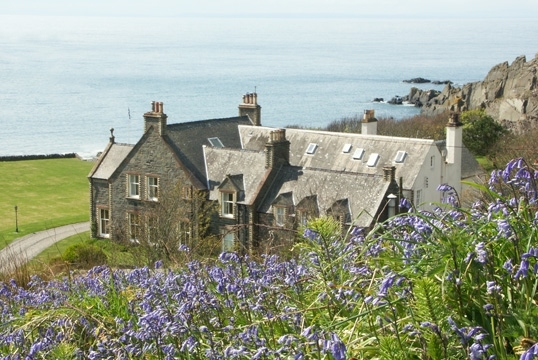 Knockinaam Lodge, Portpatrick, Dumfries and Galloway. www.knockinaamlodge.com
Shielded by cliffs and wooded hills, this grey stone 19th-century hunting lodge stands in extensive grounds close to a private beach, three miles south of Portpatrick. It is run in country house style by the owners, Sian and David Ibbotson. The setting is so secluded that Churchill met Eisenhower secretly here during World War II: you can stay in his bedroom, the largest. Chef Tony Pierce has a Michelin star for his modern Scottish tasting menus. Children are welcomed: high teas are available for the under-12s at 6 pm and families can take an early dinner together by arrangement. There is good walking from the grounds.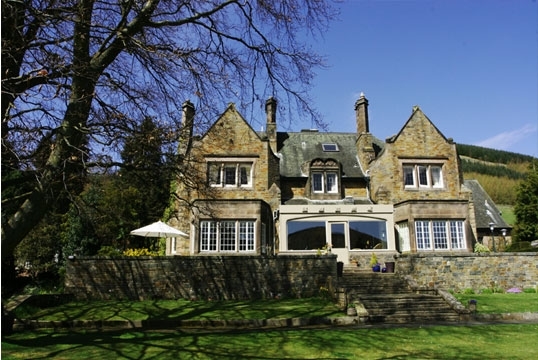 Windlestraw Lodge, Walkerburn, Scottish Borders. www.windlestraw.co.uk
Alan and Julie Reid have turned an Edwardian mansion in the Tweed Valley forest park into this welcoming small hotel. They have restored the original features of the house, which was built by a mill owner for his Austrian bride. The open-plan public areas, which have Austrian decorative wood panelling and a two-foot-deep plaster frieze, are arranged to provide six separate seating areas. There is no muzak. The 'sublime cooking' of Alan Reid is an 'outstanding feature': he serves a daily-changing menu of local ingredients in the elegant dining room. Breakfast has an extensive menu. Handy for walkers on the Southern Upland Way; the historic Borders towns are near.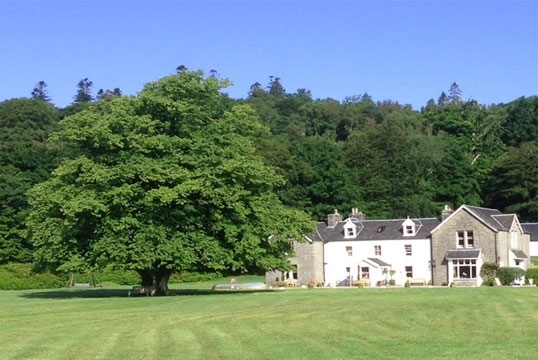 Kilcamb Lodge, Strontian, Highland. www.kilcamblodge.co.uk
One of the oldest stone houses in Scotland (with two Victorian wings), Sally and David Ruthven-Fox's luxury hotel has an isolated setting in 22-acre grounds on the shore of Loch Sunart. There are log fires in the 'warm and homely' public rooms, which have a 'tasteful' décor. All the bedrooms have a view of the loch. There is a choice of dining options: in the main dining room, the chef, Gary Phillips, serves modern European and Scottish dishes. Light lunches and evening meals can be taken in the Driftwood Brasserie. Spike, the resident dog, welcomes canine visitors; there are four dog-friendly bedrooms.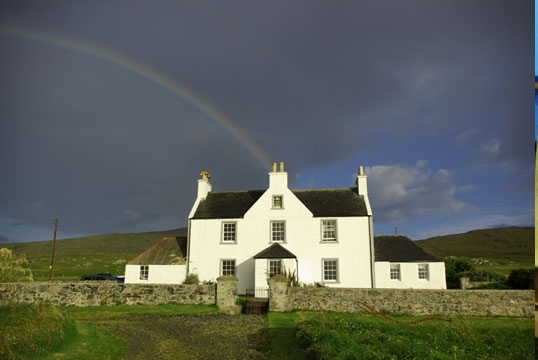 Scarista House, Scarista, Isle of Harris, Western Isles. www.scaristahouse.com
With perhaps the remotest setting of any hotel in the Good Hotel Guide, this white-painted Georgian manse is a small guest house run by the 'hard working and delightful' owners, Tim and Patricia Martin. It stands 15 miles south-west of Tarbert. Its many fans love the peacefulness (there is no muzak), 'the wonderfully laid-back but professional service, the character, the simplicity and the fantastic food'. The house has rugs on wooden floors, comfortable sofas, open fires, 'a wealth of books and good art' in a downstairs library, and a first-floor drawing room. The bedrooms are in the main house and in a converted outbuilding. Children of all ages are welcomed.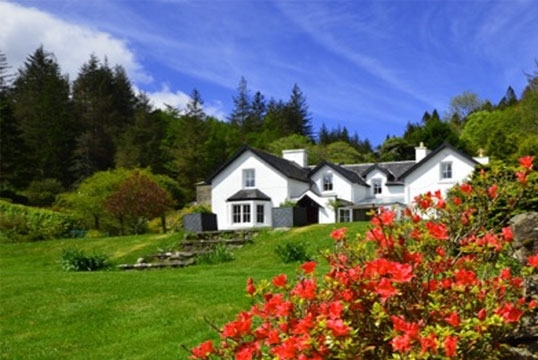 Tiroran House, Tiroran, Isle of Mull, Argyll and Bute. www.tiroran.com
At their white-painted Victorian hunting lodge in 17½-acre grounds on the north shore of Loch Scridain, Laurence and Katie Mackay create a house party atmosphere. Guests are encouraged to gather for pre-dinner drinks, canapés and conversation in one of the two sitting rooms; there is no muzak. Craig Ferguson, the chef, serves a short daily-changing menu of modern dishes food, always found 'excellent and locally grown'. The 'relaxing' bedrooms vary in size and style. Children are welcomed, so are dogs in four rooms in an annexe. A burn tumbles past the house; the garden leads to a private beach; Mull's highest mountain is nearby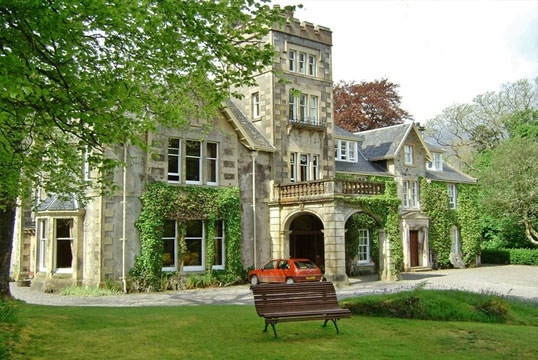 Viewfield House, Portree, Isle of Skye, Highland. www.viewfieldhouse.com
In large wooded grounds on the outskirts of Skye's main town, this 200-year-old country building is now a quirky guest house run by its hands-on owner Hugh Macdonald. Visitors like the informal style and the 'charming' staff. A baronial fantasy, the house is furnished with hunting trophies, fading family portraits and mementos of ancestral colonial service. An open fire burns in the elegant sitting room; there is no bar but the house is licensed and drinks are available on request. No muzak, and no television in the bedrooms (addicts will find a set in the morning room), but there is Wi-Fi. A short daily-changing supper menu is available by arrangement. Breakfast is generous. Children of all ages are welcomed.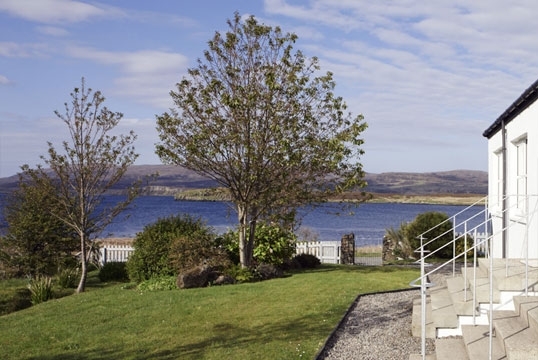 The Three Chimneys and The House Over-By, Dunvegan, Isle of Skye, Highland. www.threechimneys.co.uk
Shirley and Eddie Spear's acclaimed restaurant-with-rooms attracts food lovers to this remote setting by Loch Dunvegan in the north-west of Skye. Their chef/director, Michael Smith, works in collaboration with island producers for his 'outstanding' cooking.Visitors enjoy the lack of pretension and the absence of rules. The contemporary bedrooms, in The House Over-By (next door), are spacious and comfortable; they have a tea/coffee tray with fresh milk, and home-made tablet and shortbread. Breakfast, in the morning room, has freshly baked rolls and scones; hot dishes cooked to order.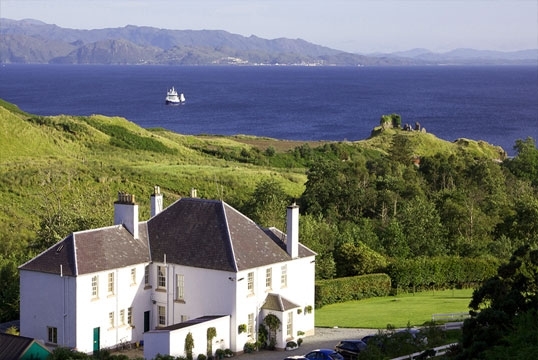 Toravaig House, Sleat, Isle of Skye, Highland. www.skyehotel.co.uk
In a glorious setting above the coast road, this handsome white-painted house has fine views across to Knoydart. It is run as a small hotel by the owners, Anne Gracie and Kenneth Gunn. They have renovated the building giving it a smart interior. The bedrooms, some small, have rich fabrics and wallpapers; hillside or sea views. The 'lovely' drawing room has a marble fireplace, a log fire, a baby grand piano, 'comfy sofas'. In the contemporary dining room, Joel Kirbyserves a short dinner menu using local ingredients. Kenneth Gunn, a master mariner, organises day-trips on his 50-foot luxury yacht; guests can get married on it.