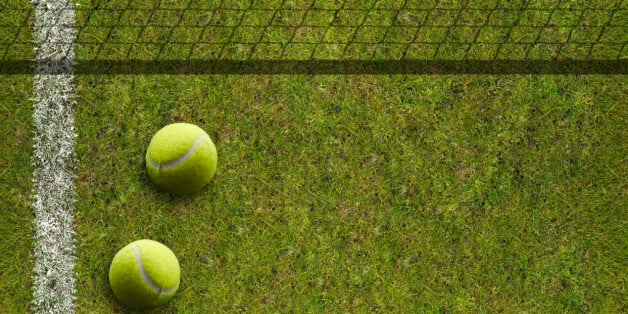 Long before this year's Wimbledon final, Roger Federer had already made history. In a career spanning almost twenty years (he first won the junior title at the All England Club in 1998), he's repeatedly set the bar for professional tennis and continues to amaze critics, fans, and fellow competitors. Amongst his plethora of achievements over the years, the biggest is his staggering number of Grand Slams; no other male tennis player has ever won as many. His most recent Wimbledon win--an insurmountable eighth--was his nineteenth career major and it broke his own record, which was set earlier this year at the Australian Open.
Numbers aside, it goes without saying that Federer is, to this day, the most-adored player of the Open Era. He has an incredible fan base spanning across the entire globe and is revered on almost every court he steps foot on. I've been a fan for over a decade (the epic 2008 Wimbledon final against Rafael Nadal was a tremendous upset at the time) and, of all the individuals I admire, Federer is the one who most verges on something akin to idolisation. Even after years of watching him play, I'm continually astounded by his grace and his grit; I must have said it so many times, but I can never say it enough: watching his backhand is like watching unwritten poetry. He brings an artistry to the sport that, otherwise, I would never have thought possible. I enjoy tennis, I enjoy other tennis players, and whenever Federer decides to retire, I will (weep and wail) still watch tennis--but no one else will ever come as close to defining it.
Last weekend's men's final wasn't the best sporting match we could have hoped for, in terms of competition or grit or tension, but none of that should dull Federer's incomparable shine. During the course of the Championship, he played some of the best tennis that I, as a spectator, have seen him play in the last five years, he met each match with focus and sincerity, and he won the title without losing a single set to any of his opponents--no man has done that on a grass court in over four decades.
I've always had a penchant for his 2012 victory, but I think 2017 might just be my favourite yet--not only because it truly is one for the history books, in terms of facts and figures, but because for the first time in a long time, Federer dictated his own success. Up until his triumph at the Rod Laver arena earlier this year, after six months away from competing, there were very few sports journalists who believed he could and would succeed in a Grand Slam again. There's much talk of this being his comeback, but quite honestly, he never really left. Federer is glorious, living proof that you're only ever done when you say that you're done, no one else. Beyond tennis--beyond all sport--that, as a concept alone, is remarkably inspiring. As a long-time admirer, he didn't need the trophy for me to ever believe he was capable of doing it--but seeing him lift it feels so, so good.