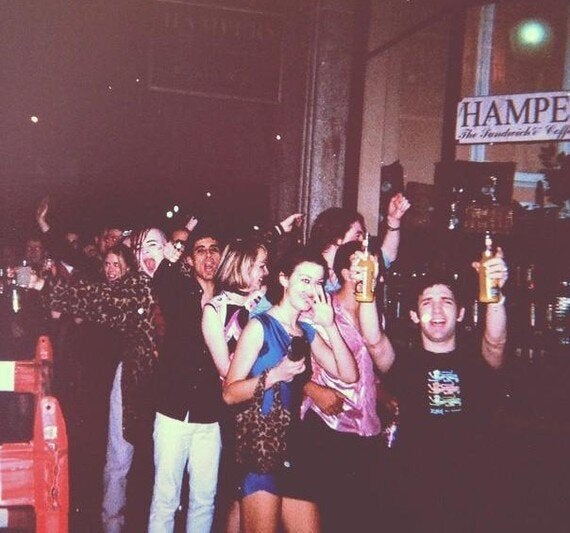 Sitting on my rocking chair, sucking dolefully on a Werthers Original, I sometimes wonder why policemen and clubbers look so young. Or why modern nightlife - with the exception of Cave Club - seems about as exciting as Tuesday night at the Darby and Joan.
Sometimes I'll nibble a Rich Tea and ponder on how, since the 50s, every decade ended with something world-shaking as rock and roll, punk, hip hop or acid house. In the 90s, pundits worried their decade might end up culturally wanting: originality seemed thin on the ground, and pop was hungrily devouring itself (out of boredom more than comfort, probably). Though we did have Britpop, which was a crumb of relief to some.
But despite all the tetchy navel-gazing about how bad it was or might be - I had quite a lot of fun in the 90s. This was the time of club nights like Tongue Kung Fu, Kinky Gerlinky, The Frat Shack, and the ethos that rare groove and house music were now a big yawn. As was much of the indie music.
I was looking for something else. But didn't know what.
Then alas, Smashing stumbled drunkenly into my life. Or I into it.
Smashing was a night that took part in many West End venues, such as old 60s haunt Bootleggers, The Gaslight, and most infamously The Eve Club on Regent St, which was home in-a-way to the Profumo Scandal. The night was run by the stylishly oddball collective of Matthew Glamorre, Martin Green, Adrian Webb and Michael Murphy; and the clientele were sharp suits, queens, cracked actors, fashion mutants, popstars, indie kids, mods, goths, divas, beatniks, a few squares and glorious people who defied categorisation. The music policy was unashamedly retro but anarchic and fresh next to the customary glut of house, hip hop and funk. West End clubbers were in for a surprise - if they got in. Even Prince, as the rumour goes, was refused entry for insisting on a VIP enclosure.
My early memories of Smashing were watching resident DJ Michael Murphy, after playing Sparks' Beat The Clock, putting on another track only to see that people weren't dancing with apt enthusiasm, so he'd take it off, smash it up, throw the broken platter at the dancefloor and complain "You're all c**ts!" Not quite Fat Boy Slim.
It's fair to say that Punk had a fair amount of influence on the proceedings. One time, speaking loosely of anarchy: I lost half my tooth after a feverishly-executed game of Pass The Parcel.
Or, there was the time when we were all 'Reborn' in a bizarre ceremony devised by flamboyant impresario Matthew Glamorre. And so many other things, half-forgotten, half-remembered.
Smashing was a high-camp, chaotic experience curated by endarkened people very familiar with the best of clubland past: The Batcave, Alice in Wonderland, Taboo, The Blitz; but it was entirely different from any of these - like a 'Hi-de-Hi!' for freaks. And yes, people ran around the club on speed, and pogoed to Shirley Bassey, and threw self-possessed shapes to Bowie /Moog discs / X-Ray Spex and sleazy disco. Leigh Bowery - dressed as a nocturnal Michelin Man - tripped the light fantastic, near to Courtney Love; and women, unpestered by the usual club types, would be scantily clad and proudly so by the end or beginning of the night. It was decadent, bohemian, and extremely silly.
No one was too cool to join the Conga (around the club or into the street) or high-kick it to the Bugsy Malone soundtrack. Martin Green,by the way, was probably one of the most exciting DJs of the 90s, in my humble opinion, rating alongside more recognised pioneers like Weatherall, Harvey or Gilles Peterson. When he came on, your ears would be blessed with weird 60s film scores, Jean Jacques Perrey's E.V.A. (rarely played on dancefloors at that time), Bongwater's Obscene & Pornographic Art, and crowd-pleasing favourites: Mandingo on the EMI Studio 2 label. His selection was eclectic, inspired and insanely lateral - in a time before the internet, general open-mindedness and random playlists.
There were other clubs too, and many of the Smashing regulars would frequent them. The weekend drill was this: Friday was Smashing (at Eve's) and Saturday would be either Blow Up at the Laurel Tree pub in Camden, or maybe Magick at Wildes in Chinatown. Or both. Or all three.
The much moddier Blow Up was run by Paul Tunkin and featured himself and Andy Lewis (now Paul Weller's bassist) on the decks upstairs, and often, in the midst of the stomping up and down to the Who, or Wire, or stepping to a Northern soul gem - it felt like the ceiling would collapse, as it bent to the pressure of all those manic dancing feet. Downstairs were The Karminsky Experience who'd supply all the lounge, kitsch and film scores you'd ever need: Mancini, Schifrin or maybe just some killer soul 45 no one knew. And Blur's Graham Coxon could be found on the floor, by the bar, drunkenly writhing amongst attendees.
Magick was funkier, dirtier and rockier than Smashing or Blow Up - and sweat would routinely drip off the walls as scenesters frugged and gyrated to Hendrix, Rare Earth and Serge Gainsbourg. It was often quite debauched: once I noticed Robert Downey Jr and David Thewlis - not to be outdone by Coxon - both crashed out on the toilet floor.
These days, who are you going to see lying insentient on the ground, speaking gibberish - aside from my current plumber? Modern times are just too boringly vertical (with revellers constantly glued to their smartphones). Still, mustn't grumble, a repeat of Last of The Summer Wine is coming on soon.
Might watch after the bedbath.
at the 100 Club, Tuesday, 6th Dec 2016. A version of this is scheduled to appear in the next issue of Cold Lips Magazine.
Related