Fiona Harvey asks how the UK can unlock the community benefits and commercial opportunities of renewable energy.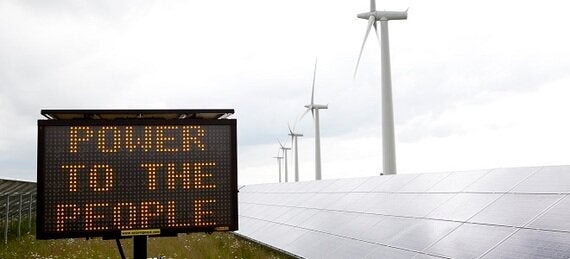 Greg Barker, the Conservative energy and climate minister, has championed the idea that more of our energy should be decentralised and low-carbon. With "sufficient financial rigour, affordable expansion [of local energy schemes] is achievable", he says. "We can build the Big Sixty Thousand." The prize, he believes, will be "growth, jobs, economic resilience, unprecedented consumer choice, and a cleaner, safer environment - and energy security." But signs of the 'Big Sixty Thousand' taking over the energy reins are still hard to find. Communities represent "a largely untapped source of renewable energy investment", says James Beard of the Renewable Energy Association. Could greater awareness of the benefits tip the scales?
This is the aim of the Community Energy Coalition, a group of 30-plus influential and trusted civic society organisations with a shared vision of community energy at scale in the UK, by 2020. In 2013, the Coalition - whose members include The Co-operative, the National Trust and the Church of England, convened by Forum for the Future - ran the first Community Energy Fortnight to encourage groups to set up their own projects. Giles Bristow, Director of Programmes at Forum for the Future, says, "The value of visible support for community energy from known and trusted organisations can't be underestimated. With a collective reach of over 16 million members, the Coalition's ability to raise awareness of the potential is vast."
One of the UK's most active regions, with excellent solar resources as well as wind, hydroelectricity and the potential for marine energy, is the south-west. There, the sustainable energy centre Regen SW supports 179 community projects, including the Bath and West Community Energy group, which has raised more than £2 million in share offers and installed a range of solar products. Chief Executive Merlin Hyman reports "a huge amount of interest in community energy, and some excellent initiatives". But, he warns, people must be prepared for hard slog: "Most communities find it takes a great deal of time and effort."
One hurdle is funding. A useful source is the Government's £15 million Rural Community Energy Fund. This works in two stages, making available up to £20,000 for an initial investigation into feasibility, after which qualifying projects can receive up to £130,000 to support planning applications and develop a robust business case to attract private sector investment. Private funding is also available, from mission-led organisations such as Good Energy and Triodos Bank, and increasingly from social impact investment funds, which aim to create returns for communities beyond the balance sheet. For instance, Resonance manages a community share underwriting fund which provides match-funding for projects of up to £1 million. In November 2013, it supported the launch of Leicestershire's first community energy share offer, which will enable John Cleveland College to install a renewable woodfuel heating system. This will significantly reduce energy costs for the college, support the market for local woodfuel, and give students first-hand experience of low-carbon technologies.
Daniel Brewer, Founding Director of Resonance, says, "There is significant opportunity to generate meaningful amounts of energy at a community level: more than individual households could achieve, and yet not enough for major energy companies to afford to spend time on. Underwriting community shares can turn a bunch of volunteers into a viable business, allowing people to invest directly in their own communities, and bypassing the need to get caught up in the opaque mainstream financial system. It's a catalyst for giving power and autonomy to communities, whatever they want to do - whether that's more woodfuel heating, or insulating the homes of older people."
Another interesting new development is the advent of crowdfunding, whereby thousands of people contribute a small amount - from a few tens or hundreds of pounds to a few thousand each - to get projects off the ground, and then share in the revenues when they arrive. Julia Groves, Managing Director of Trillion Fund, and Chair of the UK Crowdfunding Association, says: "Crowdfunding is expanding the community of investors from neighbourhoods to nationwide. Whereas, to date, local community projects have tended to raise less than £1 million, crowdfunding has the potential to fund larger scale renewable sources of energy to rival generation from traditional coal and gas-fired power plants."
Money isn't the only measures of success. For Peter Spark, an energy entrepreneur, there are advantages well beyond the commercial: "Community energy brings people from all walks of life together, working towards a common goal that makes a real difference to their local area."
Fiona Harvey is the environment correspondent for The Guardian.
Photo credit: Adrian Arbib
Popular in the Community