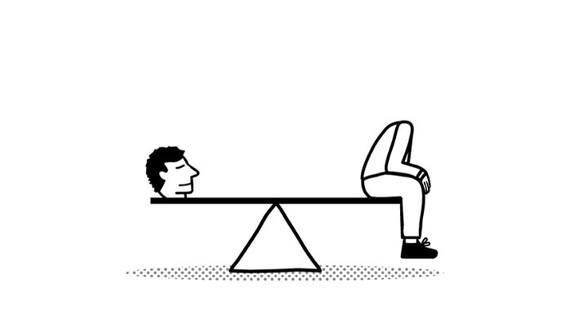 Research suggests millennials will work to live, not live for work.
They watched their parents slogging their guts out endlessly and don't want to follow in their footsteps. Their values differ owing to lack of concern for employment hardship, recession and unemployment. Redundancy is not a fear.
Times change. 'Dress down Friday' caused a furore when first introduced, (and sold a lot of chinos!), but look at it now. Every day is a Friday. Come as you are.
Turning the noun into a verb
The next generation is tech-savvy, entrepreneurial, social and looking for a better work-life balance. Saying: "I'm on my way to work...", shows we lost momentum. "Work" is now a noun, not a verb.
"Work" became an actionable body of evidence and output. "My job" refers to ownership and pride. Millennials don't see it that way. They'll leave when the lease term doesn't match the quality of the product anymore.
So how will we refer to 'work', 'going to work' or 'owning a job' in 10 years? We believe it will:
• Entail collective pride from work performed on demand, not so much to the company it's executed for
• Challenge all generations
Futurist Thomas Frey suggests 60% of the best jobs in the next 10 years haven't been invented.
Our careers are no longer lifelong or linear. Instead, they're a series of chain linked, bitesized careers. Are job descriptions becoming obsolete? Perhaps, or they're becoming fully digital, so they can be constantly adapted.
Today, we're paving ways subconsciously for generations to come. We've reached tipping point of classic employment structures.
For employers this will mean:
• Openness; always start with "Why?".
• Altering perspectives; purpose versus goal.
• Bravery; do you have life experience alongside working experience?
• Specialists over generalists.
• Collectivity, community value creation.
• Velocity and brand mobility.
For customers and colleagues:
• A new media emporium based on brand mobility & content.
• No more knowledge silos, we're talking platforms and partnership.
• Continuous exchange with a connected enterprise.
• Working with networks of colleagues.
• Everything a service, no more standalone solutions.
• Technology causing industry divergence and disruption.
• Fierce competition and pay pressure.
Fresh thoughts in old barrels
What role can businesses play to facilitate new professions and working methods? How do we cope with uncertainty and evolving change?
Within the workplace we see a growing trend of organisations purposely generating corporate disorganisation to create a culture of fresh thinking. Empowered employees think like a start-up, bringing creative thinking to the mix.
This means holacracy, agile ways of working, and a new workplace. We'll develop as we go. We'll have networks, not teams. But still, we believe we're still injecting newness into old structures... while being overtaken by disruptive start-ups.
Quick fix(ation), magic micro moments
Millennials seek instant gratification. The digital world permits change at a fast pace, turning to the bricks and mortar world of retail it needs to reflect real time.
Google sees modern consumerism as a series of micro-moments. Want-to-know, go, do and buy moments are the new battleground for brands*. We would add the want-to-wow! moment as well. (*Consumers in the Micro-Moment, Google/Ipsos, US, March 2015, n=5,398, based on internet users.)
Brands often revisit their origins, using language like heritage, authenticity, citing their established date as a core credential. It's effective for many brands, but now they must appeal to the next generation.
Taking the lead in momentum
The new approach will be led by some of the longest established brands taking a fresher, braver, more experimental approach. Prada demonstrated this by teaming up with illustrators including Carly Kuhn and Blair Breitenstein for their 'Raw' eyewear collection. For a brand founded in 1913, it's pretty special to not focus on heritage alone. It nicely aligns with Prada's recent opening of their Fondazione Prada institution in Milan, where they were founded.
Different roles in a new play
In 10 years, what will be the new functions at Prada? We predict roles like 'brand curator', 'contextualist', 'experience designer' and 'corporate disorganiser' emerging. Perhaps the advertisement will look like this:
An innovation catalyst with an eye for tradition
BYON (bring your own network)
Why? We want you for the sake of our community mix. Fusing brand, visual merchandising, design, hospitality, experience and art to maintain brand authority and reap commercial traction. Output-driven focus, elected hours of work, creative headspace, limited hierarchies, quick promotions and the availability of 'on and offline' workspace. Expected life experience: high. Global sabbatical sub-stations to pass through and personal development mentor provided.
Eventually, brand velocity will be grounded by motivational coaches, propelled by hyper-connected entrepreneurials in a brand new workplace. Can we all become 'global colleagues'; omnipresent in communities of choice, earning money by output while enjoying our micro-moments?