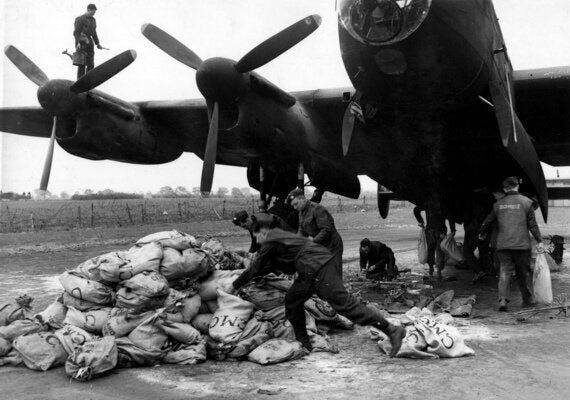 It is perhaps rather fitting that an RAF C17 is heading out on a humanitarian mission to earthquake-stricken Nepal on the 70th anniversary of one of the first humanitarian operations carried out by the RAF.
Operation Manna took place towards the end of the Second World War when the Allied forces stepped in to air-drop food to the people of Holland. Years of German occupation and war had ravaged the lands and food had run out. People were desperate, eating whatever was to hand including dogs, cats and even tulip bulbs.
Lancaster bombers were adapted to carry life-saving supplies in their bomb bays and the crews trained to fly at levels as low as 300ft. During a ten day effort, from April 29, they dropped 6,685 tonnes of food supplies, flying more than 3,000 sorties. Without their efforts many more people would have starved to death.
Seventy years on, the RAF continues this legacy delivering aid to people in need around the world. RAF personnel are often called on to help those caught up in conflict or stranded by natural disasters. Within hours of the call for help, RAF crews are taking off, carrying life-saving aid with them.
I myself was involved with a number of humanitarian relief missions: air dropping aid to the Kurdish peoples in Northern Iraq in 1991; airlanding emergency supplies to disaster hit Guatemala in 1993; and, planning the UK operation which saw our RAF helicopters and crews deploy to Mozambique in 2000 to rescue flood victims. More recently, my former Squadron once again found themselves providing succour to displaced and threatened people in Iraq.
While much is made of the offensive capabilities of the RAF it is important to remember that the RAF is also extremely flexible in turning its hand to almost anything. Its reach and speed enable it to be the helping hand in many scenarios, much the same as the RAF Benevolent Fund. I was terrifically proud to have been able to support and help those people in 1991, 1993 and 2000 and I remain proud to be part of the charity supporting the RAF family.
Just as the RAF steps up to help those in their hour of need, so the RAF Benevolent Fund works to support the families who are left behind. As I saw first hand during my time as Station Commander at RAF Lyneham, the Fund gives airmen and women the peace of mind that should the worst happen their loved ones will be taken care of.
To mark the anniversary of Operation Manna, the Royal Air Force Benevolent Fund has compiled a series of blogs and videos from veterans involved in Operation Manna and several humanitarian aid missions carried out by the RAF since: http://bit.ly/RAFBFHumanitarian