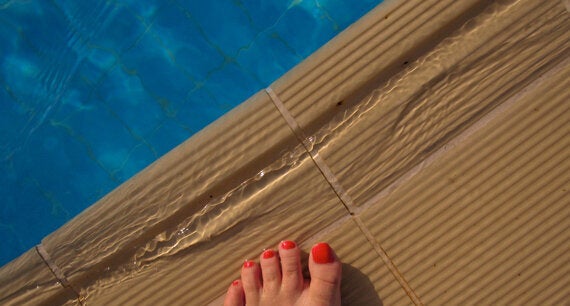 Au revoir poolside glamour... | © Gwendi Klisa
Note to past self by the pool edge
I know what you're thinking. You're annoyed because there's no way you'll be able to enjoy this holiday with the toddlers in tow. At least not properly. Like you used to, before you decided to unleash them into the world. The angel on your shoulder is yelling unkind things at you now, mostly about being rather ungrateful.
BUT, you haven't slept an awful lot last night (something or someone always manages to keep you up). AND, children rampage on your sun lounger. They won't disappear, not even to the kids' club for an afternoon; instead they crave your undivided attention.
Your baby is cranky, cranky, cranky, and doesn't appreciate the warm sunshine and the change of scenery. Not one bit. Your toddlers, on the other hand, are overly enthusiastic; they're all over the stray cats, sharp rocks, and keep wandering off to the edge of the pool every time you turn towards your coffee.
You have a problem. You're miles away from your nursery, the parents and everyone else who is usually nice enough to support you. You're the responsible carer, leader and entertainer. You're on duty ‪24/7 and can't leave early...‬
Whilst on pool duty you notice a family having a hell of a lot of fun. You've seen them before. All together most of the time. 'Scuse me?! Don't you want a quiet moment at all? You feel the urge to talk to these folks and start nudging your kids in the direction of theirs. Maybe you'll discover secrets about holidaying as a family that you don't know?
Now. You're telling me you didn't ask them? Then you'll have to try my vacation strategy - for the time being. And it involves managing your expectations, I'm afraid.
Packing in an hour of reading isn't on your diary. No need to demand a lie in just because you're off work. And nobody is going to let you laze around the pool for twenty minutes. Assume you're going to be permanently on call. There's no off switch and no getting away from your kids. You won't beat them.
But *ahem*..... instead could you join them? Would you grab your half chance to be a kid again?
If you look at the bright side... you get a licence to feel young again and have some exhilarating, childish fun. Abandon your sophisticated sense of humour and embrace slapstick. When your kids make you wear a weird hat simply sacrifice your self-respect for their enjoyment. Yes, you will look stupid.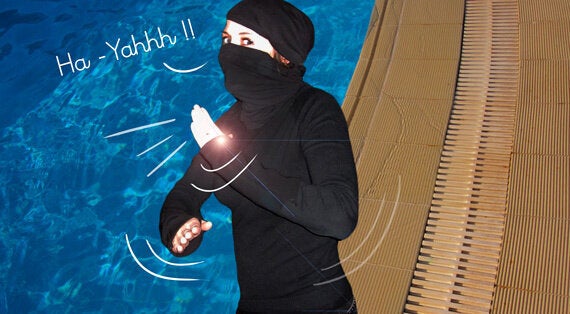 Just get on with it | © Gwendi Klisa
Chase the kids around with a tea cosy on your head. Build a trap with them and walk into it again and again. Snatch an ice cube from your Virgin Mary and stick it down their backs - you've defended your spot on the lounger! You're rewarded with a lie-down.
Next time your children ask you how things work, give them a bonkers explanation, for your own amusement. 'Mummy, why is there steam coming out of the coffee machine?' 'Ahh! I'm glad you're asking. You know, there's a little dragon living inside and when I press this button, he'll wake up spitting steam from his fiery mouth'.
At some point in your holiday you're going to run into the lady at the ice cream stall. She's going to fuss over your babies, whispering 'awwww...enjoy the precious time while the children are so little'. And you'll find yourself basking in sunshine - ice cream in hand - briefly consumed with some terrible torment as you close your eyes, realising these toddler days may trickle away, before you've had a chance to appreciate them. You're going to have a word with yourself. Because one thing is almost certain. One day you'll be the ice cream person blinking a tiny tear from the corner of the eye.
Dear past self, I'm going to finish this with a little task for you. It's autumn time and you know the best summer holiday deals are to be had now. Don't leave it too late. Roll up your sleeves and get organising.