In just over a week I'll be making my way to Robin Hill Country Park on the Isle of Wight to attend one of the most anticipated festivals on the summer music schedule: Bestival.
Set up by Radio 1 DJ Rob Da Bank and his wife Josie back in 2004, the four-day mass shindig has seen attendance rise from 10,000 to over 45,000 people, and this year it's on track to be a yet another sell out event.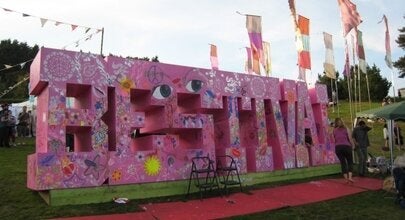 Now to prepare those of you lucky enough to be attending 2012's veggie-friendly melting pot of eclectic music, alternative entertainment and wildlife themed frivolities, I thought I would use my (Wishing Tree) field research to identify the BEST ways to achieve the optimum festival experience:
Cab it: Getting to Bestival last year made me feel like Steve Martin in Trains, Planes and Automobiles, as I travelled by tube, train and ferry to get to the Isle of Wight. After that commute, joining the mass convoy and waiting hours for the festival bus was hardly welcome so this year I've booked a taxi in advance to take me, my friend (and a few stragglers to make up the fare) to the site hassle-free.
Go solo: Don't let your mates dictate who you see. You've just spent several hours getting to the festival to see your favourite bands, so go see them. Even if your mate didn't like their second album, or wants to chirps on some guy/gal in another tent instead. Festivals are massive and you may think "shit, I'm a loner standing here on my jays", but just chat to the person next to you - your musical appreciation will bridge the gap and they'll be no chance the "fear of missing out" will enter your mind.
Don't be a Sheep be a Shepherd:Stevie Wonder, New Order and Florence and the Machine may be the main attractions but don't always follow the crowd. Check out the second billings, better yet the bands you've never heard of too. You never know, they might surprise you with a wicked cover of Wuthering Heights - thank you Treefight for Sunlight - that you can fly your freak flag too. (You can find the acts I'm most looking forward to jamming in my wellies too in my Secret TV Bestival 2012 preview)
Eating's cheating: £8 for a hotdog? You're having a laugh mate! Why not save yourself some dollar by forsaking your 3 square meals and instead reinvesting your capital into a drinks fund.
So if you want to see off the end of the summer with a Bestival-shaped bang then make sure you beg, borrow or steal your way to getting hands on these highly sort-after tickets.