Summer doesn't really feel over without a ferry trip across to the Isle of Wight in the first week of September. And for the last three years I have been making that journey from London to Portsmouth to Ryde to the Robin Hill Country Park for all the musical glory that is Bestival.
And while the sun greeted us as we set up our tent in the blue campsite, sadly the weather seemed to be sticking very closely to this year's nautical fancy dress theme, arriving as the perfect storm of wind and rain over the HMS Bestival weekend.
But of course that didn't dampen our spirits or that of the acts on this year's line up with Jessie Ware giving an almost studio perfect performance in a naval uniform on the main stage. She was one of many youth-favoured performers, making me wonder whether the demographic of Bestival was getting younger, or that I, sadly am getting older. Because last year where I was stuck choosing between Alt-J in the Replay tent and Django Django in the Psychedelic Worm, this year there seems to be far more teen-loved DJs and dance acts to choose from than indie players.
Luckily my folksy yearnings were answered by Belle & Sebastian, who filled the Big Top with their warming brand of indie pop, before Disclosure made sure the tent was ready to pop with their closing House sounds. Sadly it proved too much of a tight squeeze for me to enjoy White Noise et al, so we headed off to Bollywood for A Love From Outer Space to finish off Friday night.
Saturday brought the chill, but also the colourful sight of the fancy dress parade which provided much laughter and mirth as we checked out some the truly original outfits some festivalers had prepared. And yet again it was cool to see the likes of Bastille dressed up for their main stage performance as The Life Aquatics' Steve Zissou (and weird to see Dan's infamous quiffed covered by a red hat). Rudimental were't dressed up but just as energetic, especially after a monumental summer for the band that has seen their star getting brighter and brighter.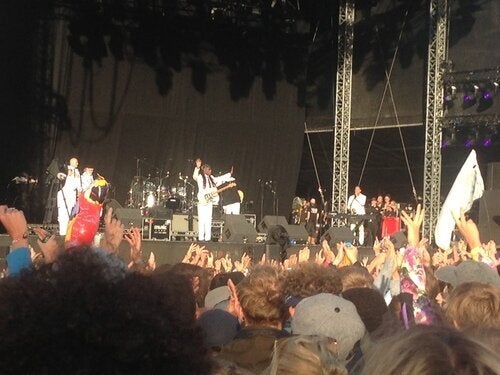 After a quick trip to Temple Island for a Halloumi sandwich, we were back to main stage once more for Snoop Dogg - briefly the Lion when he arrived on stage to Here Comes The King - but the set played out more like a T-Pain concert than Snoop as he performed tracks he featured on with Katy Perry, Akon, Dr Dre as well as Calvin Harris and House Of Pain. If the sound was better, Snoop's performance would have been pimping, but with nearly the whole festival surging in for the show, only the one's nearest the front got the best experience.
After Snoop left, we upped anchor to The Port to see Annie Mac, DJ EZ, Toddla T Sound and Hudson Mohawke, close out the night on the top of an epic ship that gave Block 9's London Underground a run for its money for sheer artistic impact. A net of laser lights darted from the stage's hull over the sea of festivalers going in to the finest garage anthems, dance hall, dubstep and electronica.
Sunday was a day of wearing every layer possible and, for me, winding down for the early morning excursion back to London. So after getting some chunky soup from The Soup Library, we chilled and listened to some Tom Odell before getting funky to Chic feat. Nile Rodgers, who schooled all the youngsters on just how many tracks were originally his and not Madonna's, Biggie Small's or Daft Punk's.
But as the night grew colder and the rain started to trickle even more, I huddled with a friend to watch Elton John from the press tent hill, swaying back and forth as he regaled the more than receptive crowd with Benny And The Jets, Tiny Dancer, and more, with an encore of Your Song, that was shortly followed by the epic fireworks that lit up the black sky.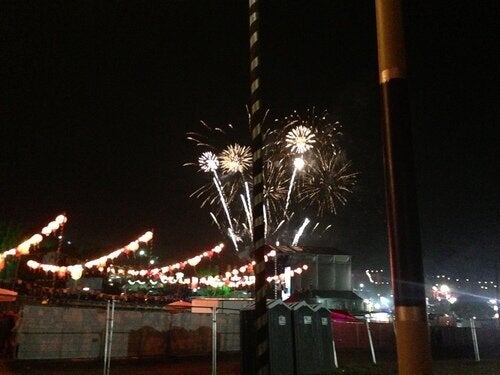 My Bestival experience could have ended there but James Blake was yet to play, and the Big Top beckoned. But as the 24-year old's ethereal voice cast a spell over the drug-induced crowd, one plonker thought this was exactly the moment to start a mosh-pit. He learnt the hard way it wasn't.
So as festivals go - this was my fifth this year - Bestival still has a warm place in my heart, but with a smaller number of indie bands playing, it seemed that this 10th birthday edition played out more like an electronic music showcase. So I'm hoping next year, Rob and Josie will revert back to their once more all-musical-encompassing form.
All pictures by Hanna Flint