The sun surely came out for us this weekend at Bestival, with barely a cloud in the sky to dampen the excitement four days of world class musical performances can bring. And one of the acts ready to share their music to a more than receptive audience was Two Door Cinema Club.
No strangers to the festival circuit (they've played Glastonbury, Coachella, Benicassim to name a few) this is the first time the Northern Irish 3-piece have performed at Bestival, so when I caught up with them backstage I had to ask what's taken them so long to get here?
Sam (lead guitarist): What's taken so long? The invite really, I think this is the first year we've been invited.
Well the timing of this performance couldn't have been more perfect; with their second album Beacon released last Monday we get a taste of what the band has to offer:
Kevin (keyboards): You're definitely catching Two Door Cinema Club at a very exciting time for us. We're very excited at the moment, even though we don't seem like it (laughs) we've just put out a new record; it's the next chapter kind of thing.
I had heard you had said there were a lot more stadium style anthems on this album?
Alex (lead vocals): Every time we come back to cities we want to play bigger shows, and every time we come back to festivals each year we want to play bigger slots and if the day comes when stadiums and arenas rear their heads and have us we're definitely not going to say no. It was never a case of gearing the music towards that sort of stage but we have big ideas in our heads and sometimes that comes across in the music.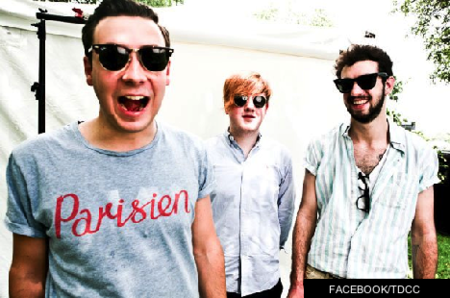 It's your softmore album, did you approach it differently?
Kevin: The trick is not to approach it differently.
Sam: We had just spent so much time on the road with Tourist History that we were ready to get back into the studio and do the other part of what being in a band is for us what we love, the writing of the songs. We probably neglected that for a good couple of years, and having travelled round the world and being inspired and influenced by so much we were so ready to get back in and write together we didn't need any agenda or any real thought about it we had it all ready to go.
You produced with JacKnife Lee who has worked with U2 and other massive names, how was that?
Sam: You hear about who he's worked with and imagine him to be this big ego-ed hotshot producer but you go in and he's just this funny man from Ireland. He just gets involved, gets his hands dirty... he's just still fascinated about new bands and new music and loves what he does.
Alex: He's worked with so many smaller acts, independent artists, unsigned artists, electronic artists, and all kinds of different music so he had a lot to bring to what we do.
How do you adapt your sound to suit the venue your performing in?
Alex: Nothing is adapted. We go out and play the best show we can no matter what it is. Our sound is very adaptable, we started off in the bars and grew gradually, we never went from a really small venue straight to a massive venue we were constantly climbing the ladder at different places around the world. We've got very use to switching from small places to big places and over time we've become very comfortable with that.
Sam: I think our show is a bit different to what the people who haven't seen us live would expect. I think live we come across as a bit of a rock band sort of sound, you'd probably wouldn't think that listening to the record so I think that helps on the stage... Turn the amps up to 11 and all that.
A little reference to the classic rockumentary This is Spinal Tap makes it clear these guys may be passionate about their music, but they don't take themselves too seriously compared to other bands in their genre. And speaking of films, I had to ask Alex about being called up by Danny Boyle for the Olympic Opening Ceremony:
Alex: It was very difficult to take it all in and I'm still working on it.
Is there a chance in the future to work with Danny Boyle on one of his film soundtrack?
Alex: No idea. Film soundtracks have always been something I've been very interested in and somewhere down the line I'd love to give it a go.
What would be the perfect type of movie for your sound to feature in?
Kevin: When we did this new album we were aware our songs might be used for something, so when we were recording we could so imagine [a track] in this kind of movie... we came up with so many scenarios. There's a couple that could fit into the next quirky Indy rom-com, or in a fight scene, it's crazy there is so many different sounding stuff.
Is there any ads or films you've heard one of your songs and wish they hadn't used it?
Sam: There was an ad for the Belgian National Lottery or something, which was a total mistake, it was too close, they used "Do you Want It All" with people pretending to win the lottery. It was dreadful!
We talked about life on the road; how Kevin is always the one worse for wear after a night out, that American hotels are the best for amenities and happy hour, and the awkward position of plug sockets is an endless annoyance for Sam. But as the sun was drawing in (and because the band were keen to see Earth, Wind and Fire) I asked them finally, if there was one song you wished you had written what would it be?
Sam: Dirty Diana (laughs) I'm just kidding!
Kevin: Earth Song (laughs) I like that song.
Sam: I really wish I'd wrote that Pyramid Song on Frank Ocean's new album its like 3 killer tracks in one.
Alex: Yesterday, Paul McCartney. It's one of my favourite melodies of all time and I constantly wish I could write something like that but I haven't come close.
You still have time...
Alex: Yes I've got time.
Two Door Cinema Club's new album Beacon is out now.
Listen to the full interview here.