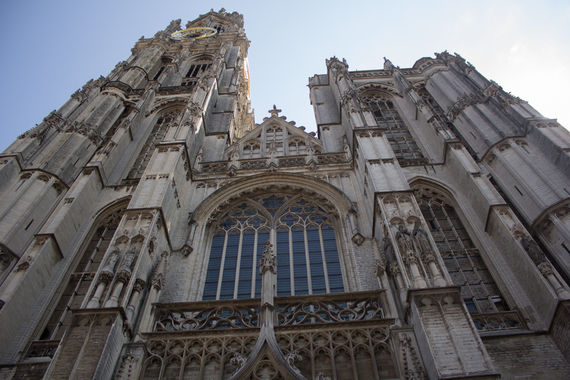 With the easter holidays round the corner, and the summer holidays following shortly on their heels, many of us are starting to seriously think about booking our summer hols. I'm starting a little series of posts with recommendations based on a 5 week trip my family took last summer around Norther Europe. Many of these places are accessible via ferry which means if you are in the UK, you can drive and camp, but flying is of course an option too. The first post in the series is Antwerp!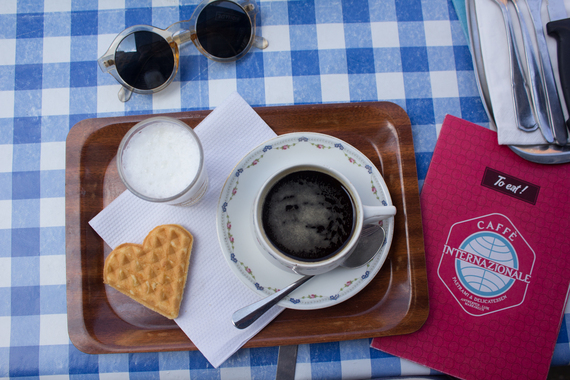 We stayed in Antwerp for three days, and, after a little scratching at the surface, found it to be a super cool and laid back place to visit.
Here are 19 things we learnt in Antwerp!
1) We learned that families with toddlers are welcome pretty much everywhere. Kids will be especially thrilled to see all the horses and carts trotting around the city.
2) The cool kids go to CaffeNation, which services excellent coffee.
3) Caffe Internazionale is also really cool and serves enormous salads and pastrami concoctions. 
4) Caffe Mattic has a certain bohemian, 70's vibe about it (although truthfully the coffee is not as good as at CaffeNation). It's at the bottom of Kammenstraat a cool street we spent a bit of time exploring.
5) Last minute, desperate shout outs for cool places to go on social media channels is in fact a very respectable way of exploring a new city you've done no research about (due to moving house the week before) 
6) MoMo, the Fashion museum is an amazing museum that feels more like you're looking at a sculpture show or installation, than an exhibition about fashion. Your toddler might find it a bit boring though, and would have probably enjoyed the Middelheim outdoor sculpture museum more, but it was closed on the day we were available to go. (ugh)
7) Antwerp has some stunning stop-you-in-your-tracks architecture. The Cathedral of Our Lady is immense in all it's gothic glory. and the intricately glazed and decorated 16th century buildings in the Grote Markt (town square) are a joy to behold, even if you are enjoying them at the same time as chasing your toddler who is chasing a horse.
8) Antwerp is allll up on colourful, pretty gender neutral kids shops. Refreshing. Froy & Dind was our favourite, right near the fashion Museum.
9) Coffee tends to be served on cute little wooden trays, always with a little sweet treat on the side (heart shaped waffle, iced gems etc) I may have squealed with delight each time.
10) The photography museum's very wide variety of exhibitions is brilliant, as is the old fashioned Photo Booth in the foyer (child like photobooth behaviour optional) 
11) Antwerp sort of closes down between Sunday-Wednesday. So best not to book your 3 day break for those days : /. Lots of things will be closed, including the street you were most looking forward to visit.
12) If you're in to vintage and antique shopping, you will be well catered for in Antwerp. If you manage to get there between Wednesday and Sunday, head to Kloosterstraat, which is vintage heaven. Apparently. Sniff.
13) Moisquito's are evil in Antwerp. Even indoors. Especially in August.
14) Fien's loft in Antwerp is possibly one of the coolest places you could stay. The owners run a circus school in the building so drama and colour abound; from the double height ceilings, to the plush red velvet chairs and the huge chandelier, and the enormous mosaic and rows of cinema chairs in the entrance hall.
15) Fiens loft in Antwerp is also sort of a toddler death trap but its manageable if you don't mind occasionally wrecked nerves and vocal chords. "Not the staaairrs!"
16) The Time Circus floating vegetable garden and farm at the bottom of a crane near MAS is possibly one of the coolest places you'll ever set foot on, and a great example of the sort of kooky thing Antwerp is really good at.
17) It's really hard to drive in the centre of town. Darting on and off tram lines when you're not entirely sure if you're driving on the right side of the road is a little... exhilarating, shall we say.  
18) Its residents are strangely conservative about road crossing. Green. Man. Is. God.
19) Its residents are also exceedingly friendly and helpful.Thank you, kind people of Antwerp for helping us to navigate ticket machines, tram stops, and unintelligible requests for "the vintage bit?"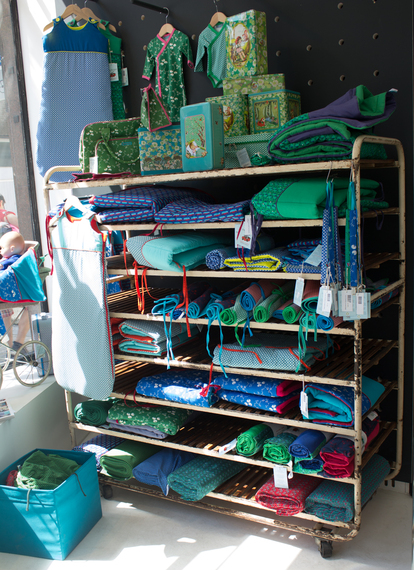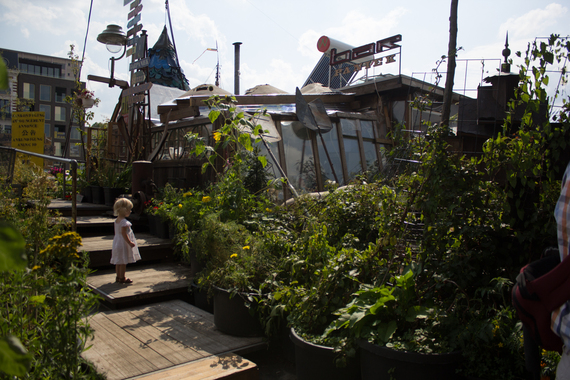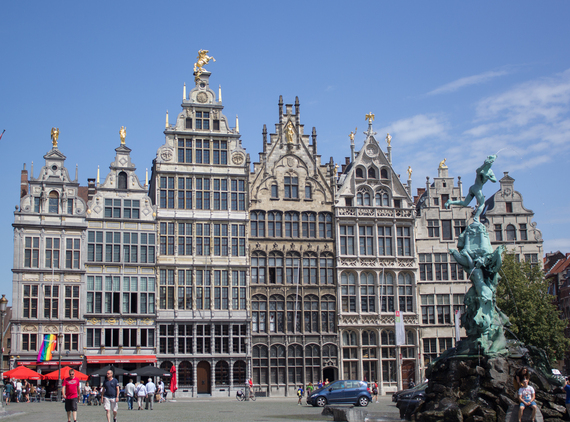 Photography by Hannah Bullivant
We travelled by ferry from Dover to calais with DFDS seaways, then drove to Antwerp.
Post originally appeared on www.seedsandstitches.com