After years of shaking off its questionable reputation for violent streets and run down properties, Peckham is finally getting noticed for it's arty vibe and south-London-cool culture.
With young investors snapping up shop fronts, Peckham has it all from wicked pubs and low-key cocktail joints to cheap and casual brunch spots and street side juice stalls.
No it's not 'the new Shoreditch' as papers & property sellers like to claim - Peckham's totally got it's own thing going on. If you're making the trip down south these independent businesses will have you falling for Peckham quicker than you can say 'Del Boy's your uncle'.
For coffee:
Lerryn's, 202 Rye Lane, SE15 4NF
Lerryn's is the most 'Peckham' place you can step in to on Rye Lane. Cheap chic and totally casual (so much so that they haven't finished painting the walls), Lerryn's Cafe is serving up some of the best coffee in south London. Oh and it stays open late, the caffeine-fuelled party never stops in Peckham.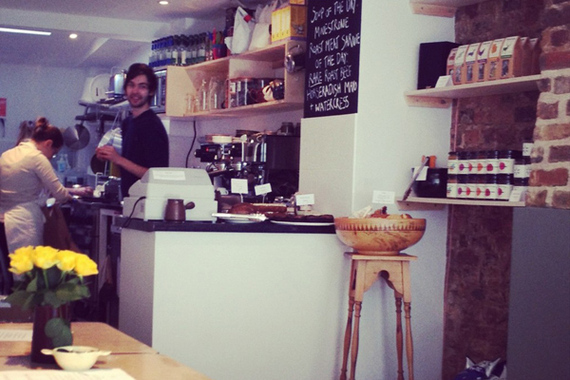 Café Viva, 44 Choumert Road, SE15 4SE
This place first put Peckham on the coffee map. Café Viva champions Volcano Coffee, roasted around the corner in West Norwood, and sure knows how to work those beans to make delicious coffee. This little joint is friendly, low-key and totally unpretentious. Sure the coffee is amazing but I challenge you to leave without a new found addiction to Lily's banana bread. You have been warned.
For brunch:
Anderson & Co,139 Bellenden Road, SE15 4DH
No reservations but worth the wait. Anderson & Co in the hilariously named but totally cute Bellenden Village makes the best brunches around. It's all bright white freshness in here with a bakery at the front and an epic backyard for kicking back al fresco style and pretending you're on holiday. Their leek and potato cakes topped with smoked salmon and poached eggs is enough to stave off any hangover.
No.67, 67 Peckham Road, SE5 8UH
Next to Camberwell's Art School and attached the South London Gallery No.67 was always going to be full of creative hotties. People aside, the breakfasts in here are also totally delicious so grab your local Allpress coffee, snag a window seat and test out their famous 'Full Spanglish'. Oh and at the weekend brunch is served up until 3.30pm. They know how we roll.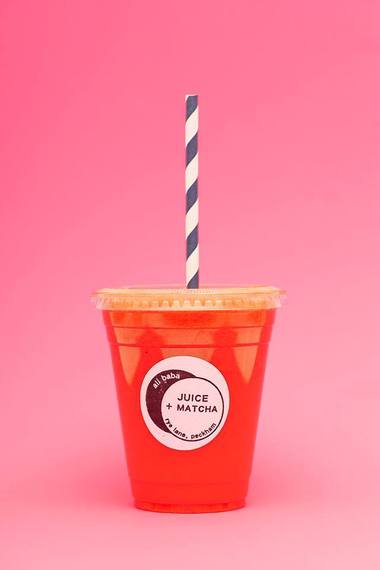 Ali Baba Juice & Matcha, 115A Rye Lane, SE15 4ST
On a health kick? Ali Baba is making some market stall magic with the fresh fruit for sale along Rye Lane. Tucked away just behind the railway arch you'll find Chris and the gang ready to start your day the right way with fresh cold press juices like avocado, spinach, apple and lemon and 'don't know how it's legal but we love it' matcha powder drinks.
For cocktails:
Peckham Springs, The Sassoon Gallery, 22a Blenheim Grove, SE15, 4QN
Move aside Bar Story (well next door anyway) Peckham Springs sprung last summer and has become known for serving the 'best value cocktails in London' thanks to the Evening Standard. Every Friday & Saturday night this summer you'll find gallery space / bar / car park under Peckham Rye station's arches serving up summer slushy cocktails for £5 as well as hosting street food friends like Fundhi Pizza to keep stomachs lined. Your summer nights are sorted.
Peckham Refreshment Rooms, Unit 4, 12-16 Blenheim Grove, SE15 4QL
It doesn't get more multi-cultural than Peckham and thanks to tapas taverna Peckham Refreshment Rooms there's now a slice of Spain in town. The food is incredible but I'm here for the classic cocktails. With local coffee and a hefty slosh of booze making a killer Espresso Martini and London distilled Sipsmith Gin behind the Negronis you'll be perched up at that bar until they kick you out around 1am.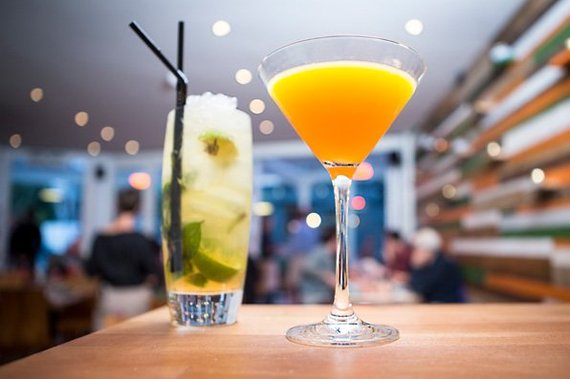 For food:
Begging Bowl, 168 Bellenden Road, SE15 4BW
Thai Street food is the name of the game in here so sit up at a long table and go at it sharer style. Each dish is colour coded by price and as well as innovative pan-Asian dishes like sticky pork belly and rabbit green curry you'll find all the usual suspects like Thai Fish Cakes. These will be the best fish cakes you've had this side of Bangkok, guaranteed.
Peckham Bazaar, 119 Consort Road, London SE15 3RU
With an ever-changing menu of Pan-Balkan mezze goodness and a queue outside every week this Peckham pop-up that opened in 2013 looks set to stay. Chef John Gionleka can be found grilling al fresco under a canopy out front and the smell alone of BBQing lamb, grilled octopus and smoked saddle of pork is enough to lure the crowds in. Dig your European wines? Peckham Bazaar has a list that'll take you almost anywhere (the white Croatian Malvasia is the one though, seriously).
For pub vibes:
Montpellier, 43 Choumert Road, SE15 4AR
This independent pub serving craft beers, wines and delicious scotch eggs alongside good time vibes is a proper local London boozer. But in true Peckham style it's got it's own thing going on and it doubles up as a cinema thanks to the backroom cinema showing the coolest in indie film. Mid-week expect chilled crowds dabbling in some pub quiz action or tinkling on the piano in the corner. Swing by on Saturday night to find pre- Bussey Building partygoers drinking alongside DJs and come Sunday the pub is packed with lazy Sunday lunchers getting their live jazz fix.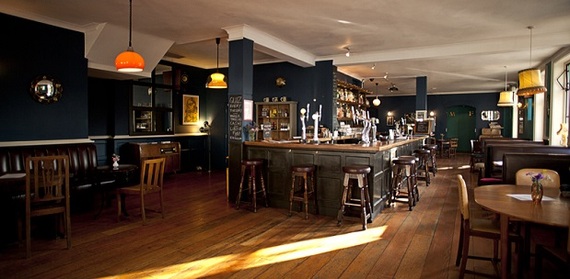 The Flying Pig, 58-60 East Dulwich Road, SE22 9AX
If you're in to beers, or are in to bearded men who are in to beers, then The Flying Pig will become your new favourite hangout. Local Denmark Hill dude and beer expert Mark is on hand to recommended one of the more than 130 bottles of beer that are on offer and if you ask nicely he'll point you in the direction of an epic Boilermaker (beer with a shot of bourbon) or Lagerita (beer and tequila). And you know what that means? The party is just getting started in Peckham.