Imagine having neighbours who, on a regular basis, throw water, glass bottles and stones, at your house. This is life for the Seder family.
Shadi Seder lives with his two wives and six daughters in central Hebron. Their house is directly behind Beit Hadassah, one of the five Israeli settlements in downtown Hebron which are home to approximately 500 settlers. As I outlined in my previous article, these settlements are illegal under international law.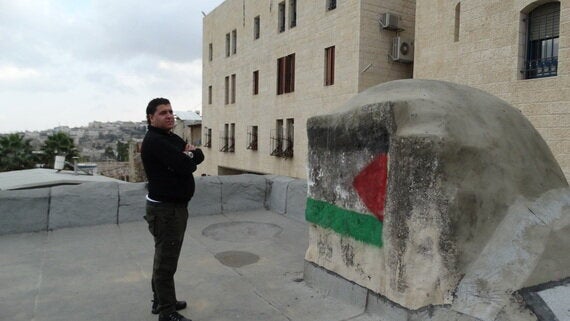 Shadi standing on top of his roof [Photo: EAPPI/H.Griffiths]
Shadi and his family have lived here for 20 years. He told us, "every day the settlers make problems in the house".
The family living room looks out directly above the basketball court and playground of the Beit Hadassah settlement. The metal bars on the window reduce the debris which can enter the house. Last year before these were added, Shadi's daughter Zainab who was four years old at the time, was sleeping under this open window when a settler child threw a stone which hit her just below her left eye. In hospital Zainab was given stitches for her injury and it seems unlikely that the settler child was told not to do this again. EAs have seen settlers standing by as their youngsters aimed stones at Cordoba school pupils. For this reason, the family now always keeps their windows shut, even in scorching summers.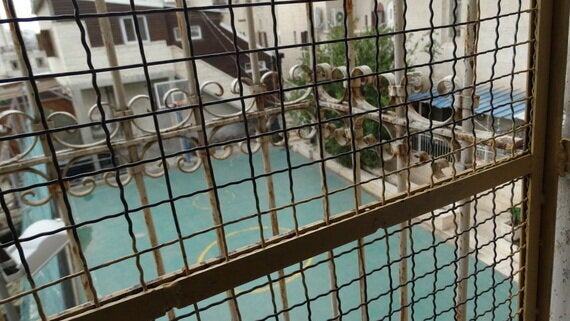 A room with a view [Photo: EAPPI/H.Griffiths]
The Israeli organisation B'Tselem provided Shadi with a video camera to document the human rights violations that the family experiences. For example, he showed my fellow EAs and I a video where a settler in his fifties was climbing up the wall, onto the roof and through the razor wire (seen in the photo below), which the family were forced to put up for their own safety. In the video, the settler told Shadi to leave his home.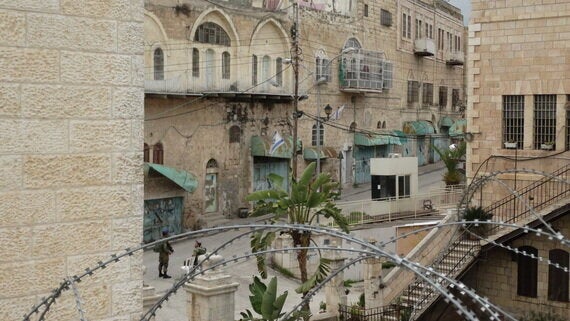 The rooftop [Photo: EAPPI/I.Stolpestad]
Such harassment has become normal for Shadi and his family, and is condoned by soldiers who do not prevent settlers from taking their actions despite having a lookout box merely 20 metres from their roof. "The soldiers and settlers are one," said Shadi. Indeed, whilst we were on the roof with Shadi, the soldiers told us to leave the roof. "It's crazy, it's my roof," he said.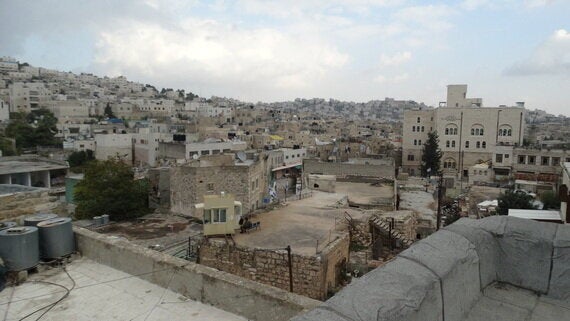 Nearby soldiers [Photo: EAPPI/I.Stolpestad]
The recent violence in Hebron has also left Shadi with little work; he coordinates tours and sells the handicrafts that his wives make. The family used to have a shop directly next to the house, but four years ago settlers threw a Molotov cocktail inside, after which the Israeli army forced Shadi to close his shop. Meanwhile, the settler was not prosecuted.
For their own safety, the family do not leave their house unless absolutely necessary. There is no safe place for the children to play. "Every day it's a prison in the house."
Despite receiving such harassment and violence, Shadi hopes that his daughters will grow up to work for peace. He told us, "inshallah, there will be peace between Israelis and Palestinians, but if Israelis live here, there will be no peace". Israeli settlements in the West Bank are illegal under international law. EAPPI calls for an immediate end to all settlement construction activity by Israel.
Related