For me, this fortnight has been all about learning. Two weeks taking Spanish classes coupled with some unexpected learning opportunities. My lessons at Habla Ya Spanish Schools brought me into a classroom with people from various parts of the world, and that mix of personalities, ages, and cultures was a gift in itself. Seven people sharing their thoughts and ideas, sharing part of themselves, all the while communicating in Spanish. It was a beautiful, though at times challenging experience, and completely stress-free... Nothing like my ordeal of learning a language at secondary school.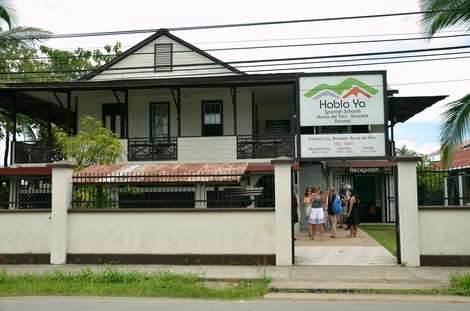 Photo by Author.
The Habla Ya team do a great job of promoting the other learning opportunities available in Bocas del Toro, Panama. (As well as giving you the lowdown on the best places to chill out at, whether that be the truly spectacular beaches or the salsa-filled nightlife.) Diving is where my interest lay.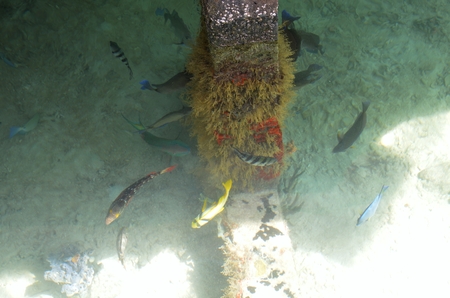 Photo by Author.
Bocas Dive Center has a couple of their team drop by at the school each Monday during recess from Spanish class. They ooze confidence and enthusiasm about diving into these warm and magical Caribbean waters and are highly approachable - they also will remind you that diving is fun! They have confidence in you, and you can feel it.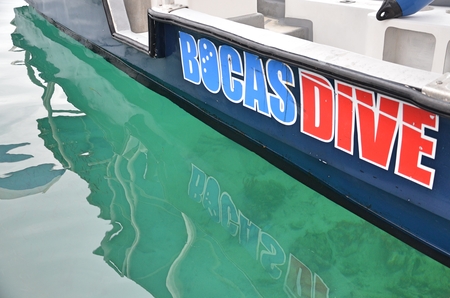 Photo by Author.
Taking the PADI Open Water Diver course may sound like a big deal, and it is since it invites you to safely explore the details of a new world, but it is not as complicated or as dangerous as the equipment and perhaps instincts might suggest - well, not if you are instructed on a first class level. Bocas Dive Center, as a team, made me feel incredibly relaxed, and my instructor, Arquimedes Hector Carrillo knew how to make me smile but was extremely professional when instruction began. I had taken the 'Discover Scuba Dive' elsewhere in Central America, but that experience, whilst pleasant, did not compare to the thoroughness in communication and attention to detail that I experienced with Hector. I was eager to have this Bocas-born instructor continue to guide me as I signed up for the Open Water course.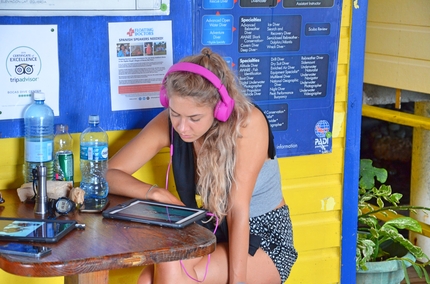 Photo by Author.
I began with the theory videos, hanging out at the dive shop with headphones plugged into a tablet, absorbing the information and unwittingly absorbing the great vibes of the divers and boats coming in and going out to underwater adventures. I found that the theory videos were a lot more formal and scary than actually getting geared up and putting in the practice whilst in the water. Before each task, Hector (who has successfully instructed almost 3000 people to becoming certified open water divers) signalled the best advice anyone ever needs... "Take a deep breath." Take your mask off underwater for one minute... Throw your regulator to the side and recover it... Remove your regulator and ask your dive buddy to share air... Every skills session that I was dreading ended with the 'that wasn't bad at all' feeling that contributed to a strength of confidence that I now have about diving. As you build up those skills and that confidence, the pleasure of manoeuvring underwater and witnessing first-hand the life that exists below the surface increases many times over.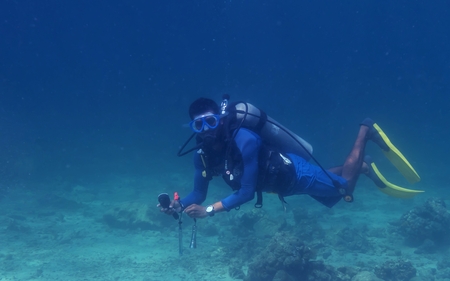 Photo by Bocas Dive Center.
Then comes the time that required skills have been comfortably completed and you dive under the wreck of a coral encrusted catamaran to marvel at the colours, the schools of fish and the appearance of a four-foot grouper that have claimed it as their home. You emerge as a scuba diver.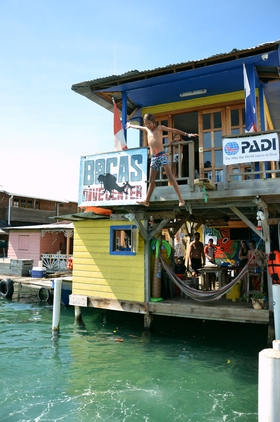 Photo by Author.
This post has been published on The Huffington Post's blogging platform. The views and opinions expressed in this blog are those of the author and should not be taken as those of The Huffington Post. The Huffington Post does not allow bloggers to acquire products, access or accommodation for review in the site's name.